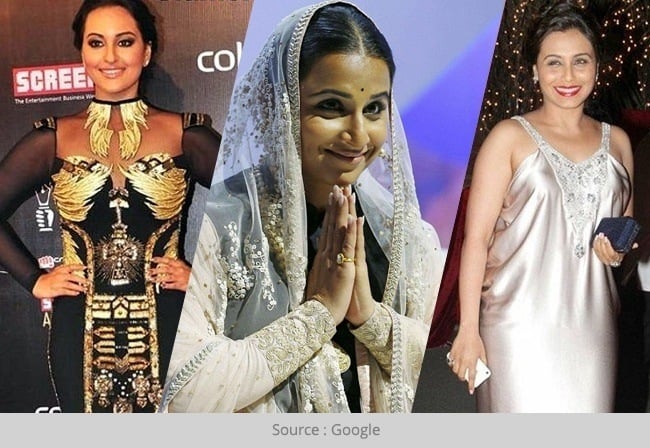 Even our most beloved and favorite Bollywood celebrities have dressed in a very shocking fashion and made terrible and bad style statements with weird hairdos, mismatched accessories, shocking dresses and overdone gowns – Even they have had their occasional share of criticism and brickbats over their dressing style and choices. These Bollywood Fashion Disasters can never be forgotten.
Celebrity Fashion Disasters
FashionLady presents the weird, funny, scary and silly fashion disasters sported by our usually glamorous Bollywood celebrities. Take a look:
Sonakshi Sinha Fashion Disaster
She turned up in this monstrosity of an outfit at The 19th Annual Color Screen awards. Her broad figure is not flattering the weird gold patches at the wrong places. The strange designs and the long slit exposing a not-so-toned thigh.
With so much of bling, gold and black on an over-the-top dress, she looks awkward and looks as though the dress might just rip apart any moment.
Vidya Balan Fashion Disaster
Don't get me wrong! I love this classic Indian beauty for her amazing acting skills and talent. But when it comes to style and fashion, she is a repeat offender! Her appearance at Cannes 2013 was marred by bad reviews of poor dressing style. Though backed by a good designer like Sabayasachi, she completely failed in the long mujra style anarkali with dupatta draped funnily over her head.
She had had quite a few fashion disasters in her kitty from this monotone loose salwar kameez with a weird scarf to this yellow saree with a bad floral print draped like a circus tent!
Ekta Kapoor Fashion Disaster
She is the uncrowned queen of fashion disasters with her shocking cleavage revealing dresses, disgusting skin show and dowdy outfits. This lady desperately needs a fashion stylist and somebody to reprimand her when she steps outside in such hideous clothes.
[sc:mediad]
You get the idea? She has worn funny and weird gowns in constant succession. The only thing that changes is the color and length of these ridiculous and distasteful dresses. In intervals, she turns up in overly tight tees and transparent tops paired with almost bursting-at-seams denims.
Mallika Sherawat Fashion Disaster
Her filmy career has always been abuzz with controversies ranging from her daring lip lock scenes in movies to cleavage popping dresses at international film festivals. She had been teetering on a dangerous line with her extremely revealing clothes and steamy scenes in movies.
But, she has long back fallen over the line with silly outfits – This outfit cannot decide for itself whether it is a bikini stuck with the remnants of a gown or a complete dress in itself.
Kajol Fashion Disaster
This bubbly nineties actress earned respect with her natural acting skills and vibrant style. But, fashion has been an arena where she has shone a little less and off late her fashion sense has been going down the graph. Whether it be this silk Prabal Gurung dress or multi-coloured jumpsuit, she has got it all wrong!
The silk dress makes her look broader than what she actually is and does not compliment her skin tone. Plus the chunky, strappy heels are giving a plump and unbecoming appearance to her legs.
The rainbow colored dress with lines running hurriedly all over it looks like a bad drawing from her kid's art class.
Kangana Ranaut Fashion Disaster
This Himachal beauty blessed with lovely complexion and curly locks usually has good fashion sense. But when I came across this picture of hers in a canary yellow dress looking torn and revealing a brassiere (canary yellow!!!), I nearly fainted!
Plus, the awkward canary yellow neck piece, red ballerinas and a red clutch add more weirdness to the already glaring, bright yellow disaster!
Sonam Kapoor Fashion Disaster
We caught her on the wrong foot! Even the invincible, couture lover and fashion queen Sonam Kapoor has had her share of bad slips in the glossy world of fashion and style.
The neon pink knee-length anarkali with a loose, frumpy patiala and sea blue dupatta makes a terrible combination.
Shilpa Shetty Fashion Disaster
The diva of great taste, fashion and style with a perfect 10 and charm committed a fashion suicide with this outfit!
What appears as a poncho-styled kurti in dull colors worn in combination with jeans has brought her a black mark for breaking the rules of good fashion!
She has committed another fashion faux pas in this white lehenga choli. Doesn't this dress remind us of her pre-makeover and "Bazigaar' days?
Rani Mukherjee Fashion Disaster
We, human beings learn from our own mistakes. But somehow that saying is not working with Rani Mukherjee. Look at this shabby gown she's wearing for an event. It seems she has come straight from her bed. We salute her guts!!
Aishwarya Rai Fashion Disaster
Even the mightiest of them fall! This world renowned actress turned up in a dazzling silver dress paired with a black blazer. Now, what we don't understand is why did she have to wear a jacket over a gown? It completely spoils the dress and look!
So, now we know that actress dressing mistakes are not so rare, and they hurt our eyes, especially if they are our favourites.
Hope you enjoyed this not-so-good-for-eyes edition!