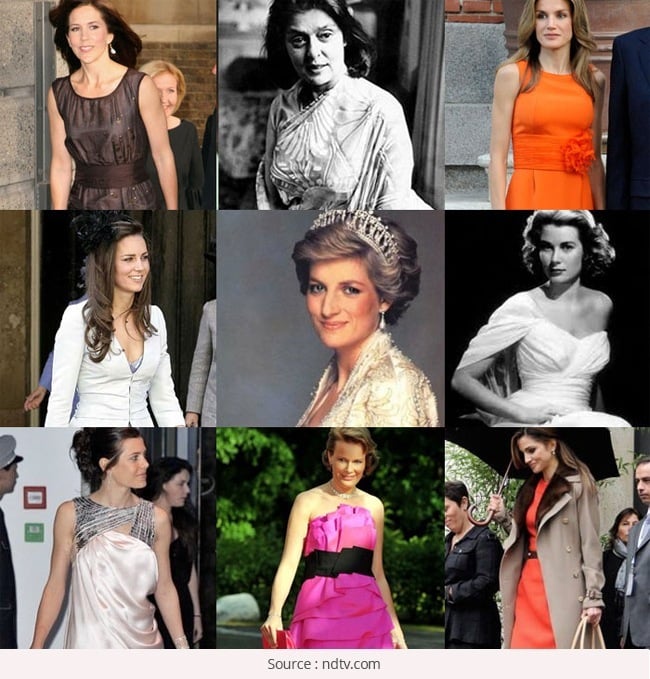 Royalty is more than wearing jeweled crowns and ball gowns to high profile events. Royalty needs to inspire. And what better inspiration can there be than style and fashion. As someone once said, 'Trends come and go, style is eternal.' Just like that, there have been some royals who have etched their name into the historic pages of style. Many of them were not born royal, but their style sure made it seem like they were.
FashionLady lists down the world's top ten princess of different era!
1. Princess Grace of Monaco (1956 till 1982 – The year of reign)
Grace Kelly was the Oscar winning Hollywood actress who always sported impeccable style. She is most known for her winning performances in Rear Window and Country Girl. In 1956, at the tender age of 26, she quit the movie business to marry Prince Rainier III of Monaco and went on to become one of the most distinguished royals.  She was known for her elegant style and favored full skirted dresses, beautiful gowns, and her favorite accessory: pearls. The international luxury brand Hermes renamed one of their bags 'The Kelly' after her when she regularly carried the style. The wedding dress she wore is one of the most iconic pieces of all time, a dramatic gown with a long sleeve lace top.
2. Princess Diana of Wales (1981 till 1996 – The year of reign)
She was the world's sweetheart and known as the people's princess. The quintessential girl next door turned royal stole the hearts of everyone. Whether it was a beautiful gown or just jodhpuris worn to a riding arena, there wasn't a look she couldn't pull off. Her simple nature and kind demeanor made Princess 'Di' an icon in herself. She carried herself with utmost grace and style even through the adversities and that was her biggest strength in style.
3. Maharani Gayatri Devi of Jaipur (1940 till 2009 – The year of reign)
The Rajmata of Jaipur was known for her classical beauty and also named among the 'Ten Most Beautiful Women of the World'. She made the best of both worlds, becoming a successful politician and also became India's very own royal fashion icon. She was graceful and sophisticated and always appeared in striking ensembles which complimented her every feature. She was usually seen in French pastels and chiffon sarees and her statement jewellery made of gorgeous pearls.
4. Queen Rania of Jordan (1993 till present – The year of reign)
Rania is the Queen Consort of Jordan and ranked as the most beautiful 'first lady' in the world in 2011. She is a mother of four, but looks nothing like it. Known for her effortless style, this queen is in support of Modern Islamic women sporting the Hijab as per their own interpretation and not under pressure of religion. Her own style of wearing a veil or an elaborate hat has inspired many Islamic women to embrace their inner style queens as well.
Her royal wardrobe majorly consists of rich colours, floral prints and feminine silhouettes.
5. Queen Letizia of Spain (2004 till present – The year of reign)
Letizia is the wife of King Felipe VI and the Queen of Spain. This modern day queen was formerly a journalist. She is a self-proclaimed shoe collector and loves herself in gorgeous pair of stilettos. She is considered quite the graceful queen with her ability to flawlessly carry of both pastels and prints with ease.
6. Catherine Middleton, Duchess of Cambridge (2011 till present – The year of reign)
Known as the most stylish royal today is the Duchess of Cambridge. Often compared to her late mother in law, Princess Diana, Kate beautifully personifies the girl-next-door-turned-royal once again. Always well groomed and polished, she knows how to dress her best for any occasion. She is seen rocking a fitted pair of jeans while also admired for her grace in a designer gown. Maybe often compared, but this royal definitely seems to be paving her own path of style.
7. Queen Jetsun Pema of Bhutan ( 2011 till present – The year of reign)
Married to King Jigme Khesar Namgyel Wangchuck in 2011, this beautiful queen is seen sporting Bhutan's culture in her outfits. Soon to become a style ambassador in her own country, she can also be credited for bringing out beautiful Bhutanese textiles and prints to the international style arena.
8. Princess Charlotte Casiraghi of Monaco (Presently)
Style is a part of your DNA if you happen to be the granddaughter of the late Princess Grace of Monaco. She is fifth in line to the throne of Monaco. She is established in the equestrian sports and is now even named the equestrian ambassador for Gucci. This style conscious royal is often featured on the best dressed lists of various international magazines.
9. Princess Sirivannavari Nariratana  of Thailand (Presently)
The daughter of Thailand's crown prince is taking the fashion world by storm and is often compared to the stylish Kate Middleton with respect to her rising fame. Regularly spotted at the Paris fashion week, this royal loves her blacks and whites. She also favors classic 80's fashion and is often even seen sporting the age old shoulder pads. A graduate in Fashion and textile design, she also has her own design label.
10. Princess Marie Chantel of Greece ( 1995 till Present – The year of reign)
Marie Chantel is the Princess of Denmark and the Crown Princess of Greece. She maybe 45 years of age, but is as much of a trendsetter across ages. She is the founder and owner of a luxury brand of designer wear for children. Marie Chantel is quite the globe trotter and has lived across the world – raised in Hong Kong, boarding school in Switzerland, education in Paris, New York and so on. The influence is reflected in all aspects of her fashion.
So, which princess is your style icon?