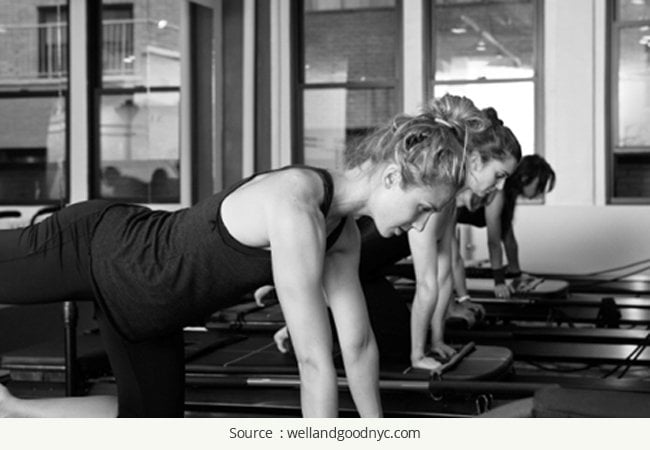 It is not only the gym clothes that are important to make you feel comfortable, but also a suitable hairstyle that can keep your attention on the workout and not on the hair. While you spend a good amount of money on these gym apparels and monthly memberships, you have look good from head – to – toe!
Everyone goes to sweat it out in the gym and let's admit to the fact that everyone of us gets that icky feeling even if one strand of hair falls to the face. By the end of the gym session you might as well feel like you will be better off bald. But then again you still want to look sexy while you at the gym working out hard trying to burn off all the unnecessary fat to look gorgeous.
I know exactly how difficult it is to keep the hair out of the face, and I agree that it is really troublesome. Most of you must be going through the same agitation.
Easy Gym Hairstyles
Now there are quick solutions to all these small issues. I will talk about some easy gym hairstyles that will keep your hands off your hair and at the same time will be easy for you to learn and adopt. There is more room for many hairstyles other than just your basic ponytails for the gym.
Women generally have longer hair and as a result their hair starts troubling them when they are exercising. You want to attract that hottie at the gym but end up looking like a sweat bucket with your hair gone all haywire. Here is what you need to do to fix all those problem forever.
1. No Nonsense Knot
The no-nonsense top knots as the name suggests is a non-conformist to all hair nuisance. The step by step picture is a perfect way to show you exactly how it is done to make things simpler for you. Just follow the twist steps wisely and you will have your perfect knots in no time.
This not is not a boring one, but will give you a different knot. Try this knot either up-top or make a low bun, based on your hair length or convenience.
[Also Read: What To Wear To The Gym]
2. Braids
Braids are the most loved gym look adopted by most women. Not only does it keep your hair away from your face but it also makes you look spirited and stylish. You can harmlessly tone the role of the next prima donna like character for a day. Whether you are sprinting off or just doing your brisk walks, this hairstyle won't bother you with any issues.
3. High Buns
High Buns is the way to go when you are out there in the gym to sweat it all out. Making the bun requires no tutorials. Just the basic pull and twist will do it. Pulling your hair up will not only make you feel comfortable but also prevent the hair from getting dirty with all the sweat. You can carry some pins to pull your hair together.
4. Ponytail with a twist
Basically the easiest way to tie is in a ponytail. Just take your whole hair and tie it with a rubber band. For more fun and twist to the look, pull out some few strands of the hair from the elastic on the bottom. Take that hair and bind it round the bottom of the ponytail, covering your rubber band. Use pins to secure it tightly.
5. Triple French braid
Triple French braids are not as complicated as it looks. Here is how you can attain the hairdo.
[sc:mediad]
First divide the hair into three small sections, like right, left and center. Fasten the center first and then make a braid on the other section. Divide again into three sections. Now take the right part over to the center. Repeat it till you reach the back of your head. Tie the braid with pins. Use the same technique on the other side of your remaining hair as well. After that you can tie your hair in a ponytail or even in a bun.
6. Braided pigtails
Braided pig tails will also sit comfortably when you are in your gym sessions or at yoga classes. It's simple to make, all you need to do is make a side parting with your hair and make your hair into two ponytails. Braid each of the ponytails and tie it with an elastic band. This will solve your problem of keeping your hair off your face.
7. Chignons
I absolutely adore the chignon twin buns. The chignons keep all your hair off your face and give you a fresh radiant look as well. It also makes you feel light and comfortable. It is perfect for any work out sessions in the gym. The twin coils are so simple to adopt. You just have to twist the round shape at the back of the neck.
8. High Ponytail
Whether it is that you are running or doing anything physical this high ponytail will leave you feeling light. The ponytail is easy to do and will require only a few seconds. Pull your hair up with an elastic band in a jiffy and sprint on.
9. Free style Ponytail
This freestyle ponytail is a unique combination of comfort and style. You can add more drama to this hairstyle by tying your hair into a ponytail at the nape of the neck. Next at equal intervals, tie elastic bangs making the hair look fuller between each of these band. Continue this until the end of the ponytail and you are done!
I am sure you will be the only one toning this unique look in the gym and the envy of all eyes.
10. Front Braids
To attain this look, you have to make a center parting first. Make small braids from each section of the hair starting from the front all the way to the bottom. Lastly take the remaining part of your hair and braid that as well. And there you have it, the braid of all braids.
So these are some of the easy gym hairstyles that I have chosen to share with you. All these are easy hairstyles and are very simple to adopt. Next time when you are sweating it out in the gym, you know what to do. Instead of cursing, quickly slip into these styles and you will be free from any hair tensions.
Let us know which of these are you planning to adopt the next time you are at the gym.