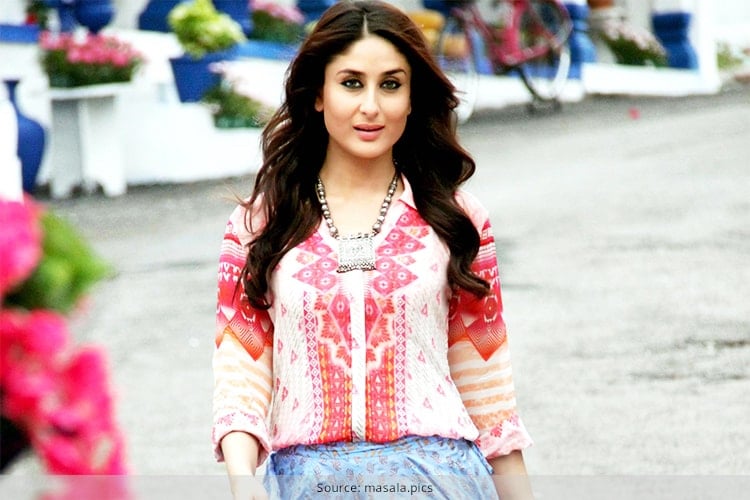 It's time for celebration for Bollywood actress Kareena Kapoor Khan's fans as she completed 15 years in the industry, delivering all sorts of films from box-office failure to meaning-full cinema to 100 Crore films! She has been the actress who likes to balance her career with the choice of films that either have deep social meaning, message for women empowerment or total laugh-riot entertainment. We, however, decided to recall her top 15 looks from her past films. Looks that redefined fashion and fashionistas' choices!
Let's look at the brilliant fashion portrayed by Kareena Kapoor khan after marriage and before marriage.
1. Bubbly Diva at Jab We Met
Imtiaz Ali's 'Jab We Met' is by far one of the most entertaining and successful films of Kareena Kapoor Khan. She played a character of a happy-go-lucky girl in love with someone. Her attire was mostly Indian and western casuals mix. It's her looks at JWM that spread the national rage of wearing long t-shirts over pyjamas with colourful bangles on hands! We all still wear this look at our home or at colleges. Another look in which she is wearing kurtas over her jeans became the staple fashion wardrobe for many women who belong to middle class family. Whatever she wore in the film, picked up the trend.
2. Sexiness Overload as Heroine
Madhur Bhandarkar's 'Heroine' presented all glamorous looks! Be it for a red carpet scarlet dress that exuded elegance, a yellow anarkali with yellow bindi that told the story of audacity and Kareena Kapoor in saree, the pink one, for the song 'Halkat jawani', which burnt fire on stage for Kareena Kapoor Khan's fans! Fashion wise, Heroine succeeded in giving our Mrs. Khan a fame for the style she carried.
3. Truly Desi Avatar with Bajrangi Bhaijaan
Colourful suits, bangles, danglers, different styles of braids and all the time carrying a jhola bag, Kareena Kapoor khan really won her fans heart with her truly desi avatar playing a Delhi girl. This look goes well with many of us, since we all can carry these tips and tricks in our day to day life! Moreover, Mrs. Khan is looking pretty!
4. Shining Like a Rainbow as Chameli
Doing Chameli after number of glamorous roles, Kareena Kapoor Khan really nailed the look with her outstanding performance, winning her critics' appreciation. It was indeed daring for her to choose the role of a prostitute. Her style imbibes the careless way of wearing a red saree, chintz blue blouse with red frills, jhumkas, loose wavy hair clipped from one side, many red and blue bangles and of course a nose ring! The recall value is still good with her image as Chameli.
[sc:mediad]
5. A Warrior Princess in Asoka
Playing a role of Kalinga Princess in Asoka, Kareena Kapoor looked minimalist yet fiery in her style! Her eye liner designs became instant famous. Her attire was more on a tribal side and very different from her other films. After Chameli, Asoka was the film where the actress experimented with her style, presenting a fresh take of her personality as an actress.
6. Kashmiri Bride in Refugee
In her debut film Refugee, Kareena Kapoor looked as raw as she was when she entered the Bollywood. Only wearing salwar suit with simple earrings and bangles as accessories, her simplistic and innocent look gained her eyeballs searching for 'Who was that new actress?'. She looked absolutely brilliant in a Kashmiri bridal avatar in the film!
7. A Style Aspirant in Kabhi Khushi Kabhi Ghum
Mrs Khan, in the role of Pooja (a college going girl) was introduced as a style diva in this film. Someone who likes to wear sexy minis and pants with tank top and jacket, accessorised with scarfs or mufflers! Her appearance in the film acted as an inspiration for the girls belonging to the same genre. We really loved her traditional image in Manish Malhotra's baby pink sharara in the song 'Bole Chudiya Bole Kangana'.
8. A Girl Next Door in Yuva
Again young girl next door! Kareena Kapoor as Mira in the film Yuva oomph a style of an average Indian girl in long printed skirt and kurtas. In the films' most of the scenes, she wore a beaded necklace, long wavy hair, a sling bag and walked on jootis. People really loved her looks in the film.
9. A Sexy Model in Kambhaqt Ishq
This is the film in which Kareena Kapoor wore forty different pairs of shoes! Wow! Kambhaqt Ishq was high on international trends. She set the trend of mismatch like wearing red stilettoes with yellow dress and blue clutch or green shoes with pink dress and oversized bags. But this mismatch tend really worked on her favour and colour blocking picked up the rage. She also wore interesting colourful acrylics bangles and bracelets. Aki Narula did really amazing job on her in this film.
[Also Read: Color Blocking Tips]
She says to Filmibeat- "Every look in Kambakkht Ishq is a style statement. Aki Narula has sourced my clothes from Milan. It took him 15 days to find the right kind of clothes for me. I wanted the costumes to sync well with my character. After Jab We Met where my clothes became a national rage, Kambakkht Ishq is going to set new trends."
10. Flaunting Bikini Bod in Tashan
From this film onwards, Kareena became a size zero rage in India! She dropped her size to zero for the film. Her style was more on a hippie side as she wore bikinis, shorts with crop tops and boots, wearing leather accessories. Her clothes were shinier having metallic shades to it.
11. A Muslim Gorgeous in Kurbaan
Kareena's stylist Aki Narula again did fantastic job by experimenting on different Indian silhouettes for her role in Kurbaan. Mrs. Kapoor Khan dressed up in long flowing anarkalis, fuller long skirts with churidars and full-sleeved t-shirts with stole wrapped around, all in muted shades of bright colours like maroon, green, blue, red, yellow etc. We really loved her plain black anarkali!
12. A Geek in 3 Idiots
Even as a geek she looks no less than a diva! We could see it in her film 3 Idiots. She played a role of a doctor who is geek in her looks, wearing old framed spectacles and her mother's old watch. In this film too, her style took inspiration from real life girls who wear long skirts with short kurtis and stoles. How does a geek bride with yellow helmet look riding a yellow scooty? Glance at the picture.
13. Chammak Challo of RaOne
This scarlet dress became Kareena's signature style in the film RaOne. Red saree has its own charm on ladies and she complimented with a sexy cut blouse, golden bangles on her one hand, nose ring and bindi! It is for sure that whenever someone thinks of chamak challo, he or she will think of her in the film.
14. A Pond of Grace in Agent Vinod
There were two scenes in which she looks absolutely stunning. First one is when she is riding on her bike in scarlet red off-shoulder dress and second one in the song where she is wearing a pink gharara and a paasa. It's after the song got released that fashionista's interest moved towards these ghararas and styling them in real life!
15. A Punjabi Kudi in Gori Tere Pyaar Mein
Again seen in an Indian desi girl avatar, Kareena Kapoor seem to have very well sold the idea of wearing suits and skirts with dupatta, jhumkas and bindi on!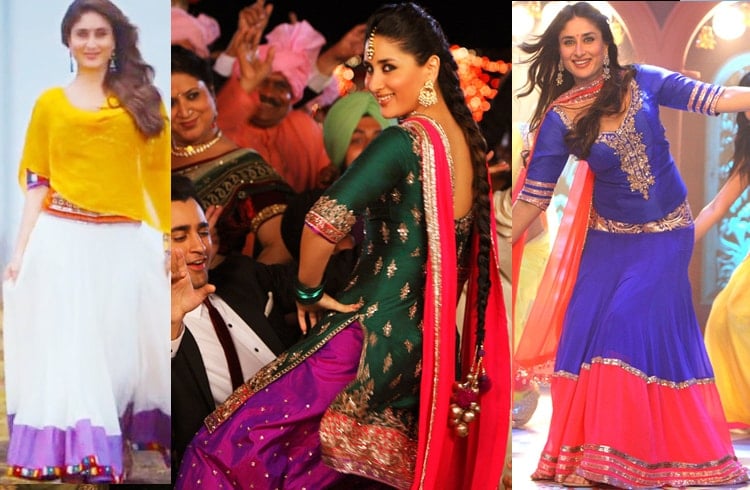 In her entire career, kareena Kapoor Khan impressively balanced her both looks, being traditional as well as western diva! Don't you think so?
Hope this post on 15 best looks from Kareena Kapoor Khan after marriage and before marriage in movies was a fun read.