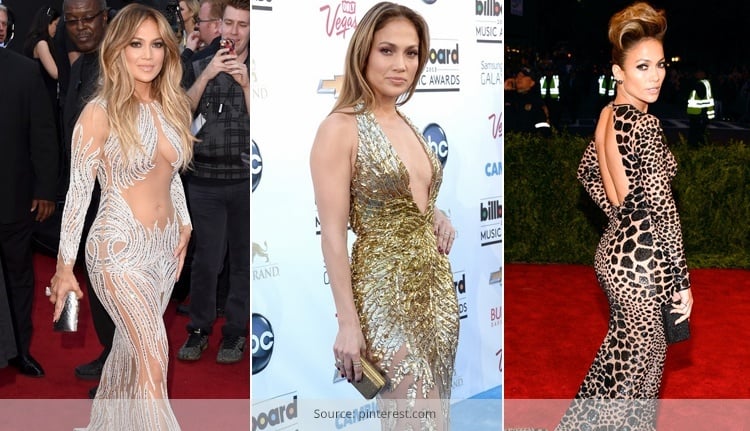 Almost fierce and a lady who has never taken a setback or a nosedive with defeat, the actress and reality star, singer and songwriter, dancer and musician- a feminist in her own rights and Hollywood's sweetheart, Jennifer Lopez, the Latina sensation who made the world pay respect to Latina pop and dance, has won many hearts across the world. Here's a look she flaunted, wearing designer Zuhair Murad at the Billboard Music Awards.
[Also Read: Twelve Best Fashion Moments of All Times]
Thank You J.Lo
Born on July 24, 1969, and from downtown Bronx, Jennifer Lopez began her career with an appearance in the famous reality television dance show 'In Living Color'. Noticed for her talents and spontaneity, Jennifer Lopez made headways into the world of movies with a small role in the movie 'Selena'. But that was the past, have you seen her at the Loreal show in Atelier Versace number paired with the sexiest of all, Jimmy Choo shoes!
Pop music was her calling and with an amalgamation of the spicy latino touches and beats, Jennifer Lopez created fire and waves of it with numbers such as 'If you had my love tonight', 'Waiting for tonight', 'Get right' and 'Play' to name a few, while she still made a name in the world of Hollywood sitcoms and movies too.
Without much ado and as she turns a ripe 46 years old, Jennifer Lopez still is the curvaceous bootylicious and very versatile celebrity, most PYTs and women across the world idolise. From her charming grace and personality to the fashion line 'J.Lo'- our diva dresses and flaunts herself like the real women out in the world would do!
"Coz I'm real"
Yes indeed, and as she sung this very phrase in one of her songs from the album 'J.Lo', here are myriad fascinating looks of the lady in question, a diva that inspires us to come out of the rigmarole of stereotypes and to dress with utmost grace and élan. And here she presents a Valentino creation- quite an Indian touch, isn't it!
With Roberto Cavalli
Who wouldn't want to be flanked by two celebrities on either side? But when it comes to J.Lo, celebrities throng for a pose and more with her. Can't blame her, can we? Wearing Roberto Cavalli and with the eminent designer too, at the esteemed 2010 World Music Awards. J.Lo stole the red carpet fanfare tales!
At the 2015 Billboard Music Awards
Ever so graceful in net and sheer, one couldn't imagine the diva dressed in anything else but in the sexiest outfit ever, made from the hands of eminent designer Charbel Zoe and flaunted with utmost grace and minimalism at the 2015 Billboard Music Awards. The silver gown rocked the red carpet night!
[sc:mediad]
In a Michael Korr creation
There's something about the sassy latino diva and animal prints. And this time in a chic and very seductive python print Michael Kors gown, once again J.Lo took away the living daylights out of many shutterbugs and fans watching her strut down the red carpet!
Jenny From the Block
Back to where she came from, THE BLOCK. Street style best personified and showcased by none other than J.Lo, because she loves keeping it real. Emulate the look ladies, make heads turn too, wear those snake skin pants and pair it with designer bags as well. Chic and very stylish!
Jennifer Lopez designs her own clothes
In most cases yes and with her own fashion label to flaunt, we never knew an all-pink romper on a hot summer day, and when out with girls for a cup or two could stir up more heat. Pair it with nude pumps or heels, keep the accessories minimal and you'd be the reason why the traffic snarls happen!
An all-white onesie
If you thought an all-white onesie was only for special moments, you were right. However, if you plan to wear it for a girls night out, doll up like diva J.Lo. keep the peep-toe heels ready for company, chunky hand and neck accessories, and a tote bag in the hand- you're ready to stun the night!
From bling to nudes, sandals to suits, rompers to gowns and more, J.Lo wears them all and flaunts them all, need we say more! More power to you girl, keep rocking the shows and bringing to us real women with curves, a beauty and fashion statement much needed! Gracias Senorita!