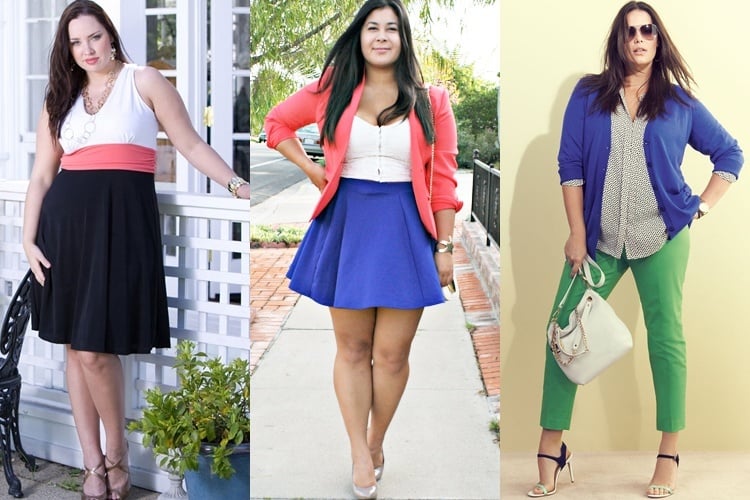 Hey you gorgeous curvy fashionistas! We know that you love your curves and you are confident enough to incorporate latest fashion trends into your wardrobe that can embrace your frame the loveliest way.
So, have you already made the hottest new drift of color blocking your own? Believe us, with a curvilinear shape, you can never go wrong with this amazing style. All you need to do is know how to color block your outfit the right way and you are all set to flaunt an exciting look.
We tell you what color blocking is and how curvy girls can make it a true fashion statement. Here we go: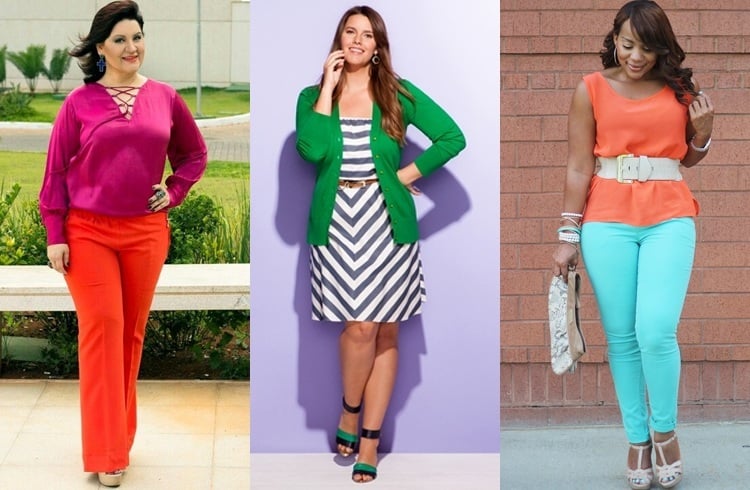 'Color Blocking' – What Is It?
No, you don't need to be a wordsmith to learn the meaning of this highly popular fashion terminology. 'Color blocking' is just an interesting technique in which two or three bold, bright and vibrant shades of colors are strategically paired to create an exclusive outfit. It is that simple! But you must choose hues that are complimentary yet contrasting so that mixing them up can brighten your day anyway.
Basic Rules for Color Blocking Your Outfit
Being a plus-size woman, you can definitely play with colors and rock this trend. But make sure that you do it like a boss! For that, you need to know the basics of this color play. Considering a color wheel will help you understand the color blocking principles the easiest way. It will basically help you find out the most suitable colors by using the 'Rule of Two-Thirds'. Here are the steps to follow:
Choose your favorite color or the color that you are planning to wear and mark it on the color wheel.
Create an equilateral triangle (a triangle all three sides of which are equal in length) on it starting right from your chosen color.
Pick either one or both the colors that you find at the other corners of the triangle as the complimentary shades for your favorite color.
[Also Read: Jumpsuits for Plus Size]
This will help you figure out the ideal combination of shades and get a perfectly color blocked outfit for your curvy body. Anytime.
[sc:mediad]
Tips to Color block Your Curves the Right Way
Color blocking can be a fun way to add to the fashion quotient of curvy girls. You can play up the right way with your curves and look amazingly chic, while rocking such bold and daring colors. We give you some important tips here:
More is not always better. At least, not in case of color blocking. So, you should steer clear from picking more than 2-3 colors at a time and giving others a sore eye.
Nothing is as good as a solid colored top in black, white or even nude for using as the base for your overall outfit. You can build gradually on various other shades.
Be conscious about the contrast or saturation of the colors you choose. Too high and too low shades never go hand in hand. Hence, think twice before teaming up a super vibrant top with a pastel bottom.
[Also Read: Guide For Plus Size]
Always go for outfits with multiple pieces instead of single-piece garments like jumpsuits, rompers or dresses with stacked colors. It will not emphasize your problem areas like hips, thighs, abs, etc. during color blocking.
Place the colors in such a way on your body that no bright or vibrant shade covers the fatty parts. Otherwise, you will end up maximizing your curves.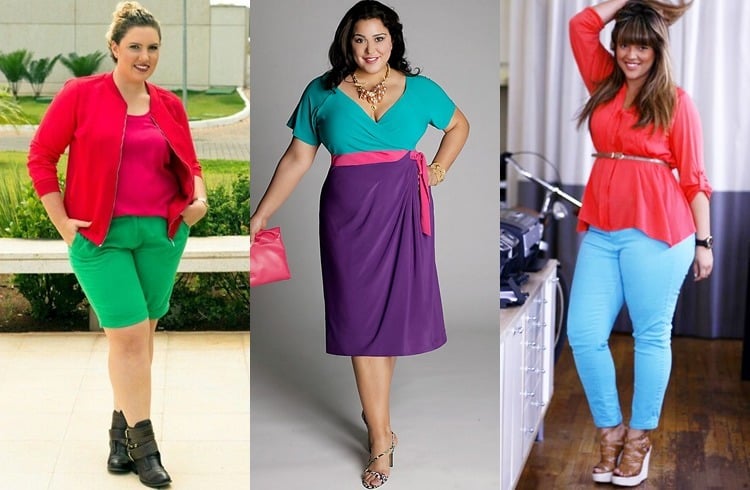 Interesting Color Pairing Ideas for Curvy Girls
Finally, here is a few modish color blocking ideas for curvy women, which can give out of the ordinary looks in minutes without grabbing attention of people to the trouble areas of the body. Think something different from the very predictable black and white combo. Check out the suggested pairs of color blocks for an awesome appearance this season:
1. Two Color Block Ideas:
Bright orange and bright purple
Dark red and cobalt blue
Purple and deep pink
Olive green and bright pink
Navy blue and neon
Orange and mustard yellow
Neon and olive green
Dark grey and soft pink
Cobalt and camel-color
2. Three Color Block Ideas:
Cobalt blue, bright yellow and vibrant orange
Deep blue, pure white and bright pink
Chocolate brown, soft pink and strong peach
Sensational coral, simple grey and ivory white
Intense purple, bright blue and teal blue
So, forget wearing weird color combos. Get relaxed and perfectly toned down looks by embracing your curves with these helpful color blocking tips.
Stay chic, stay color blocked! Let us know what you think about color blocking for curvy girls and plus size.