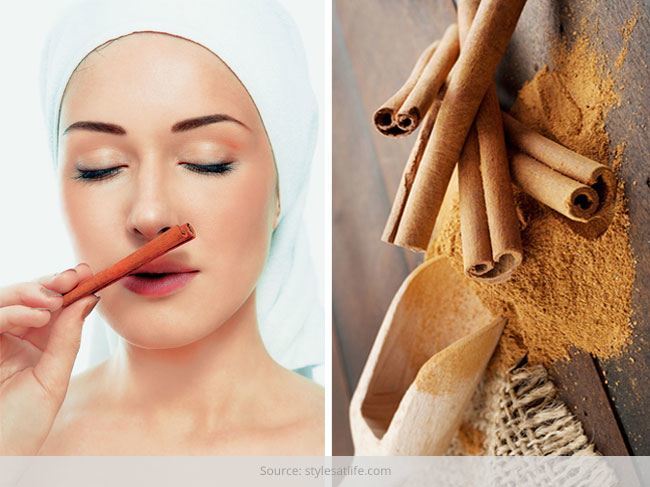 Since ages, cinnamon is being used as a medicinal herb. The Indians and Chinese have used it to cure various illnesses. This tasty spice contains anti-oxidant, anti-fungal and anti-bacterial properties, which helps cure flu and indigestion apart from serving as a great beauty product. It is rich in calcium, iron, manganese and fiber.
The following are some of the beauty benefits of Cinnamon:
1. Lip Plumper:
Do you dislike those thin and small lips of yours? Are you jealous of those plump pouts, where any lip product stays and looks pretty? If yes, then cinnamon is at your rescue. Remember, cinnamon may not be suitable to all skin types and might cause irritation if applied dry. Store some cinnamon powder in your beauty basket. Apply some Vaseline to your lips and rub it. Add a pinch of cinnamon powder over it. Rub it gently and allow it to be there for 2-3 minutes. Add another coat of Vaseline to your lips. The cinnamon might give you a tingly sensation, but it will be bearable. You will love your lips after seeing the miracle of this spice. Decorate your lips with your favorite gloss or lipstick.
2. Acne healer:
Acne is the most disgusting skin problem that we all go through in our life. They pop up on the face and leave a mark, which stays on for a long time. Cinnamon contains bacteria-fighting properties which in turn acts as a great anti-acne mask. Add one teaspoon of cinnamon powder to three spoons of honey and mix it till a thick paste is formed. Apply it on the acne and leave it to dry. Wash it off as soon as you feel a slight burning sensation. Cinnamon will fight the acne bacteria while honey will moisturize your skin, diminishing the redness caused due to acne. The remedy will leave your skin smooth and acne free. This mask can be used on regular basis, but do take care of the proportion of cinnamon powder.
3. Cinnamon Sugar Scrub:
Sugar scrubs are great for exfoliation and are mostly preferred by beauticians. Take 1 cup of sugar and add 1 teaspoon of cinnamon powder and blend it so that the product dissolves well. Add 1 cup of sunflower oil and few drops of cinnamon essential oil. You can choose the oil as per your requirement. Coconut oil can also be used instead of sunflower oil. Stir it together and store it in a container. Use it as a body scrub and experience its great benefits.
[sc:mediad]
4. Kills Bad Breath:
Is bad breath troubling you? Boil a pot full of water. Take the pot off from the stove and add few cloves, cinnamon, peppermint and parsley to it. Stir and leave it for ten minutes. Boil the mixture again till the water reduces to a glass or cup. Separate the solids from the water and let it cool for a while. Store this water in a glass bottle. You can use it as a daily mouthwash. A gargle with this liquid is most recommended.
5. Face Mask:
We all apply tons and tons of chemicals on our face in the name of makeup before we step out. A natural face mask made out of cinnamon and honey is perfect to cleanse our face once a while. Take one teaspoon of cinnamon powder, 2 teaspoons of honey and one teaspoon of nutmeg. Blend them together. Apply it on your face and leave it for 20 minutes. Wash it with lukewarm water and see the smooth, glowing skin . Honey possesses anti-bacterial properties and also moisturizes the skin. Cinnamon is an antiseptic agent and helps to prevent the skin from bacterial infections. It also rejuvenates the skin and draws oxygen and blood flow towards the surface of the skin. If the mask starts giving you burning sensation, kindly wash it off immediately as the pack didn't suit you.
Hope this article was useful to you. Cinnamon has a great impact on our skin, if used regularly. Do share your experiences with us.