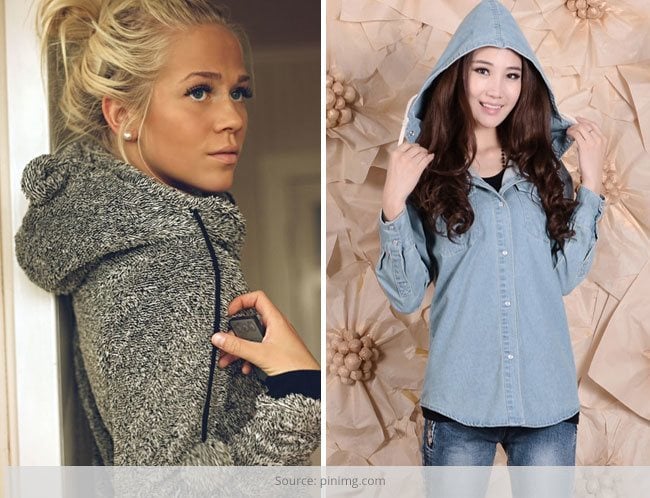 Hoodies have come a long way in terms of their fashion quotient and appeal. From being a utilitarian item that helped keep you warm during winter, Hoodies or hooded sweatshirts are now hailed as a winter fashion must-have. They have even taken over the runway, with many designers showcasing the Hoodie and its fashion appeal, thereby taking it to the next level.
We'll teach you how to get trendy with this very practical piece of clothing.
Oversized Hooded Sweatshirts
The days of wearing oversized hooded sweatshirts are long gone. You can now get a slim-fitting hooded top that will hug your frame and will now add bulk to your figure. Pair a hooded sweatshirt with your favourite pair of jeans to create the ultimate winter look.
Wrap Hoodies
Wrap hoodies are another cool option. The top is wrapped around your frame and the hoodie pulled low over your head for a look that is both comfortable and super stylish.
Hoodie Shirts
Hoodies are not exclusively reserved for sweatshirts and sweaters you know. Check out these cool hooded shirts in flannel and denim. They make for some unique winter options for when you are tired of wearing sweatshirts and woollen clothing.
Animal Lover Hoodie
And of course there're the animal-inspired hoodie. There's the panda hoodie in black and white with panda ears; or how about the cat-eared hoodie if you're a cat lover? These are totally adorable and are a great way to make your winter wardrobe fun and exciting.
[sc:mediad]
Laid Back Look
Knowing how to style your hoodie is the secret to making them trendy versus just being functional. Layer it up with caps and scarfs to add different textures and make your look more complex and interesting. You don't have to pull up the hood over your head all the time. Just let it hang loose at the back and cover up your head with a beanie instead for that cool laidback look.
Hoodie Dress
How about a hooded dress? Who says hoodies are only for tops? Break the rules with a cute hooded dress this winter and set the trend for new ways to wear hoodies.
Or just fashion your own hoodie with a scarf. This way you can mix and match interesting colours to create unique combinations.
Detachable Hoodies
There are also those tops that come with detachable hoodies. They have either buttons or zips to remove your hoodie when you want and put it back on anytime. How cool is that? You can make use of this option to create a two totally different looks with some imagination and creativity. Check out this bright yellow top with detachable hoodies. Won't they make a great addition to your winter wardrobe?
You can pair your hoodies with pretty much anything from shorts and jeans to skirts and dresses. Just make sure your outfit goes well together and that the hoodie does not look out of place with the skirt or dress that you're wearing. Hoodies have been super popular with hip-hop stars and rappers, but has not been that popular with the general public. I think it's time we brought this item of clothing to our everyday wardrobe and gave it a new lease of life.
Over-sized or slim-fitting, hoodies are the perfect winter wear for the comfort and convenience that they offer. Now all that's left to do is to take this piece of clothing and give it your own personal twist. Make the humble hoodie your fashion statement this winter and go ahead and create some cool looks with it.