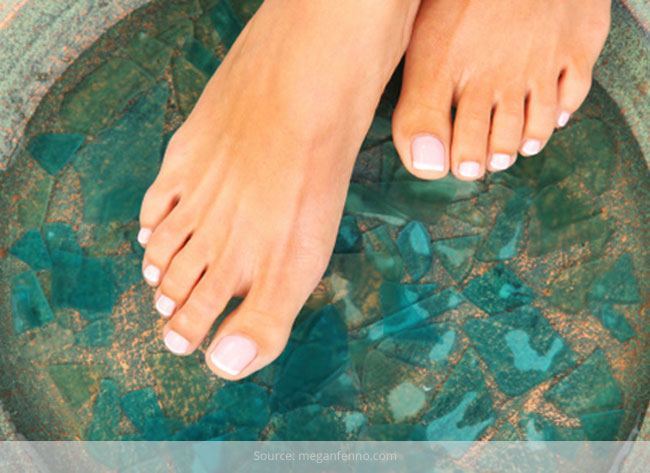 Happy feet is a sign of happy you! You need not to have deep pockets to get that luxury pedicure or even buy expensive foot care products to experience the soft and soothing feet that you always like to feel.
We tell you some do-it-yourself foot scrubs that you can easily make at home, use and enhance the beauty of your feet.
So to start with, it is important for you to know that any scrub is made of 3 basic elements
1. A moisturizer (you can choose olive oil or coconut oil)
2. Sugar or salt (that helps in scrubbing)
3. Essential oils or herbs or lemon or oats etc., as per your choice
Now let's look at different foot scrubs that actually work. These help prevent cracked heels and leave your feet soft and pampered.
1. Simple Exfoliating Brown Sugar Foot Scrub
It will take less than only 10 minutes to make this foot scrub. You need to mix together 1 tablespoon of brown sugar, 1 tablespoon of olive oil/coconut oil, ½ teaspoon of baking soda or vitamin E gel (taken from the capsules). Now use the scrub on your feet to exfoliate the dead cells or rough areas of your skin. Now rinse off well with slightly warm water. Do not forget to apply a heavy lotion on your feet post scrub for the smoothness! You can also apply the scrub before you go to take shower.
2. Coconut Salt Scrub
To make coconut salt scrub, you need to have coconut oil, course sea salt or sugar, vitamin E oil and essential oil for scent. Mix the sea salt with your oil in 2:1 ration. Such as, mix 1 cup of salt with ¼ cup of coconut oil and ¼ cup of vitamin E oil. If you choose to use only one oil, then you can mix ½ cup of oil with 1 cup of salt. Now add a few drops of your chosen essential oil for the fragrance and stir the mixture. The scrub is ready to use! How easy!
3. Peppermint Foot Scrub
To make peppermint foot scrub, you need to 1-2 cups of sugar or the Epsom salt or the coarsest salt available, ½ cup of warm coconut oil or olive oil or grape seed oil, 10-15 drops of peppermint essential oil, 2 drop of green food colouring. Now mix them all together and store in a Jar. It's ready to use! For more coarseness, add enough sugar or salt.
Why you should use homemade scrubs?
They are free from chemicals and any sort of preservative. Ingredients are economical i.e. a part of every household. Homemade scrubs give you a relaxing and fun experience.
4. Lavender Foot Scrub
To make lavender foot scrub, mix together 1 cup of sea salt or Epsom salt, ½ cup of olive or grape seed or almond oil, 8 drops of Lavender essential oil and 2 tablespoon of dried Lavender buds. Stir the mixture well. If the mixture seems dry enough to be used as scrub, add some more oil until you get the consistency you are happy with using. Ensure to add essential oil in the end, when the mixture gets ready. Pour the mixture into a jar and use as you like it.
5. Sea Salt Foot Scrub
This one is really interesting as interesting ingredients go into making sea salt foot scrub. Mix 5 tablespoons of dead sea salt (finely or medium grained), 2 tablespoon of purple jojoba beads, 2 tablespoon of golden jojoba oil and sweet almond oil each, 2 drops of vitamin E oil, 2-3 drops of Vanilla select fragrance oil and 2-3 drops of peppermint essential oil. Stir them well together. Now pour and store it into a container. The scrub is ready to use!
[sc:mediad]
6. Peppermint Honey Feet Treat
Take 3 teaspoons of mint leaves and rinse them. Dry them by putting them on paper towel. Now grind it using mortar and pestle. Now melt 4 teaspoons of grated beeswax using heat. Combine 4 tablespoon of aloe vera gel and 2 teaspoon of honey in a microwave safe bowl and stir it with melted beeswax. Now let it cool for sometime. Add mint leaves, 6 drops of essential oil, 2 drops of arnica oil, 2 drops of camphor oil and 2 drips of eucalyptus oil onto the honey mixture. Store it in a container in a cool place. The feet treat scrub is ready to be applied.
7. Sugar Cookie Foot Scrub
Mix 2/3 cup of granulated white sugar with 1/3 cup of packed brown sugar and stir them well. Now add ½ cup of olive oil and 1 tablespoon of vanilla extract into the mixture. Mix them really well. Now you store it in a container. The sugar cookie foot scrub is all set to be applied on your feet!
8. Lemon & Peppermint Scrub
Combine 2 cups sea salt, 1 cup of olive oil, 1-2 teaspoons of lemon zest, 1 lemon and 3-4 drops of peppermint oil or essential oil and mix them well. It is good to use. Store it in air-tight jar.
Banana Foot Mask for Natural Moisturizing – Mash a banana and apply it for 15 minutes. Now rinse it with lukewarm water. Your feet will become soft and smooth.
9. Pumpkin Foot Scrub
Mix ¼ cup of cooked or canned pumpkin puree, ¼ cup of brown sugar, 1 teaspoon of grounded coffee powder, 1 teaspoon of lemon juice and 1 tablespoon of almond oil or jojoba oil or olive oil. The pumpkin foot scrub is ready to be applied on feet for a pampering experience.
10. Coffee Foot Scrub
To make coffee foot scrub, you need 4 tablespoon of freshly grounded coffee, 3 tablespoon of cornmeal or grounded oatmeal, 3 tablespoon of sea salt or Epsom salt, 3 tablespoons of olive or almond oil or 2 drops of lavender essential oil (you can choose any essential oil of your preference). Mix them all together in a bowl. Now you can apply the mixture onto your dry feet, scrub, let it remain for 10 minutes and then rinse off with warm water.
Homemade foot scrubs can become excellent gift too. All you need to do is to deck up the presentation. For example, put the scrub in a jar, place ribbon around, attach a label and your gift is ready to be given. In label, you can mention six months used by date and instructions to use.
You're all set to be your own beauty alchemist! Hope this post on DIY foot scrubs was helpful.