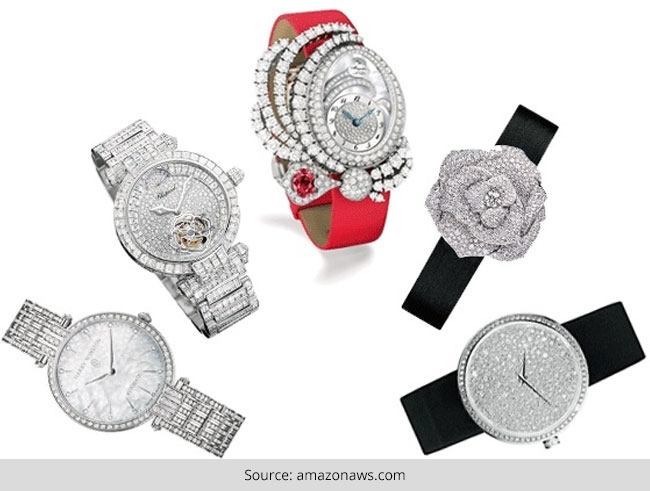 What did you gift your mum on this Mother's Day? What did you get on your last wedding anniversary? Watch is one of the most preferred gifts for our loved ones. Considering this statement-making valuable gift, Fashionlady offers you 5 most expensive diamond watches for women that can actually cost a fortune.
Did you know?
There are watches that are much more expensive than a Ferrari. Just like the Patek Caliber 89 which costs $5,120,000.
Let's have a look at some of the most expensive diamond watches for women!
1. Hublot Big Bang Diamond-encrusted Watch
Price – $5 million
In 32 years of the Company's existence, this is the most precious timepiece that they have ever created.
Below is what makes us agree to saying that Hublot's Big Bang diamond-encrusted is one of the most expensive diamond watches for women.
The 1.73-inch (44-mm) diameter 18K white gold case is bedazzled with 302 baguette diamonds. The 18K gold-white dial is studded with another 179 baguettes. The bracelet made of 18 carat is set with an additional 782 baguette diamonds. Six emerald cut diamonds are also an additional adornment to the watch each weighing 3 carats. 18K white gold featuring 1.06 carat rose-cut diamond with 12 more baguettes make the crown of this stunning timepiece.
[Also Read: Baselworld Best Watches 2016]
On the whole, the watch features market-cornering 1,282 diamonds, more than 100 carats in baguettes alone, and all of grade A VVS clarity.
What do you have to say about this most expensive diamond watch?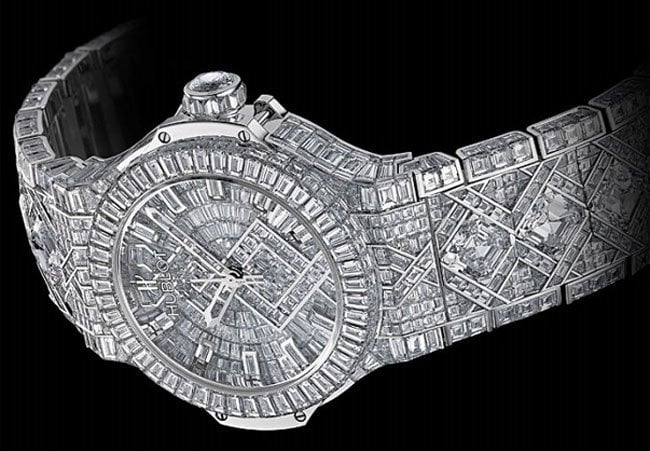 2. Jacob & Co. – Crystal Tourbillon
Price -$720,000
This elegant and another of the most expensive watches is from The Jacob & Co.'s limited Crystal Tourbillon edition and was actually designed several years ago. However, it was constantly upgraded until finally it was revealed to the world with a price tag of jaw-dropping $720,000.
This mechanical, handmade time-piece features the 750-part, 17-jeweled Jacob & Co. 7 Caliber movement that is flanked by sapphire bridges and intricately skeletonized components.
This finely crafted and engraved piece is set between sapphire crystals. The makes the sapphires appear as though floating in space to the viewers. This is definitely a treat to the eyes. It took Jacob & Co.'s skilled artisans and watchmakers almost 2,000 hours to engrave and build this movement.
Due to the complexity to build the watch, only a few are made annually.
Would you like to own Jacob & Co.'s most expensive diamond watch?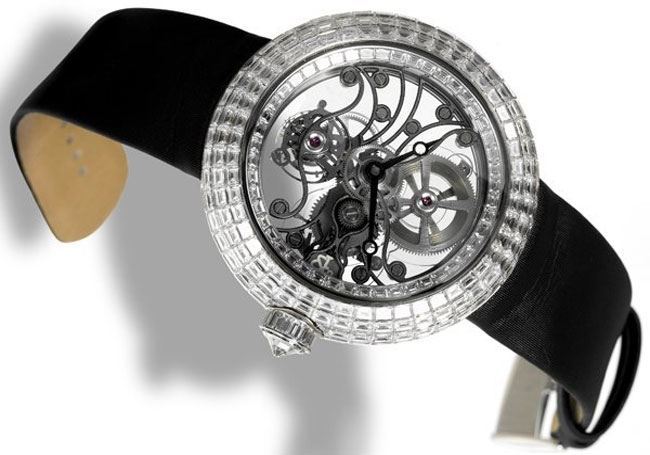 3. Omega – Constellation Baguette
Price – $708,742
[sc:mediad]
This exquisite diamond-studded women's watch, priced at $708742, is available in Geneva at Omega boutique. This Omega watch is flanked by 30-carat, 459 Wesselton diamonds. The dial is encrusted with 146 baguette and trapeze diamonds. The case is made of 18 carat white gold case and is completely covered with diamonds. Omega is owned by the Swatch Group.
Celebrities have always had an eye for expensive diamond watches.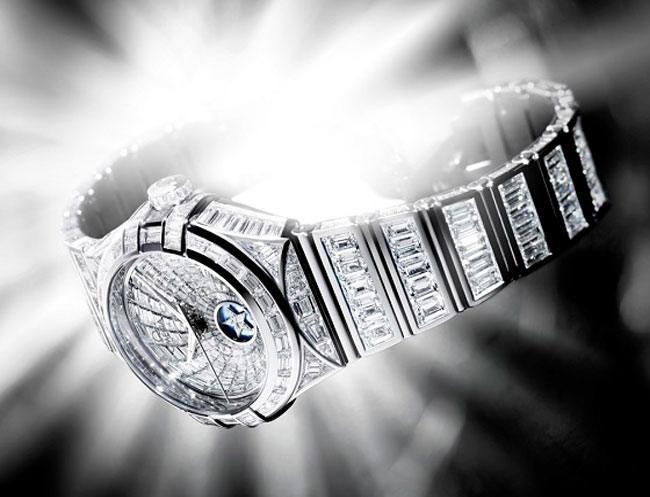 4. Richard Mille Caliber RM 019 Celtic Knot Tourbillon Watch
Price – $465,000
Priced at $465,000, this watch definitely comes under the world's most expensive ladies watch. The watch comes with a case made of white gold that weighs 18 karats with a measurement of 45 millimeters by 38.2 millimeters by 12.25 millimeters. A skeleton dial with black alligator band with manual movement and power reserve indicator are the opulent features of this lavish watch.
After this marvelous creation, the connoisseurs asked the manufacturer to create men's watch of the same knot model.
Black Onyx is used to create the base plate of the watch and it is known that this particular stone has the power to deflect harmful energy and channel the same back to earth. Thus this watch can be trusted to provide good luck and stability to the user.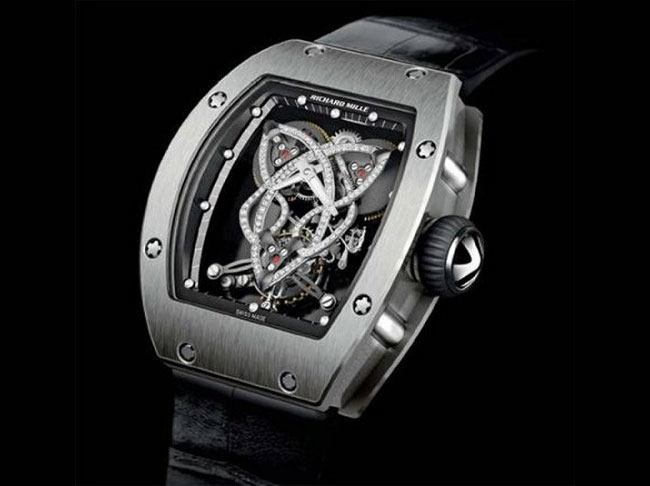 5. Patek Philippe Twenty – 4 Watch
Price – $285,500
A medium sized dress watch comes with quartz movement and E 15 caliber.
This expensive diamond watch is fully set with diamonds and its case is made of 18K white gold. The pave dial and crown is set with a diamond that weighs .05 carats. It has hours and minutes functions and is water resistant up to a distance of 30 meters and measures 25 millimeters by 30 millimeters.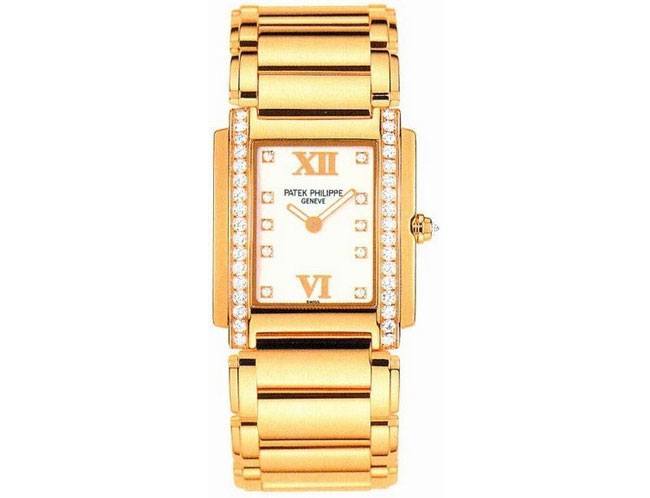 What do you think? Are you willing to spend a fortune over these marvelous pieces? Are Diamond watches also a women's best friend?
[Also Read: Most Expensive Handbags Here]
Images Source: amazonaws.com