Bollywood inspires us whether it is fashion or hairstyle or any dialogue or thought! With the time and the changing trends, every star practices a severe transformation to don a fresh look for different Bollywood projects. People try to adopt the stars' styles in their daily outlook. Hairstyle makes an important part of it.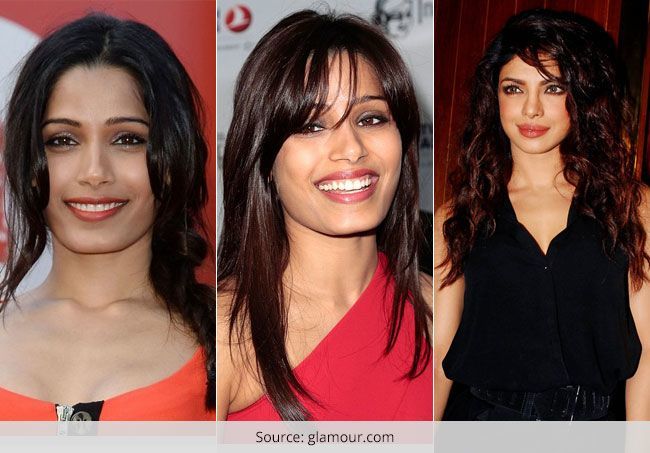 There are many Bollywood hairstyles that have inspired youngsters to style one, hence the popularisation of the look!
[Also Read: How To Get Thicker Hair]
Here are some of the many popular Bollywood hairstyles that have inspired the fans to sport the same.
1. The Tomboy Avatar
In the past we have seen the versatile actress Kajol donning a tomboy look in 'Kuch Kuch Hota Hai' with her appealing mushroom cut. She sported the short hairstyle with ease, and that simple hairdo was a trendsetter for many girls.
However, it was the first time when we saw Kajol chopping off her locks and she did it again by donning a pixie cut for her movie 'Dushman'.
2. Short Layers with Side Bangs for Bollywood Celebrities
Priyanka Chopra is one of those actresses, who constantly likes to experiment with her looks and she keeps flipping her hairstyles!
In of her movies 'Anjaana Anjaani', she sported sexy short layers with the oomph of confidence. Her hair cut in the movie was feather with bangs in front. And this indie fringes bang was trendsetting among youngsters. Well, bangs are already in the trend in various hairstyling!
Yes! We have seen the bold and beautiful Bipsasa Basu sporting bangs too.
3. Beautiful Bollywood Bouffant
This is 60's hairstyle and still very much popular. Every Bollywood actress, from the likes of Waheeda Rehman, Sharmila Tagore, Saira Banu to Madhuri Dixit and Priyanka Chopra, everyone has carried this hairstyle with elan. Women love to gather their hair in a bouffant and let it loose along the sides.
Or, tie the hair up in a sleep ponytail or into a high bun.
4. Messy Waves for Bollywood Celebrities
Deepika's hairstyles are highly constant but the film 'Cocktail' definitely highlights her favourite look. The character of Veronica played by Deepika certainly raised the glam quotient and left many of us awestruck with her gorgeous hairstyles in the movie. The messy, carefree hairstyle with multi layers and soft curls became an instant hit. Many other Bollywood actresses with the likes of Piggy Chops to Chitrangada Singh to Aishwarya Rai Bachchan have been seen carrying this hairstyle at various events or others.
5. Bollywood Celebrities in Long Wavy Hair
Bollywood's young star Alia Bhatt has turned out in many hairstyles in such a short span of time. She has dazzled everyone with her blockbuster movie 'Two states', where she was seen sporting a modern south Indian avatar. Alia's character Ananya was seen flaunting her long loose wavy hair or with a simple pretty messy braid giving her a simple yet stylish look. Long wavy hair is in trend as many Bollywood actresses have sported the style at least once in their film career.
6. Bollywood celebrities and the Fishtail Braid
Seems braids are very much in the trend! If normal braid is boring to you then try fishtail braid, which looks extremely stylish and elegant. You can carry it two ways – ruffled look or sleek look! In ruffled look, the hair splatters out of the braid as well as you have some loose sides falling while in sleek look, all hair are tied cleanly in a single fishtail braid!
7. The Red Streak
Kareena Kapoor was seen playing a vivacious hairstylist Riana Breganza in her movie 'Ekk main aur Ekk Tu' with long and wavy hairs. Transforming her look from poker straight hair to a grunge hair look with one red streaked strand was quiet appreciated in B-town. She was also seen sporting some interesting hair accessories like hair bands and hair pins in funky colours. Since then, keeping a red hair streak has become quite popular. One can keep this red streak in any of the hairstyles but we suggest try it on straight or wavy hair look for the best impact!
8. Poker Straight Hair Style
Sleek, simple and sophisticated hairstyles of all! And very easy to carry and maintain. Poker straight hair has been donned by Bollywood many times. Kareena Kapoor, most commonly, carries this type of hairstyle or wavy ones in many of her films and public appearances. Freida Pinto too has been flaunting poker straight hair for a long time.
Hope you liked this article on 8 Most Famous & Popular Bollywood Hairstyles.
Which Bollywood hairstyle you are going to do next? Keep us updated!