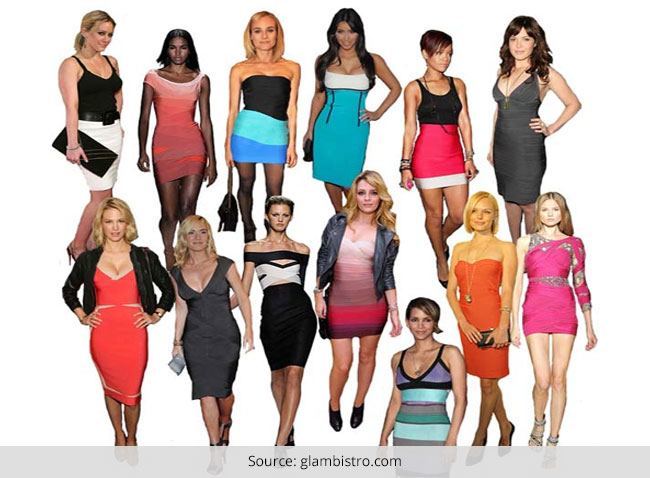 In order to carry off a bodycon outfit, you need to be confident about your body, not conscious of it. Bodycon outfits are figure-hugging clothing that cling on to every curve of your body. So you need to be super confident and comfortable with showcasing your body and its curves. This is the reason many women shy away from wearing bodycon dresses.
There is a general feeling that all a bodycon outfit does is accentuate one's flaws. This is true only in instances where the person wearing it has not mastered the art of creating an illusion of perfection. If you know how to rock them, bodycon outfits are a very convenient and great-looking addition to your wardrobe.
Shapewear to the Rescue
Invest in some good quality shapewear to tuck in any extra flab and shape up your waist and bust. Even if you are of a slender frame, it is still a good idea to wear some shapewear underwear under your bodycon dress. They help smooth out the entire look and you won't have to keep worrying about bra impressions or panty lines showing. When you don't have to worry about your underwear making an appearance, you will automatically look and feel more confident.
Do Tummy Exercises
The one thing that you need to concentrate on is your tummy. If your tummy is protruding, the bodycon outfit will outline this and make it look even worse than it actually is. So do some tummy exercises a week before you plan to wear your bodycon dress.
Don't Bare it All
It is not about skin show. So instead of opting for a very revealing dress, try to keep it classy. Since you're already showing off your figure with a tight-fitting dress, showing skin on top of that may end up looking tacky. So opt for dresses with long sleeves, or those that are calf-length. The overall look should remain sophisticated.
Check out how Kareena Kapoor keeps it classy. The long sleeves and the modest length keep her look chic.
This pastel calf-length bodycon dress has a high neck, making it the perfect choice for office parties.
[Also Read: Most Expensive Shoes]
Create an Illusion
If you feel your heavy hips may not look good in a bodycon dress, take a leaf out of Kate Winslet's book. Kate's dress has contrasting colours, with the black on the sides making her waist look smaller. The black acts as an outline for her figure, emphasising the curves and making her look shapelier.
Dark colours are generally more slimming. So if you're wearing a bodycon outfit for the first time, start with a dark shade like a deep purple or blue.
Another nifty trick to make your waist look small is to cinch it with a belt. Check out this bodycon dress with an attached belt at the waist.
To Buy Click Here
Accessorize Right
Keep your accessories to a minimum. Your dress is making a bold statement, so your accessories can be kept simple. And the accessories must always go with the dress. Don't go for anything too wacky, the accessory is just there to subtly enhance the dress, not to overpower it.
[Also Read: Most Expensive Watches]
Priyanka Chopra gets it right by going for the minimal look. She lets her dress be in the spotlight, with nothing else to take attention away from it. Imagine if she's accessorised heavily with this dress? It would sure go from classy to tacky then right? So to get it right every time, keep it simple.
Wear Heels
Dust out your high heels! Wear your high heels with your bodycon dress. The heels will give you better posture and make your back look taut as well. The added height will also give you more confidence and show you to your best advantage.
Here, Jennifer Lopez wears high heels to complement her lime green bodycon dress.
Layer it up
You can always layer your bodycon dress with a shrug, jacket or even a stole if you're feeling too conscious. Just make sure that whatever you decide to layer the dress with complements it.
Wearing a bodycon dress requires you to be completely confident of your body. If you're going to wear it and then spend the whole evening tugging and pulling the dress, it will ruin the overall effect. So try to use these tips, let go of your insecurities, and go on and rock that bodycon outfit!