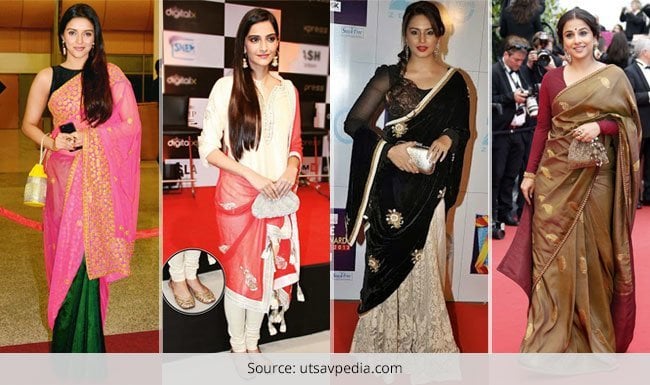 Some years ago, many designers were migrating to the west for fashion inspiration. The runways were docked with fabrics, cuts and designs, which were more western than Indian. But, now Indian fashion is making a strong comeback. The Lakme Fashion Week Winter Festive 2014 was full of designers showcasing outfits with an Indian inspiration behind them. No doubt this is going to translate to people, adopting Indian wears more often, once again. Even as part of our culture, while going to a traditional or cultural event, we prefer to wear Indian wears that suit the sensibilities of the people around us. But after a point this could get monotonous. There is however a way to spruce up your outfit, making it look glamorous and runway ready at any instant – accessorise!
Besides jewellery, one of the best accessories is a bag. A great looking bag can give an outfit that extra edge. So why not team up Indian wear with such classy Indian bags?
1. Classic Clutch
Clutch bags are a sleek and smart way to accessorize any outfit, Indian or western. It is smart and compact and is good enough to carry your basics while also adding a glam effect to your attire. If you want to team it up with Indian wear, go for a clutch which is thin and narrow, especially if you are wearing a flowing dress like an anarkali. Adding a large bag with a large dress will draw too much attention. Also if your attire has a lot of embellishments, opt for a single colour clutch with minimal prints and embellishments to balance out the look. It is also a great option for colour blocking.
Designer Neha Agarwal uses a traditional clutch to create a fusion look at the Lakme Fashion Week
2. Party Potli Bags
Potli is the translation for a little pouch. That's exactly what this bag looks like, a stout little pouch. Potli bags come in a variety of colours, patterns and with embellishments. They look great when teamed up with sarees and are very convenient to carry your essentials. Potli bags are traditionally Rajasthani in style and have mirrors and gold threads as integral embellishments, which instantly create an ethnic feel. Many designers are now trying to do their own modern version of Potli bags.
Fashion tip as posted on post.jagran.com –
You can also choose a 'potli' or a clutch that is small, elegant, and can hold something larger and wider than a handkerchief. Bag should be big-enough to carry your basic things like your compact, lipstick, 'kajal' and tissues, mobile phone. Custom weaved bags embellished with stones also look exquisite with bridal outfits.

[sc:mediad]
One thing to remember while carrying a Potli is – don't match too much. Try to experiment. Go for a contrasting colour of the potli against your saree to make it pop.
Traditional Potli:
A newer take on potli bags:
3. Batua
Batuas are also like pouches but sort of a hybrid between a clutch and a potli. They are elongated and sleek like a clutch but can also accommodate stuff like the potli. Sometimes, many women tend to put their smaller items in a batua, which is then placed inside a larger bag. But if all you need to carry is your keys, phone, some cash and your favourite lipstick, a batua is convenient and glamorously self sufficient.
Here are some Bollywood celebrities, who were spotted with Potli, Clutch and Batua Bags.
Handcrafted handbags also give a very ethnic touch to your traditional attires. Minaudière are another type of embellished handbags that gel very well with Indian as well as western clothes, especially for evening parties.
So tell us which of these bags do you use the most with your sarees and Anarkali Dresses?