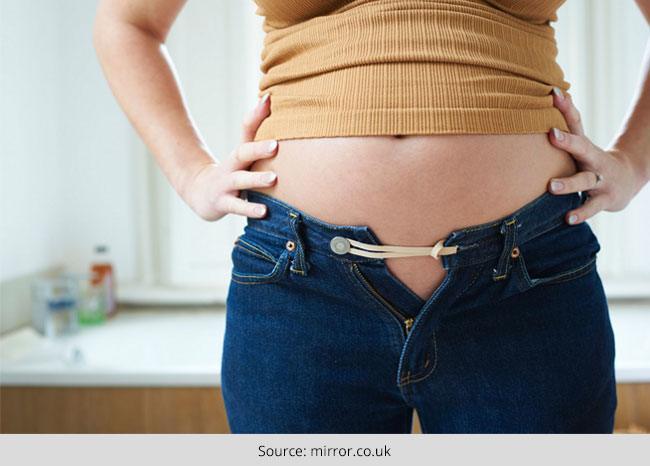 No one can deny the comfort of denim. It's the ideal go to option whether it's for casual day with friends, for errands that need to be done or sometimes even to wear to a slow work day. But denim as a fabric doesn't offer much elasticity. So does that mean you put away the denim when you get a bun in the oven? Absolutely not!
Here are the top 5 ways to incorporate denims into your pregnancy outfits.
Refitted Jeans
Are you one of those women who can spend their every waking and sleeping moment in a pair of good jeans? Well then, don't fret about not fitting into them as the baby belly grows. Just have the jeans refitted for your pregnancy. Open up the stitch line from the waistband down till the bottom of your hip. Cut a triangular patch of elastic and sow it onto this part of the jeans upside down with the top of the triangle directed downwards towards the hip (see the image below for reference). Not only does this make the jeans comfortable for wear during your pregnancy, but you can also remove the elastic and stitch back up after you have given birth, with no evidence left of having ripped them up.
Denim Tunic
When shirts start becoming too short, your go-to option should be the classic tunic. And one in denim is even better. It's casual while being crisp and even looks great on a work day. Team it up with black leggings, throw on a gorgeous scarf and you are good to go. You can even try pairing it up with different colours or prints to keep it playful. Pick a tunic with a belt to accentuate your baby belly and show it off like a proud mom to be.
Denim Jackets
Denim jackets are making a huge comeback. And what is even better is that people now even throw on a denim shirt with its buttons left open which works like a jacket. So dig out all the stuff you have dumped into the back of your closet, and flaunt it with your mommy-to-be style. Denim jackets work with almost everything – T shirts, leggings, skirts and even yoga pants. Just go on and explore all your options. Make denim your preferred cover up choice.
Denim Dungarees
Yes. We mean it. Dungarees. Just picture the level of comfort you will be in a soft T shirt and a pair of strap on pants. Now the trick here is to wear it flawlessly, and you will step out looking like a fashionista of the pregnancy world. And all the other expecting moms will be waiting to catch on to your style. Team up the dungarees with a plain T shirt and add a pop of colour with a scarf or bright shoes. And you can even throw on a vest or a sweater. There you have a great casual look.
[sc:mediad]
And if you want to head for a more solemn event, wear it with a crisp shirt and accessorise with an oversized tote bag. Wear a pair of closed shoes and you can sail through your meetings with ease.
Denim Dresses
Dresses are a blessing during pregnancies. No tight hems, no elastic waists and an easy breezy comfort. They are another great element to use to incorporate denim into your pregnancy wardrobe. Wear a denim shift dress which gives you enough room to move around freely, and team it up with some great additions. You can go with anything you want – earrings, scarfs, bags, necklaces, shoes. Dress up your denim to your liking.
Spotted
Here are some celebrities we spotted rocking the pregnancy denim trend.
Reese Witherspoon in a casual denim dress:
Kourtney Kardashian in a denim tunic shirt:
American singing star Gwen Stefani in a denim and leather jacket.
Are you all set to don denim in your expecting days? 😉