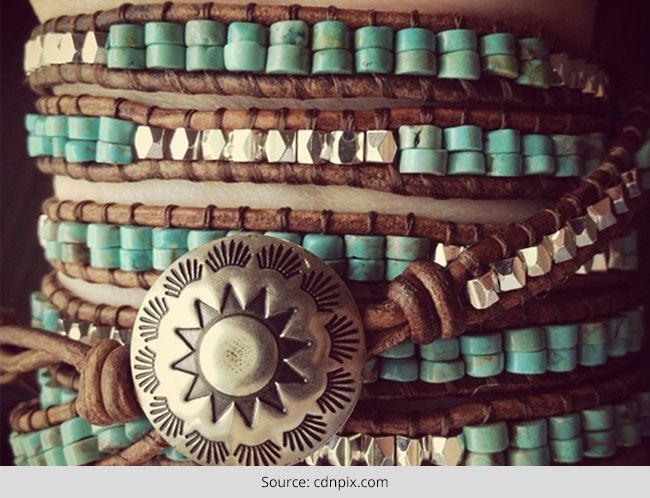 Leather accessories have been used for thousands of years now. Leather is one of the oldest materials that man has used for making a varied number of things from horse saddles and whips in the past to bags and belts in the present day. Leather looks very cool and trendy and is very long lasting as well. Maybe this is why bikers prefer to wear leather jackets.
While leather belts, bags, watches, and shoes are pretty common, leather jewellery is a much more niche product that has been growing more and more popular. Leather jewellery can look rustic, bohemian, or chic depending on the look of the final product. You can combine leather with metal, stone, and other materials to create interesting textures and combinations.
There are some leather jewellery pieces that everyone should try at least once. Don't dismiss it until you've tried it; give it a try and see if it suits your personality and your wardrobe.
The Wrist Cuff
If you love the Goth look then you should get yourself a nice leather cuff. This is a unisex piece of jewellery that looks great on both men and women. You just have to make sure that your outfit goes with it.
Johnny Depp sure does love his leather accessories and here he is seen wearing this chunky leather cuff.
The Leather Charm Bracelet
Leather charm bracelets have a very bohemian look to them. You can stack them up; you can add your own charms to it to make it a very personal and unique piece of jewellery. The best part about these is that, the older and more worn out they get, the better they look.
Leather Earrings
Have you seen anyone wearing leather earrings? Yup, you can wear earrings made of leather and there are some very pretty options available. From big dangler type ones to pretty little studs, leather earrings are an interesting way in which you can add some leather to your look.
[sc:mediad]
Leather Anklets
Leather anklets are totally bohemian and are ideal piece of jewellery for those who love to develop their own sense of style instead of following what's on trend. They look awesome, so rustic and wild.
There are also some very beautiful leather barefoot sandals that would go really well with your beach wear. So you can consider buying or making them yourself as well.
Long leather Necklaces and Chokers
You can either opt for close necked necklaces or for long chains with pendants. Here's a look at some interesting leather neck pieces.
Leather Finger Rings
The final piece of leather jewellery that you have to try is the leather ring. These come in simple braided forms to chunky ones that cover your whole finger. They are a definite statement piece and a must-have accessory for trendy people.
Who says jewellery has to be made with metal? Leather jewellery is a very nice alternative to traditional metal jewellery. You can even add strips of leather to your earrings and necklaces to create a fusion of metal and leather.
[Also Read:  DIY Jewellery Box]
Leather jewellery will go quite well with pretty much any western outfit. You can pair them with leather shoes or belts but do not go overboard with the amount of leather you wear. The leather should stand out and make an impact and not look like you are covered in leather from head to foot.
Hope you enjoyed this post. Tell us what you think.