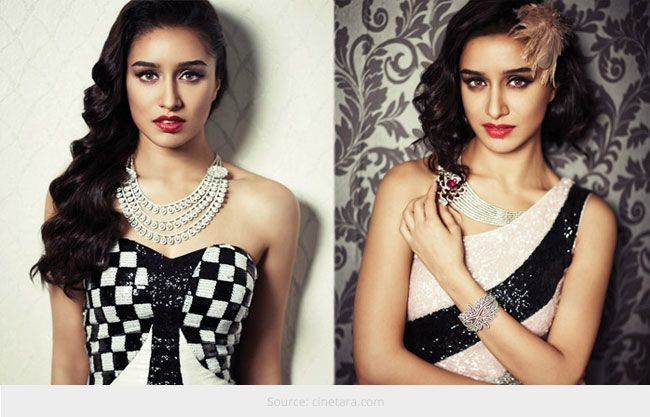 First things first, team FashionLady wishes Shraddha Kapoor a very Happy Birthday and hopes that she has a wonderful year ahead. Now that the formalities are done, we would like to ask you all, what is the first thing that comes to your mind when one says birthday? Presents? Yes, apart from presents? For us girls it is clothes and all the new things that we can wear and that just excites us so much! So, in order to pay her a little honorary tribute, we decided to take a walk down Ms Kapoor's memorable Fashion moments.
If everyone out there is openly saying that Alia Bhatt is the next Kareena Kapoor, then we can definitely say that Shraddha Kapoor is the next Deepika Padukone. Agree? If you don't, you'll surely agree with us by the end of this post.
Let's get started!
Dior Diaries
Yes, you make a powerful statement by wearing a couture gown or outfit or even just a top. But it isn't necessary that you carry it well. Shradhha Kapoor, being the newbie of Bollywood, wore Dior quite a few times and she carried it well always! Here are our two favourite looks and both of them follow a similar high low theme. How she teams them up with different heels, hairstyles and accessories is what we totally love! Notice her make up? We approve!
Uff in Sabyasachi
Can you note the Deepika Padukone-esque resemblance already? We know we can. When a Bollywood starlet carries of Sabyasachi Mukherjee's creation effortlessly, we then know one thing for sure – she's here to stay! And looking at how stylish and graceful Ms Kapoor looks, we can foresee her bright future in the industry already! We love her Love To Bag's clutch! And the nude make up? Totally on point!
Marsala Baby!
When Marsala has been announced as the colour of the season, then why wouldn't this pretty lady give it a go? Wearing in a beautifully crafted Notte by Marchesa gown, Shraddha Kapoor looked radiant! Even will the awkward fall, she looked like she owned the world. Special mention to her almost swan like eye makeup and light lips. You know what we also like? Her nail colour!
Chilly Red
Remember that song from Biwi No. 1? Uff uff mirchi! That is what ran across our mind when we looked at her appearance in this beautiful dress. So. Pretty!! In an Atsu gown and jewels by Gehna, Ms Kapoor looked like she was glowing. We also like her navy blue sequined clutch. But do you want to know what our favourite accessory is? Her smile!
[sc:mediad]
Cutie in Leather?
Did you ever meet anyone or ever saw anyone wear leather and look cute? Like adorably cute? Probably not! So make sure to take a note of this mismatched yet such a pleasing-to-the-eye outfit worn by Shraddha. Wearing a brown leather skirt and metallic sweatshirt from Madison, Ms Shraddha looked totally adorbs. What we love the most are her Chanel thigh high boots! #droolworthy!!
Bringing Sexy Back!
When you attend a star studded wedding reception, you make sure to drip elegance and panache. You make sure that you wear that gorgeous Abu Jaani outfit and those pretty chand balis designed by Seema Kapoor. But not Shraddha. Taking the simple route, she picked up a Shivan and Narresh saree for Arpita Khan's wedding reception. We were sold the moment we saw her perfectly draped saree but when we saw her back, our heart did backflips! She sure got sexy back with this look. Notice how she went sans-jewelry? We kinda like!
Black and White
You know that song by Katy Perry? You're up then you're down, You're wrong when it's right, It's black and it's white, We fight, we break up, We kiss, we make up. That is what this look reminds us of! First look, her outfit looks like a dress. But when you look closely you notice that those are separates that she's wearing. Wearing Osman top and Anand Bhushan skirt, Ms Kapoor once again went the sans-jewellery way and looked fabulous! We are beginning to think that jewellery is over rated. What do you guys think?
With such a lovely taste in Fashion and those rad acting skills, we sure know that Shraddha Kapoor will make her mark in Bollywood. Once again, wishing her the best on her special day!