Since neon is trending these days, we are here to help you how to add this shade to your life fashionably. Do have a read!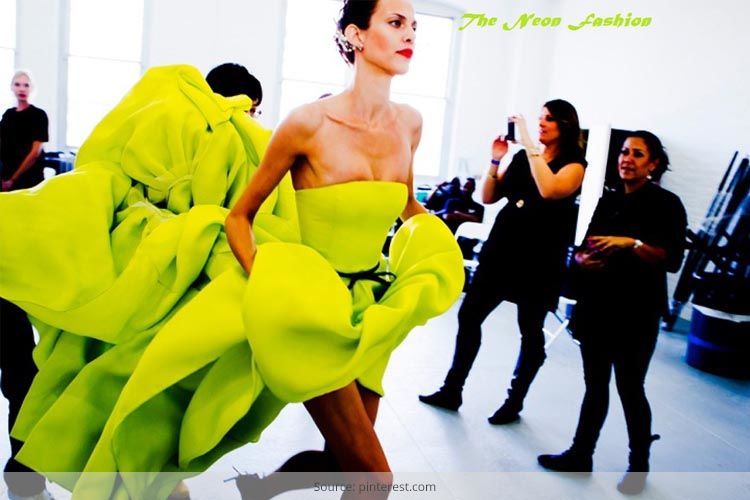 Get a flash of retro with electic tie & dye denims
– Whether you prefer slim fit, boot cuts or bell bottom flares, the neon prints such as neon animal print skinny jeans or floral print jeans with neon airbrush should be in first preference this monsoon.
– Funky dye shorts, capris, cut-offs or paddle-pushers (three-fourths) in a variety of neon prints, will not only flaunt your leggy assets but also help you keep you from struggling with the sludge post shower.
Fashion designer Karishma Shahani has this to say,
"If you are the adventurous type, try sheer ombrés and dip dyed florals in multiple hues and wear them with your denim shorts."
– In most parts of India, climate gets chilly soon after downpour. Girls from such places can just throw over a  fluorescent denim jacket over their outfits to add a dazzling pop of color. Make sure to pair this style with a neutral or pastel top and accessories to balance the effect.
Create your bubbly charm in neutral-neon dress  
This season be bold enough to experiment with neons and bright hues, which are always fun to deal with. If you feel the style has become overstated then just compensate by color blocking them with neutrals or less intense hues such as pastel.
[sc:mediad]
Paneled dresses solid-colored dresses with a tint of neon embroidery can also work wonders. Or just let the brightness radiate as you step-out with contrasting bright shades shinning at the hems of your favorite outfits.
Give your hands their share of neons
This season's color palette is all about brilliant pastels, neons, silver grey and black occasionally. When it comes to bags, you get a plethora of options to choose from totes, clutches, satchels and huge handbags.
And these are available in various materials such as faux leather, khadi, canvas and suede to name a few. Just pick any of these bags but make sure they have a tint of neon such as electric greens, funky yellows, bright blues, vivid purples and over-the-top oranges.
Just like these –
You can also give just a touch of neon to your accessories
Get neon-kissed feet
Whether you fall for towering pumps or wedges, make sure to shop for heels with a fluorescent pop or sandals being spiced up with funky shaded straps, so as to create your sassy monsoon style statement.
Monsoon doesn't mean you won't get a single dry day. So, just save your flats for such days. Keep your style elegant by going for ballet flats with neon trim or a neon bow. Cap-toe shoes which are available in bands of color at the tips are quite a rage these days.
Be it a pair of flats or heels, try picking one in electric pinks or fluorescent greens to add a fashionable feather to your cap!
Hope you liked this post!