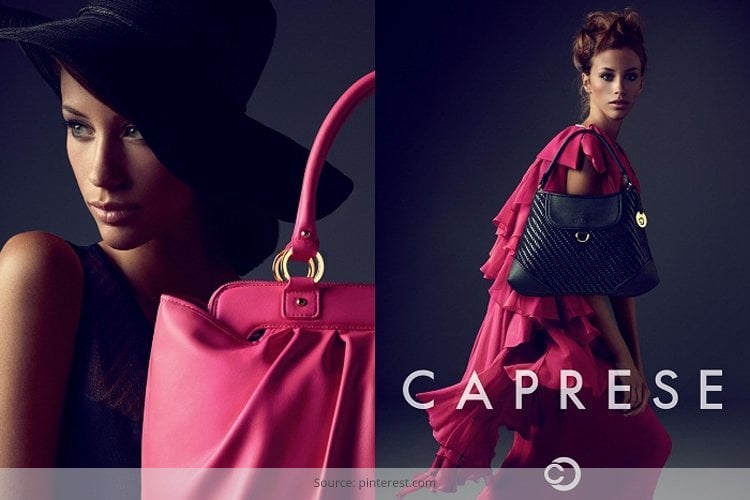 We have already discussed on Lavie and Hidesign in our previous edition. Let's just throw light on few more Indian brands, which exhibit luxury and class in their singular way. Do have a read!
Caprese
Inspired by a beautiful little island along the Italian shoes, Caprese brings to life the Isle of Capri with its sleek, aesthetically designed handbags.
With the muse being an island known from centuries for women's fashion and free spirit, Caprese's range of designer handbags are designed for women wanting to make a style statement.
It was launched in India by VIP Industries Ltd in October 2012. Starting from a price range of humble Rs.500 to Rs.5000, the designer handbags are available in two categories: Classic and Fashionable.
Take a look at 2 trendy and fashionable bags which spell fun, adventure and joy!
June Tote Medium Green
A fabulous faux leather tote which can accommodate all your essentials:
Price: Rs.2799
Martha Satchel Medium Coral
Jazz up your outfit with this structured satchel in red
Price. Rs.2499
For those who prefer the classic and elegant look
Eva Satchel Medium Blue
A super soft satchel which is elegant with its clean lines and minute detailing
Price Rs 1999
Esther Satchel Small Black
A sophisticated black satchel with pockets in interiors and gorgeous detailing
Price: Rs 2799
ADAMIS
A completely Indian brand founded by Rasulbhai Adamji, it offers fine leather handbags and accessories throughout India and to international clients across the world. The store boasts of clientele which includes royalty and has been visited by the Prince of Luxembourg and Prince of Hungary on their visit to India.
They cater to famous celebrities, foreign tourists, non resident Indians and people from different walks of life and age groups. They offer a variety of bags which include: Day bags, duffelbags, messenger bags, work bags, evening bags, business bags and wallets.
T19
Check out this tote weekend bag with a singular large compoartment and soft zip liner
[sc:mediad]
Price: Rs. 6550
B551
An evening and day wear handbag with a smart leather handle and detachable shoulder strap:
Price Rs. 4900
B553
Pretty in Pink, this dainty evening bag comes in suede leather complete with a flower motif:
Price Rs. 3790
Mango 
A famous international multinational, this brand is known for its unique designing and manufacturing of woman's handbags. With its headquarters in Barcelona, this brand has now several outlets in metropolitan cities in India and also offers online shopping option.
Meant for dressing up and offering accessories to the modern, urban women, this brand has become a major favourite amidst young girls and corporate women.
Here is a look at the stylish handbags and clutches this popular brand has on offer:
Croc Effect Tote Bag
A croc leather tote bag with a detachble long strap and pockets
Price:Rs. 3990
Studded Quilted Shopper Bag
Shopper bag with studded panel and a smart handle
Price Rs 3990
Hobo Bag
A lovely hobo bag with decorative stitching
Price Rs 1590
Hope you enjoyed this edition on affordable Indian handbags which would not burn a hole in your wallet and over exceed your budget.
Shop till you drop, ladies!
Adios!!