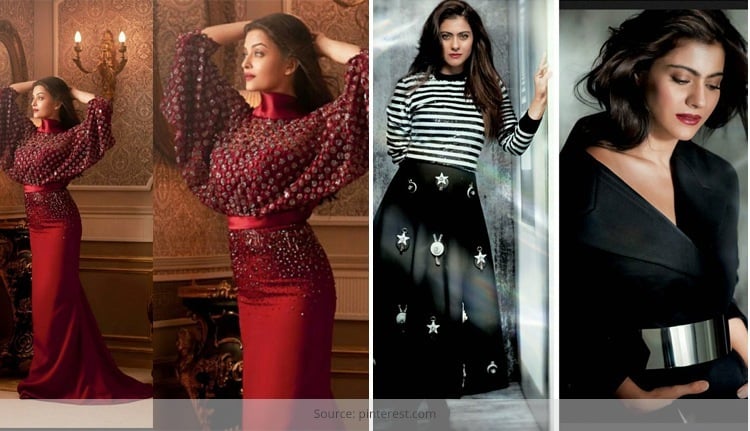 We have already showed you guys how fantastic Kajol looked on the cover of Elle for the August issue. Then we also showed you guys how beautiful Aishwarya Rai looked on the cover of Hello in lieu of their 100 th issue celebration.
Now, most of us wait for the e-copy of the magazine to come out, so that we can take a look at it and marvel at the gorgeous things that magazines provide us with.
For example – we love to go through magazines, because they gives us so many ideas on how to dress up for weddings, brunches, high tea parties, etc.
Don't you guys do this too? Don't lie! *wink*
Lets us show you guys what inside these super stunning glossies.
Let's do it in two parts because we have two different magazines with two different beauties.
[Also Read: How to Wear Saree to Look Slim]
Elle – Kajol
On the cover of Elle Magazine, Kajol was dressed in red. She looked ready to kill (with her looks of course). The Namrata Joshipura dress pretty much nailed everything and her red lips were like cherry on top.
Now, inside the magazine, Kajol wore all black outfits and owned the looks
1. Sexy black dress and lost in thoughts
2. Did Christmas come early this year?
3. So pensive!
4. We are loving the dark lips!
[sc:mediad]
Hello! – Aishwarya Rai Bachchan
On the cover of Hello magazine, Aishwarya Rai donned a black gown by Abu Jaani and Sandeep khosla and teamed it up with classic Dior earrings. Her piercing green eyes got us excited so much so that we wanted to turn the pages and look for her inside!
1. Does this remind you of her movie – Taal?
2. Gotta love her George Shobekia gown
3. Don't you guys love this vintage gown by Ramia Ali?
4. This close up, is the final nail!
https://instagram.com/p/6CiZMURLIf/?taken-by=fashionladyblog
While Kajol wore red on the cover, she donned all black outfits inside, and as for Ash, she wore black on the cover and red inside.
But the question is which lady do you like the most?