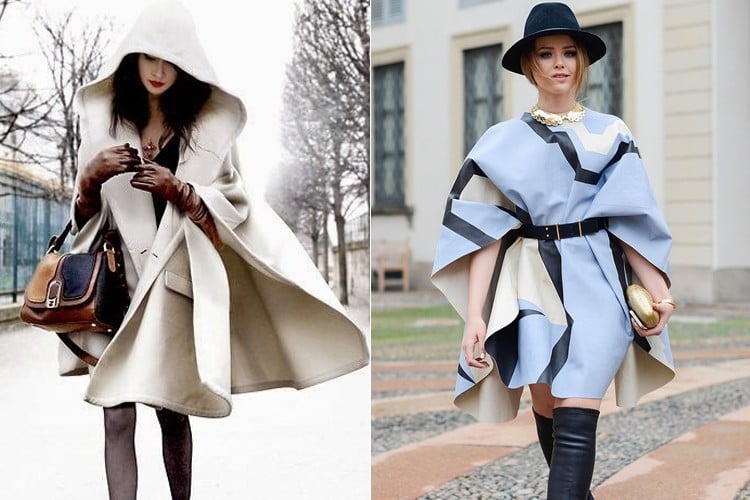 Winter fashion is always fun fashion, simply because we can play with layers and look chic too. It is time to bring on the capes and not in just five ways, but let's learn how to wear a cape in many ways. Designers across the nation and the globe have shown us how to do so, but if you missed those important fashion rules from the ramps on how to wear a cape, we are here to tell you more about the style trend.
HOW TO WEAR A CAPE COAT
Capes are fun wear and can help camouflage a wide shoulder or make them look big too. It depends on what style you want to portray and send out into the world. Here are a few ways on how to wear a cape coat, which can be paired with chic harems, trousers, dress pants and skirts or even a lehenga!
1. Get your hair done like the divas of the 60s and follow the Great Gatsby eye makeup, but wear a leather midi skirt with a leather cape in the same hue, and a burnt mustard top to go along with it. This would be the ultimate party wear for late parties at work!
2. Black and white check capes are haute trends too, and you can wear them with an all black LBD, a cocktail gown or maybe with an all-red Christmas cocktail dress too!
3. Keeping it simple at the concerts and theatre shows, you could wear a powdery gray cape with a pair of gray trousers. Makeup should be minimal but to add a sassy effect, the lips should be flaming red!
4. A vintage black hat, a modern day tartan cape and a pair of black knee-length ankle boots; voila ladies, who is this hot chick in town?
5. The best part about cape clothing is that it can be worn with your Indian and western wear, or indo-western wear sans the fuss. And should you want to heat up the ambience around and flaunt those long legs, you could pair the cape clothing with stylish fishnet stockings and heels!
6. Cape coats can be worn with a short tunic dress or a short cocktail dress too. For example, we could look at an all-gray formal cape coat, paired with a short tunic dress!
7. Friday dressing at work or maybe attending an important client meet, and you could say goodbye to the boring old coats you have. A cape coat with a white top and black opaque leggings, makes a good combo to wear and impress everyone!
8. Coffee time with the girls and you want to look stylish and chic? Here's your chance to dress like a diva even at noon. Wear a cape coat with leggings, a stole so bulky for the neck, and a chic handbag to flaunt, with bearpaw boots for the feet!
[sc:mediad]
9. Winter internships and you need to stay warm while running around, isn't it? When you are thinking about what to wear with a cape, may we suggest the idea of a chic tassel cape with a pair of leather pants and nude pumps for the feet!
10. For a very retro look, a solid printed cape with a short dress and knee-length boots in neutral tones, brings back the 70s flower power look!
11. Leopard printed capes with black trousers and boots for the feet, makes you dress up like the bevy of beauties we see at the Charles De Gaulle Airport in France!
12. Stay warm and toasty at the winter pool parties wearing a cape draped around your torso and a belt on the waist to hold it secure. Boots for the feet are a must, or you would shiver and chatter to death!
13. An elegant cape gown is a must-have for one of the parties you would be called for; maybe wearing this at your BFF's wedding would be nice!
14. Lehenga capes are haute trends for the winter weddings, and they fit the bill when it comes to style and warmth!
15. Sangeets and Mehendi style files should include lehenga capes!
Did you love our various ideas on the cape fashion trend, how to wear them and with what? Let us know!