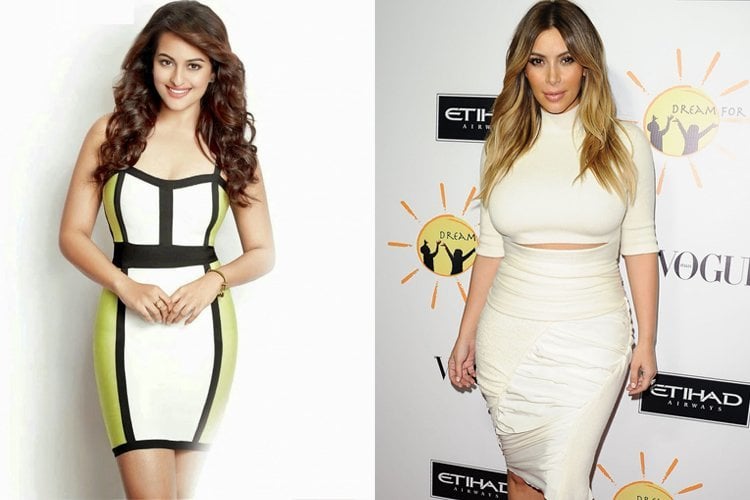 Kareena Kapoor raised quite a number of eye brows for flaunting the size zero silhouette which apparently looked more of unhealthy than attractive in so many levels. Bow down to these beautiful curvy celebrities who brought the curves back to show biz.
[Also Read: Show Off Your Hourglass Figure]
Take a Look At Some Of The Gorgeous Curvy Celebrities And Take Inspiration From Them
Thankfully the size zero trend that created a lot of noise didn't live enough to be a trend and soon the curvy celebrities with fuller figure became the new 'in' thing. Read on…
Jennifer Lopez
J. Lo is a burning example that at times, even the best things get criticized. That legendry butt of Jenny actually paved the way for the modern women with curves, but even she couldn't escape being thrashed for some 'extra' mass on her body. J.Lo's response to such body shaming was subtle and impactful – "I like my body. For most of my adult life, my body hasn't gone up or down, it's remained the same, give or take four pounds." She added, "I have a butt, I have boobs, and I have a woman's curves; there is no way I'd see them go to zero. I hate to look in a magazine and see a picture of a girl who looks so thin she looks unhappy and as if she just needs someone to give her a good meal." She stands an as inspiration to curvy Hollywood stars.
Kim Kardashian
With loads to money spent on those butts and breasts the Armanian beauty has certainly succeeded to become the talk of the town. Well, as if she wasn't already in the lime light for her show, Keeping up With the Kardashians, she bagged herself a super-rich husband too. Having graced prestigious magazine covers like Cosmopolitan, Glamour, Marie Claire and more, she is there wherever you turn your eyes. And dare you forget the infamously famous cover of Paper magazine.
Meghan Trainor
Yes, she is certainly 'All about that bass" and as she claims, she brought the booty back. Honestly though, the booty was never out of fashion. It's just that people were apprehensive about its glory and streamed towards the skinny. But Meghan surely is not nearing any plans to get skinny, as the curves are absolutely working for her.
[sc:mediad]
Vidya Balan
Will I dare to forget mentioning this dirty girl's contribution in glorifying the curves? I dare not. She needed to portray Silk Smitha on the screen, and the kind of actress she is, she left no stones unturned to bring the character to life. She didn't even hesitate to swell up her body, which was anyway never anywhere near to skinny. But let the credit go where it is due, her steaming performance in 'Dirty Picture' put in display how a curvy body can attract the bad boys too. This round of applause goes to Bollywood's one of the most curvy actress, which is you Mrs. Siddhartha Roy Kapoor.
Sonakshi Sinha
So she faced a lot of criticism for her curves which was supposedly a no-no in the list of pre-requisite to enter Bollywood. So much, that there was even a remark on her 'weight' in the movie R…Rajkumar. And of course we haven't erased the taunt made on her at the AIB roast when the comedians equaled her to carbs. Despite all that hate, she stands tall as a beautiful curvy celebrity. Look who is enjoying the last laugh now, boys? From ticket counter to award nomination lists, she has conquered all, and totally with that curvy body of hers. Thanks Ms Sinha for pouring some confidence into the average Indian women.
Parineeti Chopra
One of the recent new-comers of Bollywood, Parineeti has wowed the audience with movies like Ishaqzaade, Suddh Desi Romance and Hasee toh Phansi. With that fully volumptous figure, she is just a girl next door who any Indian boy would not miss to gush over. Yes, she has been thrashed for not having the Barbie-esque figure Bollywood rules down, but she has certainly bend the rules in her favor. She is an A-lister in Bollywood without any future plans of rocking a skinny figure. She is one of those curvy celebrities who have bluntly shut the haters for good.
With talented actresses like Madhuri Dixit and Manisha Koirala biding good bye to Bollywood in the early 2000s, the industry was honoring the invisible figures blindly. But the retaliation to body image limiting was inevitable. A woman is way beyond the size of her dress and the world at large needs to root it in their heads. These beautiful curvy celebrities have pronounced that beauty comes in all shapes and sizes and we cannot agree any more.