We're no stranger to the feeling of super-dry skin. Thanks to the wintry season and hot showers, parched skin is inevitable. But using the right products can help you fight it out. Changing our daily body lotion for body butter is a first step to hydrate and restore skin's moisture. To ease your search, we've hunted down our top pick of best body butter products, ahead.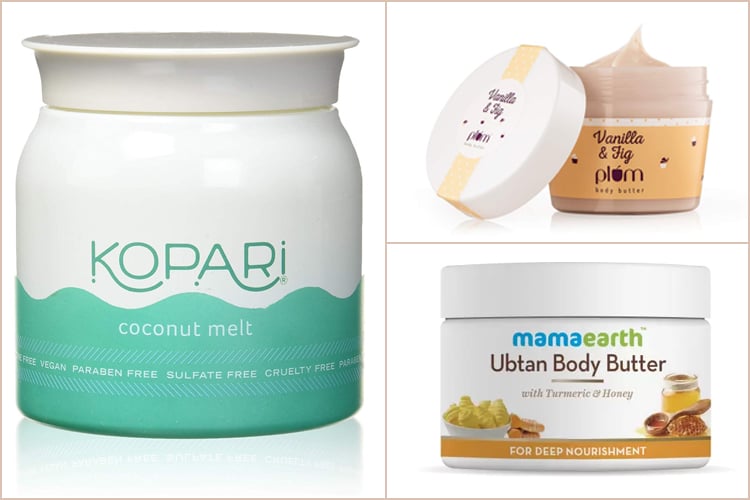 10 Buttery Body Creams to Keep your Skin Soft:
Here are the best ones:
1. Eu'Genia Essence of Grapefruit Shea Butter:
This body butter is all natural and made up of 100% essence of grapefruit and shea butter. Both the ingredients are highly concentrated formula to moisturize the driest skin. Plus, the pink box packaging is too cute to miss out on.
2. Palmer's Cocoa Butter Formula with Vitamin E 24h Moisture Cream:
If you're looking for a safe-bet formula for a good price, this cocoa butter by Palmer's is your best bet. The creamy consistency, warm cocoa fragrance, and hydrating moisture make this cream a classic option to treat dry, winter skin.
3. Kopari Coconut Melt:
The Kopari product has a buttery texture which easily melts into skin. It is made up of 100% unrefined coconut oil which provides all-over moisture-including under-eyes and hair.
4. Caswell Massey Lavender Body Butter:
Facing dry skin woes? Check. Skin goes extra parched during winter? Yes, we all can relate to it. This rich scrumptious body butter has natural oils and potent blend to smoothen and restore skin's natural balance. Apply this moisturizer at the end of the day and notice the hydration it provides to your skin.
5. Moroccanoil Body Souffle Fleur D'oranger:
The body soufflé has all the makings of a creamy texture with its inclusive ingredients like cocoa butter, mango butter, shea butter, and argan oil. However the moisturizer quickly penetrates onto your body to provide long-lasting hydration it requires without leaving skin greasy.
6. Mamaearth Ubtan Body Butter with Turmeric & Honey:
Mamaearth has recently been launching some incredibly rich body butters and the most indulgent of the lot is arguably the one loaded around turmeric and honey. An effective combo of turmeric and honey gives this product outstanding moisturizing power. As if that weren't sufficient-there's shea butter and sunflower oils to guarantee the ultimate hydrating experience.
7. MCaffeine Naked & Rich Choco Body Butter:
The nourishing body butter from MCaffeine delivers a concoction of hydrating powers, like cocoa, leaving a smooth finish that feels light and luxurious. So it is any surprise that the deep hydrating product is yet to be discovered by you? We'll reply to that-No.
8. The Body Shop British Rose Body Butter:
Don't let the velvety, whipped texture of The British Rose from The Body Shop product fool you. This highly rated product is airy on touch and melts into skin easily. That's all because of the addition of hand-picked British roses to ensure a smooth, supple skin.
9. Khadi Soul Avocado Body Butter:
Khadi body butter is a silky-smooth product that moisturizes and absorbs easily onto skin. The lush cream, made with avocado oil will leave you wondering how this dry skin expert managed to stay so cost-friendly.
10. Plum Vanilla Body Butter:
Plum Body Butter transform dry and parched skin, and help it spring back to life. Made to relieve from dryness, it's an affordable option for all skin types. This intense body butter with its vanilla essence does not leave a greasy finish, and leave your skin comfortably moisturized. Use this as an extra boost for extra dry skin treatment.
These are the best body butter products that can give your skin much needed TLC. We hope our selection eases your search.