Think practical: We can't have an assortment of makeup without the best makeup bags. And if you've got a pretty large collection why not match your beautiful brushes and lipstick into an uninteresting looking bag? Your hard-earned possessions are worthy to be placed in a special bag. With that in mind, we rounded up cute makeup pouches to take care of all your beauty needs. From unicorn pouches to vanity pack-it-all organizers, trust us there's a makeup bag for everyone. Get one of these cosmetic pouches and see that all your products are kept organized anytime, anywhere.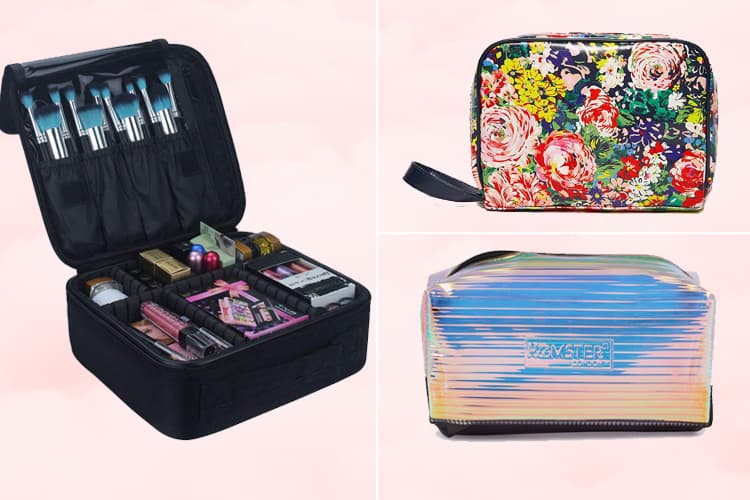 Find Our Pick of Best Carry-all's Below:
Scroll ahead to see our best edits:
1. Baggit Women's Cosmetic Bag:
Stylish and compact, this tan beauty organizer caught our attention with its in-trend color scheme and clean lines. We feel this will be perfect for gloss, serums, hand creams, and the like. Carry it along on weekends or during your frequent trips.
2. Caprese Norma Rose Gold Cosmetic Bag:
Savvy beauty influencers will recommend this stunner by Caprese for sure because of its lightweight material. The rose gold texture is eye-catching too making this sleek bag well-suited for daily use or to tuck-in your essentials.
3. Sephora Collection Pack it all Organizer:
On the more budgeted side of the high-end spectrum lies this multi-organizer cosmetic bag by Sephora. Constructed from durable material that is spacious to put away your beauty essentials. The case also features two removable cubes and one cosmetic pouch. But we're more drawn towards the brush holder added to protect makeup brushes that'll just be perfect during traveling.
4. Colorbar Cosmic Pink Pouch:
If you're searching for something with no-hassle, then this cosmic pink pouch is perfect. It's a simple, add-all for your favorite cosmetics, brushes, and palettes. The shape of the pouch is structured yet spacious. And it is also portable enough to carry it inside a larger bag.
5. Hamster London Makeup Pouch:
This holographic makeup case from Hamster London has gorgeous detailing, hence its well-worth the cost. It is a perfect choice to carry your makeup essentials for work, college, and vacations because of its lightweight and waterproof quality. The pouch is also easy to clean using a clean cloth.
6. House of Quirk Makeup Storage Case:
This storage case opens like a huge case to reveal well-organized compartments, two-way zipper, and a large handle. The best feature of the beauty bag? Oxford fabric and nylon lining that is waterproof.
7. Inovera Professional Makeup Organizer Bag:
Inovera Professional collection of makeup organizer pieces is well-loved and this one is no exception. The bag has enough space to set aside your mascaras, glosses, and makeup brushes. It comes with a sturdy base which can prevent spilling and damage to your products.
8. Bando Floral Makeup Case:
It's tough where to start raving about this chic beauty bag. Should we gush about its generous size, spacious enough to add in your brush collection, makeup palette, lipsticks, and even your phone? Or the fact that it comes in an eye-catching floral pattern? We are undecided, but until then, we encourage you to add this functional case to your wish-list, because a stunning multi-print as this one can make a lovely add-on for your collection.
9. Amazon Brand Solimo Rainbow Makeup Pouch:
Inside the spacious, single compartment of this rainbow carryall, you can store several makeup tools and more. Because of its zipper closure and washable material, this bag is ideal for long vacations, multiple trips, and daily use.
10. Blush Bees Travel Makeup Case:
For a standard makeup case, look no further than this pretty offering from Blush Bees. With a fine quality fabric and standard workmanship-we love this pouch. It is a sure bet to keep your things organized and making it easier to find.
These are our pick of pretty makeup bags to keep your beauty products organized and in place. We hope you get to make your right selection from any one of the above.