Looking for ways to save your face from last night's escapades? Don't fret-we have you covered. Try any one of our foolproof alcohol-rehab treatments to face the morning after with de-puffed eyes and refreshed complexion.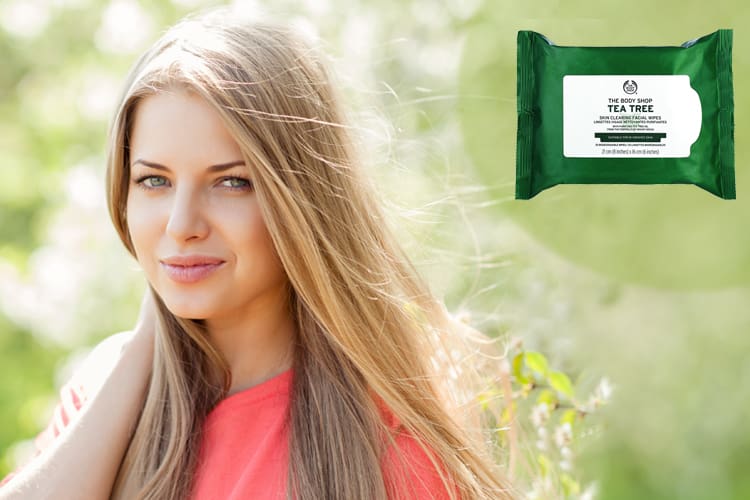 Seven Ways to Treat Hangover Skin:
Ahead, find seven simple ways to reverse hangover skin:
1. The Body Shop Tea Tree Cleansing Wipes:
Begin by removing all traces of makeup because only a proper cleansing routine can restore skin's natural balance. If washing your face is too much effort, use cleansing wipes like The Body Shop Tea Tree ones. They easily remove dirt, nourish, soothe, and hydrate skin.
2. Oh K! Ginseng & Eucalyptus Under Eye Mask:
Whether it was the countless bottle of red wine or the Champagne tower, your puffy eyes are sure to show up. To brighten your bags, use cooling eye gel mask like the Oh K! Ginseng & Eucalyptus ones- it will instantly take down the puffiness.
Or if you don't wish to use any eye masks, then you can substitute it for chamomile tea. Steep these tea bags into hot water, take out, and set to cool. Place each tea bag on each eye for 5-10 minutes. This DIY cure will have your eyes looking de-puffed and refreshed.
3. Earth Therapy Face Roller:
If you wake up to a puffy skin, then we recommend massaging with a face roller. If you don't own a device in your beauty cabinet, you can get one of these jade rollers from Amazon below.
Tip: Stash the device in the freezer for 5-10 minutes and use on affected area for a cooling effect.
4. Joanna Vargas Exfoliating Mask:
After massaging skin, apply an exfoliating mask and set timer for 10-15 minutes. This routine acts as a facial step. This one from Joanna Vargas provides your skin with a glow instantly, reducing any visible signs of pigmentation and inflammation.
5. Mario Badescu Facial Spray with Aloe Herbs and Rosewater:
Once you cleanse and dry your face, give your skin much-needed refreshment with a hydrating facial spray or mist. Not only will this act as pep-up but it will restore the skin's pH levels.
6. Easy Guess: Drink Water:
It goes without saying that one of the most effective solutions is staying hydrated. Skin gets extremely dehydrated, dull and itchy after a drinking session. So learn to alternate each alcoholic drink with H20 while you're in the bar. This can greatly benefit your skin the morning after.
7. Cold Compress:
Often alcohol causes skin redness as it dilates our blood vessels. To treat this problem, you may treat your skin to a cold compress for few minutes. But be aware that long periods of drinking can lead to skin redness and damage permanently. Hence drink responsibly not only for your safety, but for your gorgeous face too.
These are the best ways to fix hangover face. Try any of these methods and do let us know how it works out for you.