Hand sanitizers are a safe way to get rid of germs, virus, and bacteria that can lead to illnesses. The formulas are recommended for adults, children, athletes, and those who share working spaces. Hence, we have rounded a list of best hand sanitizers in India out there, ranked in no particular order. Most of the products are natural, alcohol-free, and safe for children. The hand sanitizers come packed in easy-to-use-containers making it suitable to carry it to office, school, and travel in your suitcase, backpack, and purse.
The Top 10 Hand Sanitizer Brands Available in India:
Here, our favorite brands to keep your hands clean:
1. Dr. Batra's Non Alcoholic Hand Sanitizer:
Description:
Dr. Batra's Hand Sanitizer has tulsi extract in its composition and other ingredients like castor oil, benzalkonium chloride, gylcerine, citric acid, and chlorhexidine gluconate. Some users also claim it as a calming skin protector. The content of basil-tulsi extract formula is safe for everyone, including children and efficiently kills germs.
Benefits:
Alcohol-free, water-free, and soap-free
Protects skin and prevents dryness
How to use:
The product is formulated for repeated use. Just carry this natural hand sanitizer all the time for a germ-free routine.
Price: Rs. 110 for 100 ml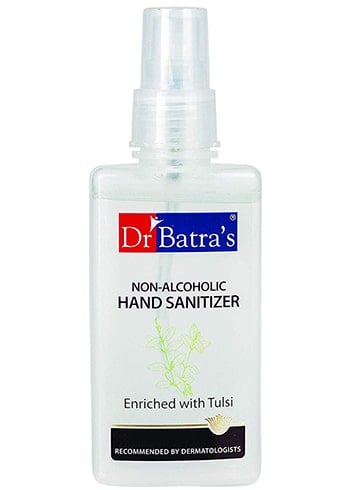 2. Lifebuoy Total 10 Immunity Boosting Hand Sanitizer:
Description:
Our 2nd best hand sanitizer comes from Lifebuoy Total Company. Free from preservatives and alcohol, this product comes in three fragrances including lemon fresh, Total 10, and Care. The sanitizer not only reduces skin chapping, but also redness because of its advanced germ protection. If you are looking for an effective alternative to alcohol based options, this hand sanitizer is a solid option.
Benefits:
Effectively kills germs in 10 seconds
Keeps your hands protected for 10 hours
Protects from skin infections
Best alternative to soaps
How to use:
Use the product throughout the day. Shake well before use.
Price: Rs. 228 for 190 ml, Rs. 60 for 50 ml, and Rs. 34 for 30 ml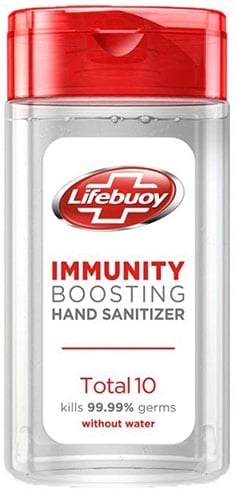 3. Himalaya Pure Hands Hand Sanitizer:
Description:
Here's another hand product with an absolutely divine fragrance. The Himalaya Wellness PureHands sanitizer comes in several yummy flavors like green apple, strawberry, litchi, and pure versions. Made with natural ingredients, it kills 99% germs. The gentle sanitizer will also moisturize your palms but it has active ingredients like lime, neem, and coriander in its composition. We recommend this good smelling product is definitely one for keeps.
Benefits:
Use on hands whenever needed.
Price: Rs. 300 for 500 ml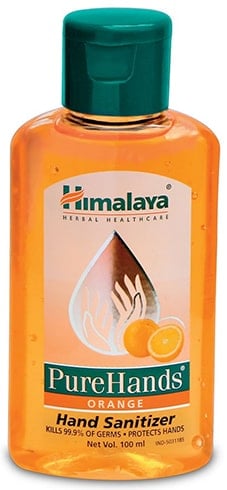 4. Godrej Protekt Not Just Another Hand Sanitizer:
Description:
The natural hand sanitizer from Godrej Protekt made it onto our list of top hand product brands for best reasons. It is alcohol-free in its composition which naturally keeps your palms soft. Its formula is super-mild so it causes no harm to children, too. And the product comes in an easy to use spray bottle that emits out the right dosage. The Godrej hand sanitizer is perfect to use and carry anywhere.
Benefits:
Kills 99% germs in one spray
Up to eight hours bacteria and germ protection
Easily fits into bag or pocket
How to use:
Use one or two sprays as needed. Children can use it safely, too.
Price: Rs. 50 for 30 ml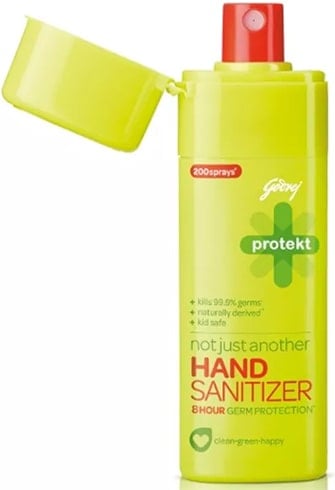 5. Dettol Instant Hand Sanitizer:
Description:
Next on our list is the Dettol Instant hand sanitizer! The great thing about this formula is that it prides itself in killing germs effectively. The bottle comes in a convenient container, which means you can carry it in your bags and planes without any problems. The hand sanitizer is perfect for travel, school, office, and flu season.
Benefits:
Recommended by the National Integrated Medical Association (NIMA)
Kills 99% germs effectively
How to use:
You can use it on both your hands for best protection
Price: Rs. 164 for 50 ml

6. Be. The Solution Nimbu Wala Fresh:
Description:
Halfway down our list of best hand sanitizer in India is the Be. The Solution Nimbu Wala Fresh sanitizer. This bottle is infused with a natural formula of lemon and Vitamin C, designed to kill bacteria, germs, and virus. It is perfect for adults and children alike.
Benefits:
Contains a rich source of Vitamin C to soften hands
Natural bacteria fighting properties
How to use:
The nozzle hand sanitizer can be easily dispensed onto palms. Rub well onto hands until dry whenever needed.
Price: Rs. 289 for 300 ml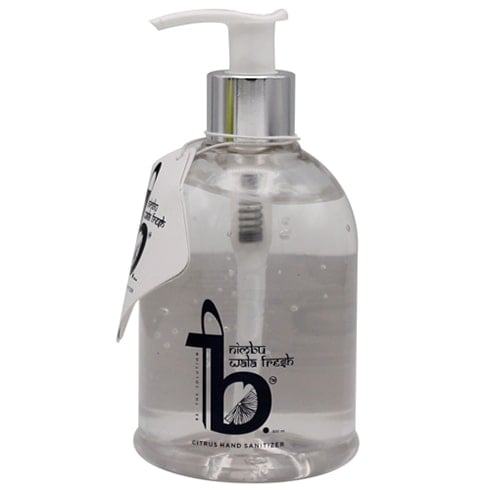 7. Kronokare Bye Bye Bacteria:
Description:
The other formula for hands on our list comes from Kronokare. It's a natural hand sanitizer, so the hand sanitizer is gentle on one's skin. This is why we consider it our best natural hand sanitizer brands. It has moisturizing agents, killing 99% harmful germs within less a minute, as they claim.
Benefits:
Kills 99% germs and bacteria
How to use:
Use this hand sanitizer at your leisure to treat bacteria and germs.
Price: NA
8. Kaya Hand Sanitizer:
Description:
We've made it to the last three top hand sanitizer brands in India. This spot is occupied by Kaya and their gentle hand sanitizer. It is an alcohol based formula that disinfects hands. The great thing about it is also moisturizes your skin leaving it super-smooth to touch. The bottle can be easily packed to your suitcase and purse.
Benefits:
The alcohol-gel-based hand sanitizer disinfects hands effectively
How to use:
Use onto your hands whenever you feel the need to.
Price: Rs. 60 for 50 ml


9. Zuci Instant Hand Sanitizer:
Description:
The Zuci hand sanitizer kills 99.9% of all bacteria and germs in the most natural way. That is why it's one of the best gentle hand sanitizer brands on the market. They also have a separate Junior range for kids which makes it safe to use. It cleans your hands thoroughly without leaving it dry. Also, it comes in several unique fragrances including basil, orange, and citrus lime.
Benefits:
Contains aloe vera gel and Vitamin E beads
How to use:
Pour a small amount onto hands and rub it in.
Price: Rs. 199 for 250 ml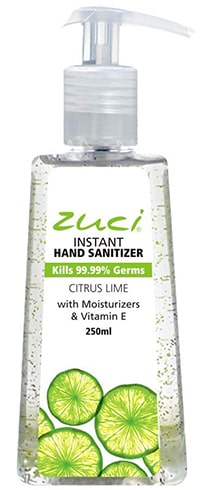 10. Bloomsberry Lavender Sunshine Hand Sanitizer:
Description:
Yes, as you might have thought, Bloomsberry Lavender Sunshine is one of the most loved hand sanitizer. This is the reason why it is part of our list of top ten hand sanitizers! It also has a fresh fragrance of Freesia flowers that you will come to love naturally. The lavender colored sanitizer is also made up of essential moisturizers to keep hands nourished.
Benefits:
Kills bacteria and germs for healthy protection
How to use:
Apply Bloomsberry hand sanitizer if you feel the need to clean your hands. Use few drops onto palms and rub it dry.
Price: Rs. 60 for 30 ml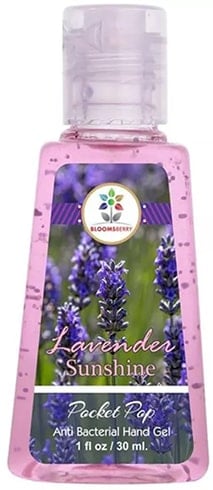 Although our exhaustive review of the best hand sanitizer brands in India is full of amazing choices for you to choose from, we will have to leave it up to you to decide which one is best for you.
Which do you think is the best product? Let us know in the comment section below.