People say that wedding is a celebration of love and partnership. Indeed, it is a special day when two individuals can express their feelings in front of their friends and relatives. Couples all around the world want their wedding to be the happiest day of their lives. The best thing is that lovebirds can make it as unique as possible.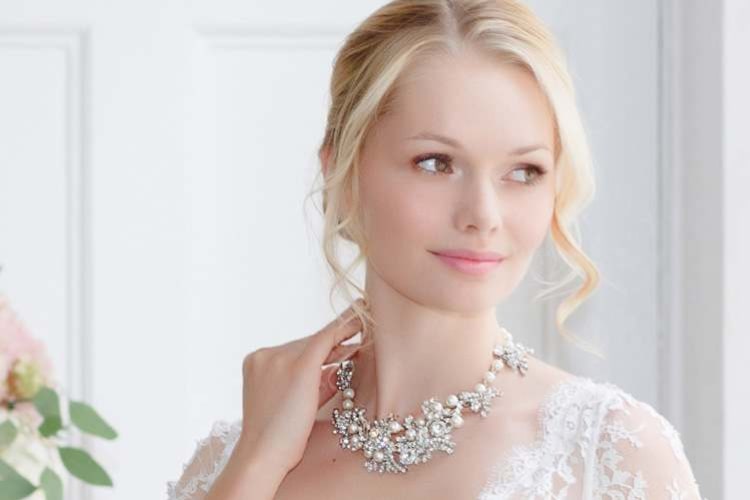 A traditional wedding is the easiest to plan since there is a basic script to follow. You just need a bride in a white dress who would throw the bouquet and guests who'd eat out of house and home. Planning a wedding together isn't a piece of cake, it requires a lot of patience, love, and understanding. Not everyone can sit down and talk about color of invitations, music band, and bridal jewelry. Unusual wedding is the way to prove that partners are on the same page.
Here is the list of couples who are not afraid to be weird together:
Nude Wedding:
Loving couples want to show that they have nothing to hide. To do so, some share passwords in a relationship, others have a nude wedding! An interesting fact is that the first nude wedding took place in Chicago in 1934.
'Naked wedding' is the way for loving partners and their guests (in some cases) to stick to their nudist lifestyle. However, it is not the only reason. For instance, Australian Monica Panberti couldn't find a perfect wedding dress, so she decided to come to the venue naked. She and her boyfriend were excited to do something special that day. A bride had only veil and glasses while the groom had a hat and bow tie. There were around 250 guests; their close friends also came au naturel.
Nowadays 'naked weddings' are very popular in Jamaica. In 2003, 29 nude couples married on the same day in the local vacation resort. At the moment, there are around 200 clubs all around the United States that can organize clothes-free ceremonies.
More Roses:
Bride Xiao Liu wanted to have a romantic wedding, but she decided not to bother her fiancée and take it as it is. She didn't know that groom Xiao Wan was preparing a surprise for her. A man in love would do anything to please his woman – Xiao Wan spent a year's salary on buying 99,999 red roses to decorate their wedding since it is considered a good luck omen. He found 30 cars to take all the flowers to their venue. Bride Xiao Liu couldn't believe that he'd done all this behind her back, but she was really excited.
Wedding Ceremony In The Morgue:
Michelle Thomas was heartbroken when her fiancé was killed while working abroad. At that time a father-of-two Kevin Lavelle was raising money for their special wedding day. Michelle Thomas decided to organize a ceremony in the morgue in order to say her vows to Kevin after his death. She invited the closest family members, including their five-year-old kids. The Catholic priest conducted the ceremony in the morgue of Oxford's John Radcliffe Hospital.
There were other cases of getting married to dead people. In 2011, Karen Jumeaux married her dead boyfriend Anthony Maillot at the town hall ceremony in Dizy-le-Gros, eastern France. He was killed in a road accident in 2009 right after the couple had a baby boy. Karen Jumeaux asked Nikolas Sarkozy to allow a posthumous wedding. The French politician couldn't refuse her request after she proved that she and Anthony were planning to marry.
Legal experts say that Karen Jumeaux will need a divorce in case she wants to marry another man. Karen was 22 years old at the time of the wedding.
[sc:mediad]
Up In The Sky:
Jeroen and Sandra Kippers were against the traditional weddings, so they decided to make the one they wanted. The Belgium couple invited 20 guests to the platform that was lifted 160 feet in the air. Jeroen thought it would be the most romantic place to say their vows to each other. To prove their love and trust, Jeroen and Sandra Kippers jumped over the side with safety ropes after the official ceremony.
With Sharks:
There are certain ways to check whether your relationship will last a lifetime or not. If you really love your partner, you would say 'yes' even inside a 120,000-gallon shark tank.
Crystal and Justin Reynolds were both experienced divers, so they wanted to spend their special day under the water. When they told this idea to their parents and friends, everyone thought they were crazy. Eventually, the couple invited guests to the aquarium in Florida so that everyone could see the ceremony.
On Wheels:
In 2010, the young Russian couple made a 'bicycle wedding.' They asked all their guests to come with their own bicycles so that they could ride them together all over the city.
Their parents were a bit surprised at the beginning, but they agreed to celebrate the wedding the way the newly-married couple wanted. It wasn't as dangerous as bungee-jumping or ceremony under the water, but at least guests at their wedding could burn calories fast.
These couples and their unusual weddings prove that it is possible to find your one and only who would jump, drown and be with you no matter what.
There is another weirdo somewhere in the world who'd love to share their life with you. You just need to keep looking, and eventually love will come to you.