While the classic white gown is usually the first thing that comes to mind when you mention wedding dresses, it's actually a relatively new phenomenon, even in the western world. And when you look further afield, the vibrant colors of different wedding dresses from across the globe are often dazzling, designed to make sure the bride really becomes the center of attention!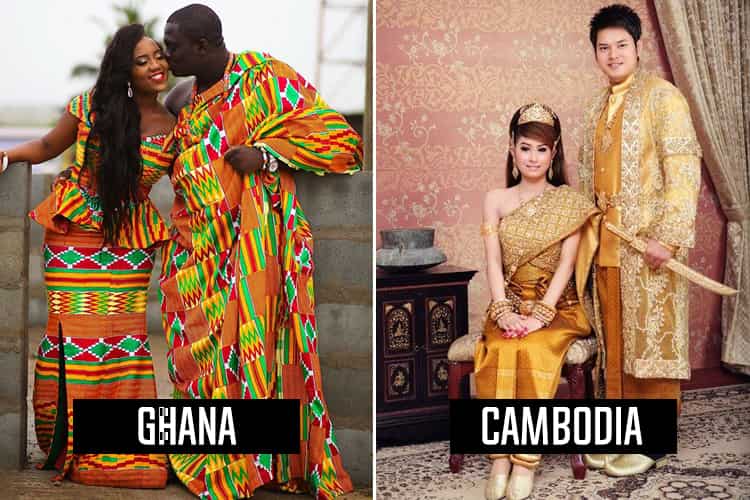 Let's take a look at some of the fascinating wedding dress designs and traditions from around the world, where they came from and what they symbolize.
Western White Wedding:
Interestingly, red was actually the most common choice of wedding dress for an English bride for centuries – that was until Queen Victoria chose a white court dress for her marriage to Prince Albert in February 1840. The white dress instantly became a symbol of wealth and nobility, and the tradition has been going ever since. Now that's what you'd call being a trend setter!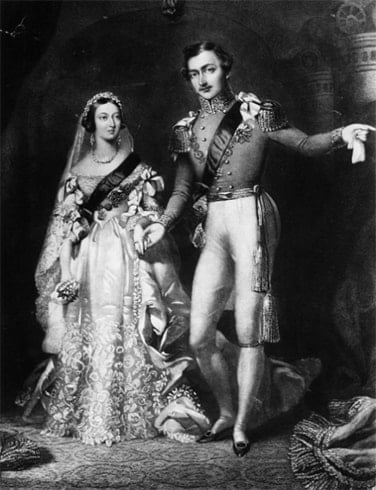 Vibrant and Colorful Ghanaian Wedding Dresses:
Famous for their colorful, traditionally woven kente cloth, the wedding dress for a marriage ceremony in Ghana is particularly colorful. In traditional wedding arrangements, the potential groom needs to win the approval of the bride's family as much as hers before the ceremony can take place! This involves a knocking ceremony at the intended bride's father's house a few weeks before the wedding, where gifts and two bottles of a suitable alcoholic beverage, or the even more traditional gift of palm wine, are shared.
The families of both bride and groom may even 'vet' their potential in-laws, looking at their overall health, wealth and reputation before accepting the union! These customs are becoming less common however as the country becomes more westernized, although the traditional colorful wedding garb remains as popular as ever – and it's easy to see why! How about an African safari holiday for the honeymoon?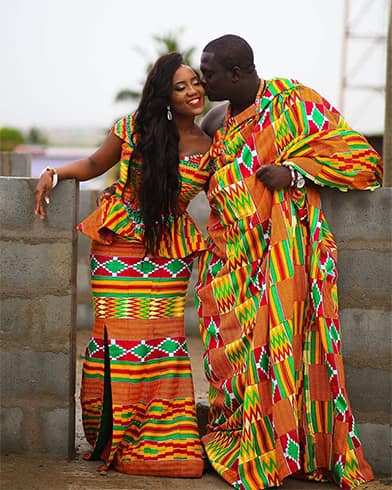 Canary yellow and gold Cambodian wedding dresses:
Weddings in Cambodia tend to be large affairs, as it's traditional to invite almost everyone you know! Invitations are sent along with an envelope for a cash gift for the bridal couple in an attempt to offset some of the costs, although you are only expected to contribute what you can afford. Cambodians tend to get married quite young, and in some more rural parts of the country arranged marriages are still fairly common.
Guests are expected to dress modestly, so the bride in her traditional Khmer canary yellow and gold wedding dress has a chance to really shine! Because so many people get invited, there is often a second more private ceremony for close friends and family. If you spend any length of time in the country, it's almost certain that you'll find yourself invited to one!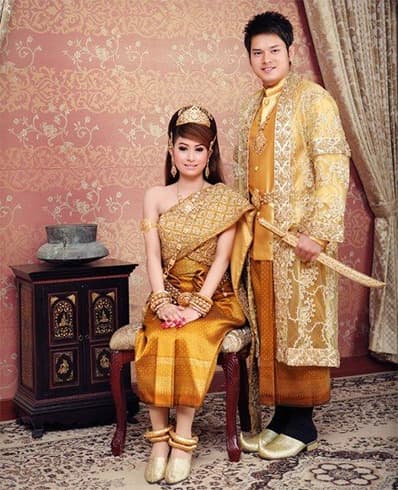 The intricate red and gold Indian wedding dress and ceremony:
Almost certainly the most elaborate and intricate wedding ceremonies of all, Indian weddings are massive affairs that usually extend over several days in traditional settings. The ceremonies often begin 15 days before the event itself with the Barni Bandhwana ceremony, in which a piece of thread called Mauli is tied to the hands of both the groom and his parents. This is done to request a safe wedding day from the gods.
[sc:mediad]
The bride wears a deep red gown embroidered with gold, which symbolizes commitment, spirituality, and fertility. She often wears a dash of red Kumkum powder on her forehead for good luck as well. The day before the wedding, the bride usually takes part in a Mehendi ceremony, where the bride and her female friends get together to apply beautiful and intricate traditional henna patterns to her hands. She will let the henna dry for as long as possible, as the depth of the color is seen as a signal of the strength of the marriage.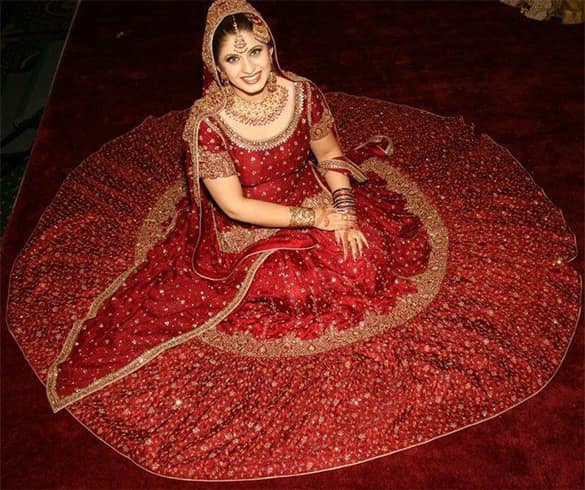 Even the date of the wedding itself is often stooped in lore and tradition, as the astrological charts of both parties are consulted to determine when the most auspicious date for the wedding will be!
Mixed-culture weddings:
As the world gets ever more connected and cultures collide, many couples who come from vastly different cultures are deciding to tie the knot. As a result, wedding planners often need to come up with clever ceremonies that will appeal to both families!
Sadly, many young people are abandoning the traditional ceremonies of their forebears in favor of a westernized ceremony. This is even more reason to celebrate and commemorate the traditions of old, and remember our diverse heritage.