When it comes to talcum powder, most of us will go to great heights to find that perfect formula. That talc powder which completely hides body odor, sweat, and smells great. We will spend a ton of buck-maybe not on one, but on several we've tested throughout our lifespan. And that's a lot of work, right? Well, to put an ending to this madness and to hopefully help you select the top-rated talcum powders available in India we thought we'd share a list.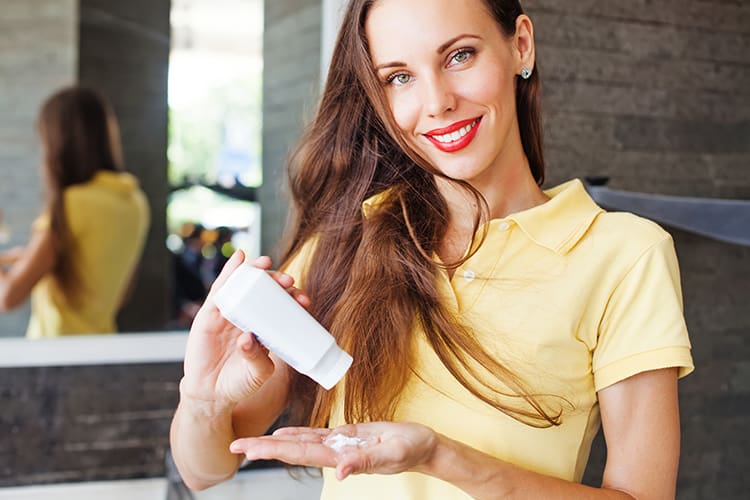 Top 10 Talcum Powders for Women Available in India for 2021
And remember, when it comes to talc powder-if in doubt, check out its long-lasting effect. See our edit of the best Talcum powders available in India below.
1. Forest Essentials Silken Dusting Powder Indian Rose Absolute:
In case you didn't know yet, Forest Essentials Dusting Powder is one of the best when it comes to feeling refreshed and getting all the worth for your buck, too. Apply it over face and body for a natural finish look. The cornstarch-based powder has a deep damask rose fragrance which is essentially a great essential oil for bringing out an amazing smell.
2. Nivea Pure Talc:
Talcum powders don't get any smoother than this one, which smells incredibly nice-and will also soften your skin. The formula is packed with ingredients to leave the skin with a glowing finish and to nourish. It covers imperfections, with a sheer look. It's infused with radiance formula to boost your skin tone and boost a glow. Plus, Nivea Pure Talc is luxurious for an even, flawless application.

3. Ponds Starlight Perfumed Talc Powder Orchid & Jasmin Notes:
Talk about a double treat: Ponds Starlight Perfumed Talc not only smoothens your skin but also prevent oiliness. The fresh and fruity notes infused powder is the ideal finish touch to preserving makeup and its sweat locking formula keeps you feeling fresh all day long.

4. Yardley London Morning Dew Perfumed Talc:
Even the shiniest, slickest skin texture can be tamed using the Yardley London talc. The powder absorbs excess oil, sets makeup, and smells incredible. Yet, it does not leave skin with a cakey application. After blending smoothly, the perfumed talc blurs imperfections and lightens skin tone.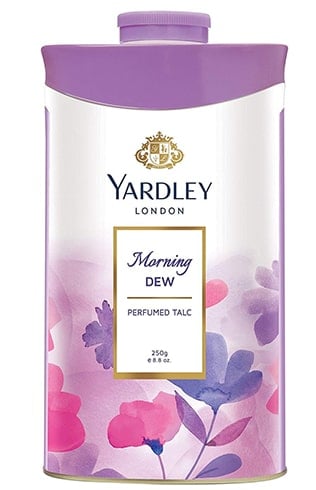 5. Mysore Sandal Talc:
A-classic-but-a-goodie! The Mysore Sandal Talc reduces shine, soothing, and smells delightful. Its fragrance instantly puts you at ease. The talc is formulated to deliver a smooth finish and sets makeup, too. Its light sweat-wicking particles keeps you fresh all day. Bonus: it can also be used as a finishing touch powder.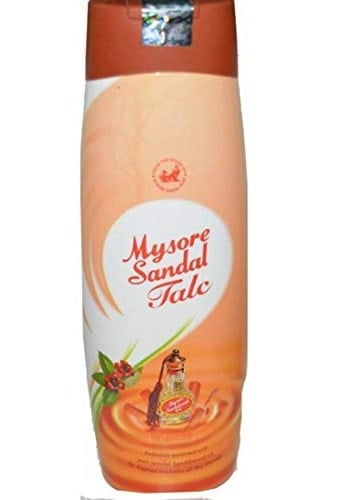 6. Cinthol Lime Refreshing Deo Talc:
When you're already prone to having an excessive sweaty skin, deodorant can end up losing its effect. But the Cinthol Lime Refreshing Deo Talc has ingredients to keep you feeling fresh for 12 hours straight. The formula isn't thickening and therefore light and smooth on the skin. It also reduces oiliness for a smooth finish.
[sc:mediad]

7. Eva Perfumed Talc for Face & Body-Fresh:
Eva is a brand dedicated to fresh skin. If overtly perspired face and body are your nemesis, look to Eva Perfumed Talc for the long-lasting smell. With a product that's designed for both face and body, the formula offers decent results to protect against body odor and perspiration.

8. Shower to Shower Cologne Cool Talc:
For that relief from prickly heat, Shower to Shower Cologne Cool Talc makes a difference. This oldie powder prevents sweat and body odor for maximum hours. It is best to use the talc after a shower or while heading out. The formula is soothing and gentle on skin.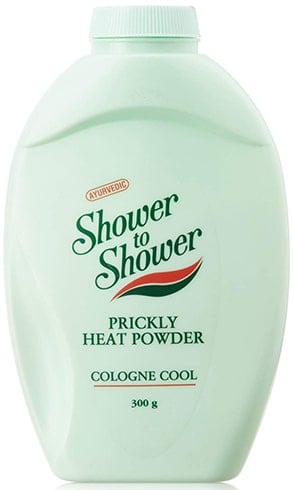 9. Dermicool Prickly Heat Powder:
Dermicool Prickly Heat Powder is lightweight enough to wear all day. It has an oil-free formula that is enriched with Ayurvedic ingredients for instant cooling relief from rashes and burning sensation. Great to use for skin itching and keeps you comfortable.

10. Boroplus Prickly Heat Ice Cool Powder:
Boroplus ice-cool iconic power is a time-honored brand and a favorite to many. Its budget-friendly pricing isn't the only good thing about it. It also absorbs sweat and keeps you feeling fresh, so nicely.

We combed through plenty of reviews to bring you these most insightful 10 talcum powders available in India on our site. User's claims these talc are winners amongst a sea of other mediocre talcum powders.
So before you use your regular powder again, take a look at the best talcum powders on this list and ask yourself, would you say such wonderful things about your own? If the answer is no, then you know it's time to hit the beauty counters or online-armed with this list of the 10 best talcum powders.
Images Source: amazon.in