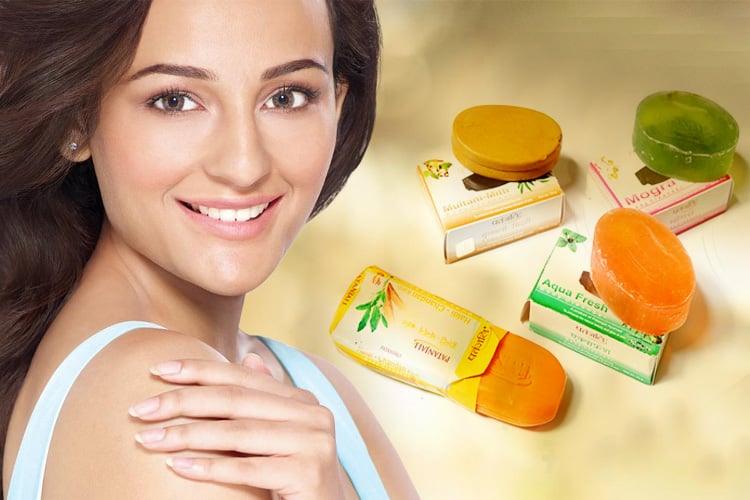 A soap is a soap is a soap. This line somehow is a misfit for the brand of soaps in question which has virtually changed the dynamics of soap buying. The packaging looks minimal, yet why is it a front-runner in soap category? Is it something to do with the brand aura of its founder Baba Ramdev or the product itself or is it because of advertising and publicity? Actually, all. Let us find out what makes Patanjali Beauty Soaps unique and awesome in every way.
Why Patanjali Soaps?
Patanjali is everywhere – in shops, stores, and in our mind. What makes them so special? They are Ayurvedic products, easily available, and inexpensive. And it isn't just one soap that we are talking about, it is a virtual range of soaps, meant for different types of skin, in different set of fragrances and with different price tags. That's all you can want, right?
Here is the List of Soaps from Patanjali
Here we go.
1. Patanjali Almond Kesar Kanti Bathing Soap
Body cleanser enriched with the goodness of Saffron (Kesar) and Almond. Kesar, the queen of herbs, is much sought-after by beauticians whereas Almonds are great for skin and overall health.
Ingredients: Badam Oil (Prunus amygdalus) 50 mg; Kesar (Crocus sativus) 0.1 mg; and Ghrit Kumari (Aloe Vera) 5.0 mg
Base Material: Vegetable Oil base noodles, Propylene glycol, Permitted color (CI: 15985), Sugandhita Dravya, Aqua – Q.S.
How to Use:
Wet your skin first.
Rub the Almond Kesar bathing soap on the skin
After it lathers well, rinse it with water
Benefits:
Original kesar almond soap (signature offering) from Patanjali
Moisturizes and revitalizes skin
Lightens dark circles and dark spots
Reinvigorates you for the entire day
Made of 100% natural ingredients. Chemical-free.
Dry-skinned beauties will love this soap
Price: INR 19/ for 75 gm
Review: "Soap is awesome with kesar perfume. Rejuvenating and fresh feeling"
Note: Packaging is of purple pink glossy paper. Shelf Life 24 months. To be stored in a cool and dry place.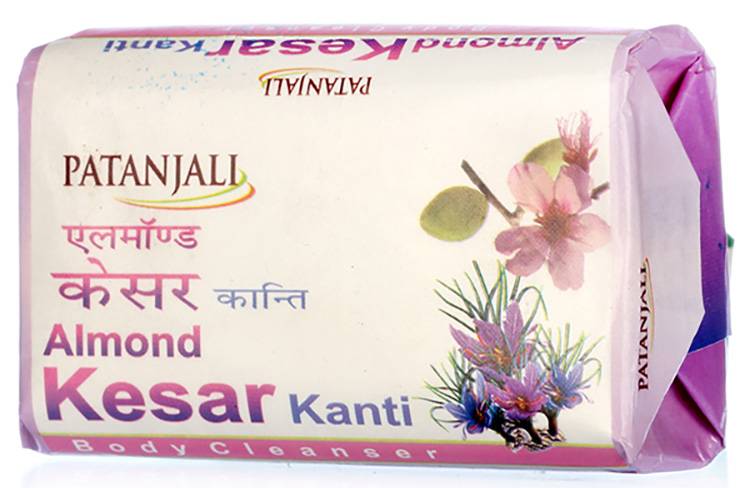 2. Patanjali Lemon Honey Kanti Body Cleanser
Body cleanser that gets you the freshness of lemon and skin nourishing and moisturisaton of honey.
Ingredients: Lemon, Honey and Aloe Vera
How to Use:
Rub the Lemon Honey body cleanser on wet skin
Once it lathers, rinse it with water
Benefits:
Lemon lightens and brightens skin. Removes tan.
Honey helps in cleansing your skin pores.
Other effects include: fighting skin pigmentation, skin nourishing
Skin-friendly compositions
Soap smells like citrus and is very similar to a fresh lemon.
Price: INR 19/- for 75g
Review: "Very good…the product smells of lemons"
Note: 2-year shelf life.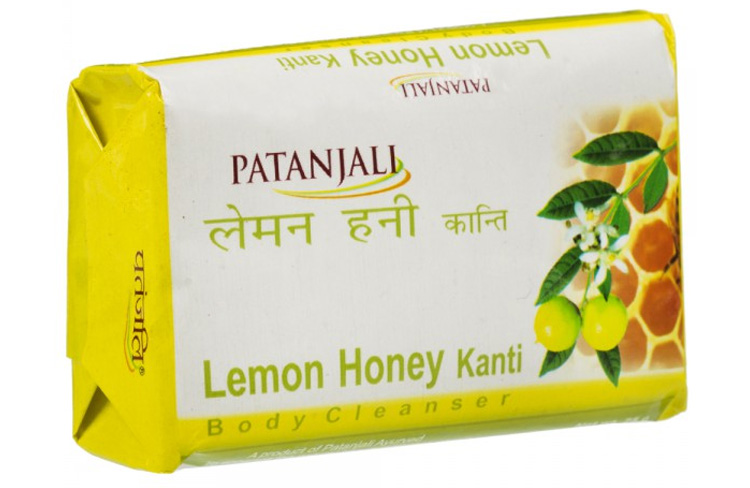 3. Patanjali Rose Kanti Body Cleanser
For rose-like soft and beautiful skin.
Ingredients: Natural Rose and Aloe Vera Extracts, Rubia cordifolia. Each 10-gm of this soap contains extracts of Neem (1 mg), Tulsi (1 mg), Aama Haldi (1 mg), Haldi (1 mg), Ghrit Kumari (1 mg), Gulab, Amla (1 mg), Giloy (1 mg), Borax (25 mg).
How to Use:
Rub the Rose Kanti body cleanser on wet skin
Let it lather
Now rinse it with water
Benefits:
Gentle and soothing on skin
Hydrates your skin keeping it moisturized
Rose is believed to fight wrinkles and revitalize the skin thoroughly
Maintains pH balance of the skin
Price: INR 19 for 75 gms.
Review: "Leaves skin silky soft and lightly fragranced with roses"
Note: Shelf Life of 24 months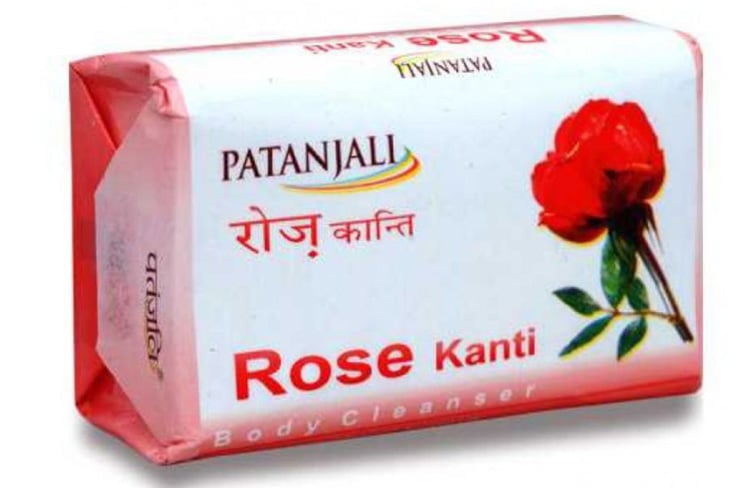 4. Patanjali Mogra Bathing Soap
Bothered about patchy skin? Try Patanjali Mogra Body Cleanser. Helps you get rid of dark spots, giving you smooth skin which is even-toned.
Ingredients: Tulsi (Ocimum sanctum), Aama haldi (Curcuma amada), Ghrit kumari (aloe vera), Giloy (Tinospora cordifolia), Shudha suhaga (borax purified)
[sc:mediad]
Benefits:
Pure Patanjali Mogra soap which contains tulsi, aama haldi and aloe vera
Mogra (or Jasmine) is a fragrant flower which moisturizes, nourishes and even-tones the skin
Fights skin dryness and roughness
Made of 100% natural herbs
Skin-soothing, removes pimples and marks
Keeps BO at bay (at least an hour or two after a shower with it)
Price: INR 25/- for 75 gm
Review: "Good Product, super aroma"
Note: Color wise, this soap is a bit dark green.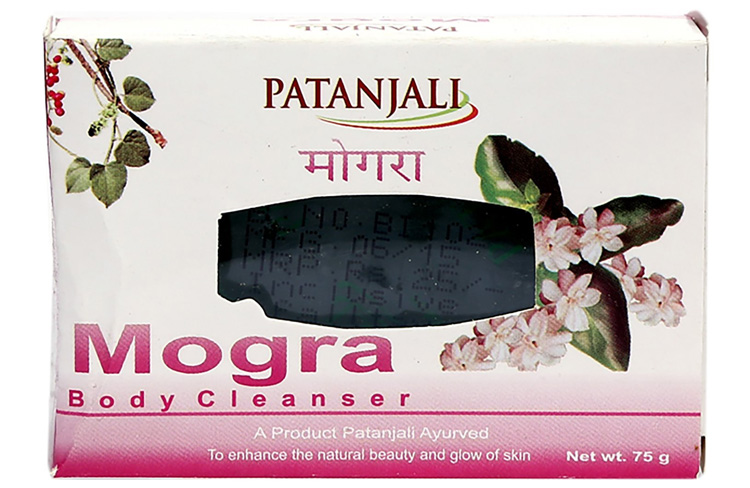 5. Patanjali Saundarya Mysore Super Sandal Body Cleanser
Rich and chemical-free bar of authentic sandalwood (or 'chandan'). Luxury soap by Baba Ramdev's Patanjali brand. Sandalwood is one of the best natural ways to soothe skin, especially in summers, when the skin gets parched due to the scorching sun.
Ingredients: Each 10 gm contains Sandalwood Oil (Santalum album) 10mg and Aloe Vera 20mg. Base Composition: Vegetable oil base (Sodium Palmate, Sodium Palm Kernelate), Vitamin E, Decyl Glucoside, Glycerine, Sugandha Dravya(fragrance), Permitted colour (Cl:11680, 77266, 12150), Aqua-Q.S.
Benefits:
Original herbal soap which gets you soft and beautiful skin
Made from natural oil cleanser base, sandalwood oil and extract of aloe vera
Removes dead cells and brightens your skin
Gets you a refreshing bath
Removes dirt accumulated on the skin
Price: INR 35/- for 75 gms.
Review: "The smell of sandalwood is hard to resist…"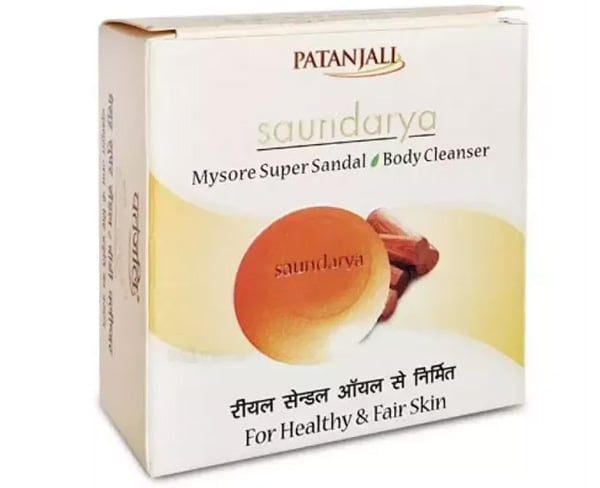 6. Patanjali Haldi-Chandan Kanti Soap
Has two major ingredients needed to beautify a bride – Haldi and Chandan. Also used to treat several skin ailments.
Ingredients:
10 gm of this soap has the following extracts:
Manjistha (Rubia cordifolia) – 2.5 mg.
Neem (Azadirachta indica) – 2.0 mg.
Haldi (Curcuma longa) – 5.0 mg.
Giloy (Tinospora Cordifolia) – 2.5 mg.
Amla (emblica officinalis) – 1.0 mg.
Tulsi (Ocimum Sanctum) – 2.5 mg.
Shuddh Suhaga (Borax (purified) – 25.0 mg.
In addition to the above, certain materials are used as base material in this soap preparation:
Vegetable oil base noodles
Sugandhit Dravya (for fragrance of Sandal)
Sodium Benzoate (Preservative)
Permitted colour (Cl : 11680 and Cl : 12150)
Benefits:
Glycerin-based mild beauty soap
Calming fragrance of sandalwood (chandan)
Antiseptic and anti-bacterial properties.
Gentle and cool on the skin
Helps get rid of excess oil
Goodbye to prickly skin. Wards off fungal skin infections and allergies.
Price: INR 13 for 75 g soap bar
Review: "Decent packaging and cruelty–free"
Note: Normal Paper Packaging in white and yellow. Soap is orangey yellow in colour.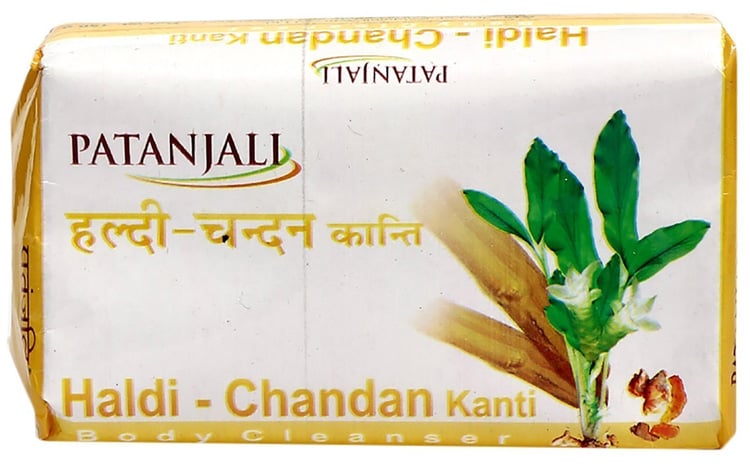 Tips for Patanjali Soaps:
If you have dry skin, then skip using Patanjali Haldi-Chandan Kanti Body Cleanser
In case of oily skins, Patanjali Multani Mitti Body Cleanser is a better bet as it controls oil and sebum effectively
Tackle skin infections with Patanjali Neem Kanti Body Cleanser
For aloe vera lovers, there is Patanjali Aqua Fresh Body Cleanser. This soap has a strong aloe vera smell.
Final Words about Patanjali Soaps:
They are organic and Ayurvedic products. Inexpensive and easily available in wide range (customized to the skin need and requirement). Verdict – Try out Patanjali soaps, if you haven't. You will not repent, that's for sure.
I hope you liked this post. Do write in, like, comment and share your stories of Patanjali Bath Soaps listed above. Ciao!
Images Source: pinterest