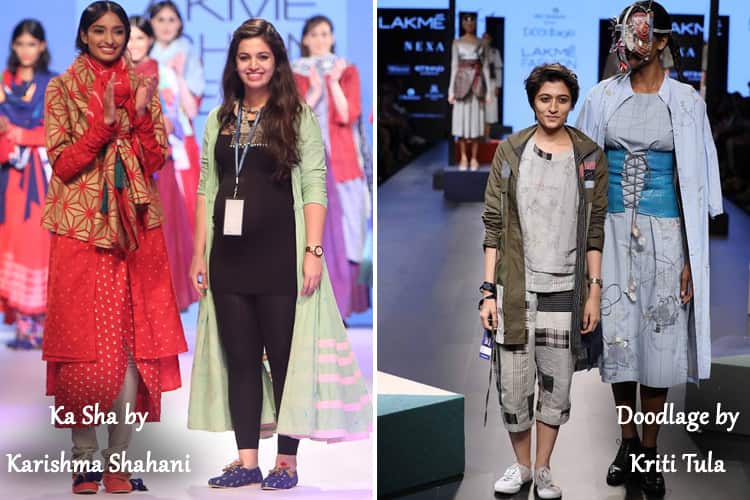 The word 'sustainable' has become a popular term to describe the clothes we buy and wear. In fact, ethical wear is a jargon that is gaining huge popularity and that is revolutionizing the fashion industry. These sustainable clothes are kinder to the environment and the people involved in the creation process. In short, these clothes not only benefit the weavers but also minimize the impact on the environment.
There are several ways of producing ethical fashion, and it all falls into three categories- social, commercial, and environmental.
It counters fast and cheap fashion
It upholds Worker's rights, safe working conditions, and supports sustainable living
Minimizes toxic pesticides and chemical use
Encourages recycling and energy efficiency
Provides training and resources
Top 16 Sustainable Clothing Brands In India:
Here are 16 designers and their sustainable fashion brands that will allow you to shop to your heart's content. Every brand and designer listed below has eco-fashion credentials. You can check out the list to know the best brands when it comes to sustainability, style, and employee rights.
1. Nicobar by Good Earth:
Nicobar launched by Good Earth is a sustainable premium clothing and home décor brand which is more than just prints and fabrics. This is one of the most upcoming ethical clothing brands that blends both craft and culture. Nicobar is an emergent brand that is both stylish and fanciful.
2. Shift by Nimish Shah:
The Shift is a brand that has an eco-friendly approach to business. Nimish Shah is the person behind Shift and he insists on using several varieties of sustainable materials, fabrics, and reducing factory waste. The collections at Shift are trendy and have been worn by celebrities like Sonam Kapoor and Kriti Sanon.
3. Ka Sha by Karishma Shahani:
Ka Sha by Karishma Shahani makes clothes by combining a modern style with various handicraft designs of India. This label is inspired by our country's rich culture and its collections are stylish, earthy, and relatable. You can consider picking a gorgeous mul cotton top with tassels created by craftswomen using a traditional handloom. You can shop this label at Pernia's Pop up Shop and Ogaan.
4. Doodlage by Kriti Tula:
Doodlage was founded by Kriti Tula after graduating from NIFT. The brand is known for its up-cycled clothing created from waste, particularly factory waste. Their collections are designed depending on the waste collected from factories. Each of their garments is unique in design and function. Doodlage stands for zero waste policy and leftover fabric and is commonly used for making fringes, beads, and buttons.
5. Brainflower:
Romantic silhouettes and Indian designs are widely available at Brainflower. The brand believes in ethical living and shares the same vibe with their clothing line. Their classic designs come at an affordable price. All their trendy pieces are worthy of trying.
6. H&M Conscious:
H&M has introduced its own line of sustainable clothing. The fashion brand uses several sustainable materials and embellishments for their clothing line. H&M created the Bionic dress using old plastic bottles and sustainable waste materials. Their clothing line consists of feminine silhouettes and a stylish touch.
7. Grassroot by Anita Dongre:
Designer Anita Dongre opened her first store in New York for Grassroots. It is a sustainable clothing brand. It is said that a part of the proceeds of the label goes to the craftsman who created the garment.
[sc:mediad]
8. Bodice by Ruchika Sachdeva:
Bodice touches upon reintroduction of classics through modern weaves and Indian textiles. This brand develops creations that are created through sustainability. Ruchika Sachdeva is the brain behind Bodice. She graduated from London College of Fashion in 2011 and has developed the brand consistently.
9. Pero by Aneeth Arora:
The Pero label was started by designer Aneeth Arora. The label means "To wear" in Marwari. The label is for carefree and bohemian people who love organic things. It is one of the most promising organic clothing brands that make use of organic cotton and intricate embroidery to create global styles that define the artistic vision of Pero. They create garments with utmost care and detail, and therefore have a tagline "handmade with love." Their work environment is green and eco-friendly, too.
10. Eka by Rina Singh:
Eka brand was started by Rina Singh. Ekta in Sanskrit means oneness. The brand brings together both Eastern and Western sensibilities by making use of in-house textiles made of natural fibers for creating modern silhouettes. The brand aspires to create a classic wardrobe ideal for wearing as separate or layers. Their signature style is the earthy vibe of the garments.
11. BhuSattva:
BhuSattva is a label that thrives on organic minimalism. Their collection consists of minimalistic designs. The brand believes in maintaining a simplistic approach to both their designs and production. They use lesser resources, cause lesser pollution, and hence yield better results.
12. Forty Red Bangles:
Forty Red Bangles is a collaboration of design and sustainability. They believe their label is a celebration of daily life. This is a complete lifestyle brand which draws inspiration from the rich textile of Indian traditions transformed into modern forms. Their label boasts of ultra-soft organic cotton loungewear, handcrafted jewelry, and up-cycled homeware. The label is dedicated to decreasing your carbon footprint.
13. Ethicus:
Ethicus brand focuses on creating Indian clothing while using fabrics from Appachi Organic cotton and silk which is hand woven. This is one of the trendiest eco-friendly clothing brands that offers colorful saris, elegant clothing, vibrant bed and bath linens. It is available both online and in stores across South India. Ethicus provides products for those looking to revive traditional handlooms and support rural artisans.
14. No Nasties:
No Nasties is a fashion brand which pays respect to artisans and environment. Both clothing and accessories are available for men and women with fair Trade stamp. No Nasties provides stylish products in rich colors. The brand resounds as, "Take equal parts of Organic Fair Trade and Awesome. Mix them up in a big pot of cool and viola- you get a brand that people love!"
15. Do you Speak Green:
'Do you speak Green' is an eco-friendly fashion brand. Their products are made from organic cotton and bamboo-based fabrics. Their collection offers yoga and casual wear for men, women, and children. The brand has a Global Organic Textile Standard certified factory and Fair Trade Certified Cotton. It works in collaboration with Fusion Clothing and its products are available for purchase both on their own website and on other e-retail sites. Do you Speak Green is available in all stores across India. Their bamboo and hemp fiber made t-shirts are truly unique.
16. Samtana:
The label comprises of clothing made of organic fabrics and a project called True-Blue. This is an eco-clothing brand. Its proceeds support mid-day meals for school children. Their core True-Blue project aims at battling two major issues in India malnutrition and illiteracy. This is one of the unique sustainable apparel brands that offers products for both men and women and is socialist at heart.
Hope this article on sustainable clothing brands in India makes your search easier the next time you go shopping. How do you find this revolutionary concept of sustainable clothing? Will you give this eco-friendly, social cause and radical fashion concept a thumbs-up? Please share your opinion in the comments section below