Dark underarms are a source of concern for many people for obvious reasons. Due to this reason, some people abstain from wearing sleeveless tops, bathing suits, and revealing clothes. It can even lead to low self-esteem and lack of confidence. But the good part is there are solutions available at stores and online.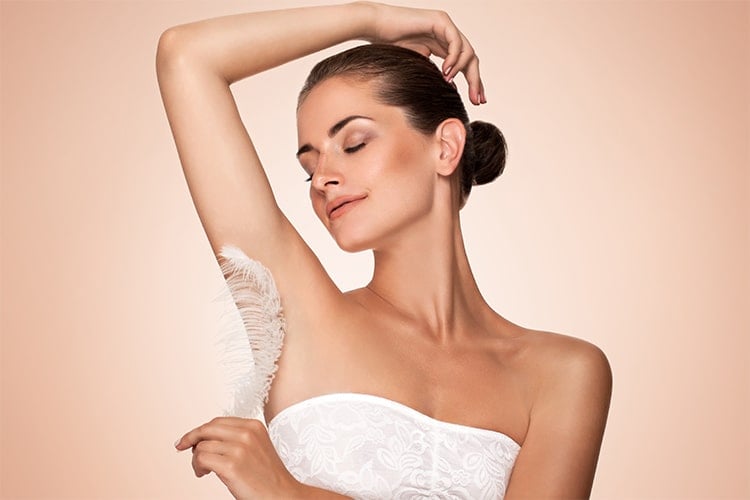 We have rounded up ten underarm whitening creams that are available in India. This can allow you to streamline your choices better. Before that, let us learn the causes and tips to prevent underarm darkening.
The Causes of Dark Armpit:
Dark underarms are a common problem and there are a number of factors associated with it. There are several causes of dark underarm. They are as follows:
Shaving frequently
Dead skin cells
Using deodorants excessively
Hormonal imbalance
Skin friction due to tight clothing
Genetics
How to Avoid Dark Underarms:
There are a number of ways to deal with dark armpits. You can avoid getting your underarms discolored through simple steps. They are as follows:
Do not shave your skin. Instead, opt for other methods like laser treatment and waxing. This can help in preventing in growth hair and remove hair from roots, lower hair removal frequency, and reduce dark appearance.
Maintain clean underarms by removing grime and oiliness. But avoid using soap and cleansers that contain harsh ingredients. This can lead to darkening of underarms.
Cleanse your underarms once in a while to slough off skin cells. Try exfoliating your skin once or twice a week to see visible results.
Opt for natural remedies to maintain clean underarm and to avoid sweat.
Wear loose clothing instead of tight ones.
Top 10 Underarm Whitening Cream Available in India:
If your dark armpits are not caused due to an underlying condition, then you can use the below suggested products.
Here are the names:
1. Xtreme Brite Brightening Gel:
The brightening gel formula contains glycolic acid, salicylic acid, citric acid, licorice extract and glycerin. These ingredients help in treating dead skin cells from underarms effectively while keeping it moisturized. Regular application of the formula can help you in treating underarm darkening.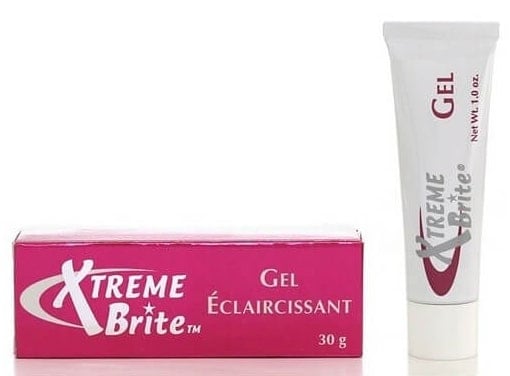 2. Garnier Mineral Light Extra Whitening Roll-On Deodorant:
The Mineral Light Extra Whitening Deodorant by Garnier controls body odor from underarms and also provides freshness. It can also whiten and lighten underarms naturally. The roll-on deodorant also contains lemon extracts and mineralite to help reduce dark spots and reveal brighten skin tone. The formula is skin friendly and alcohol-free. It does not cause any side effects.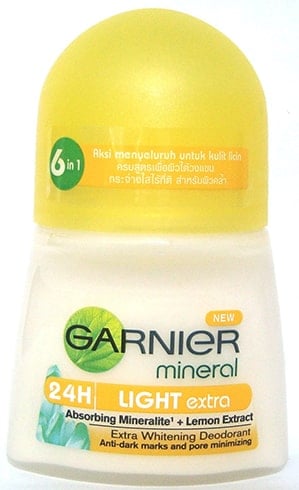 3. Nature Republic Armpit Wash and Whitening Cream Set:
The cream set features an armpit wash and armpit cream. The wash contains exfoliating beads to exfoliate skin cells from underarms while the cream helps in whitening the skin. The formula leaves skin with a dry, fresh finish and pleasant smell.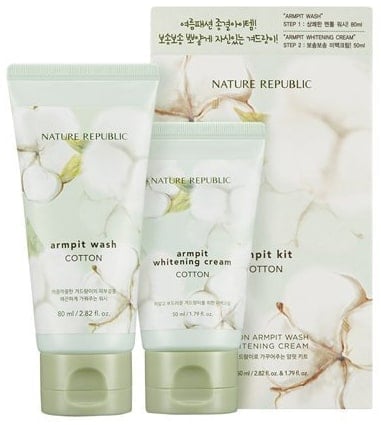 4. Relumins Advance White Underarm and Thigh Cream:
The advance cream formula works effectively for dark underarms and thighs. It has arbutin extracts and whitening agents to yield effect results.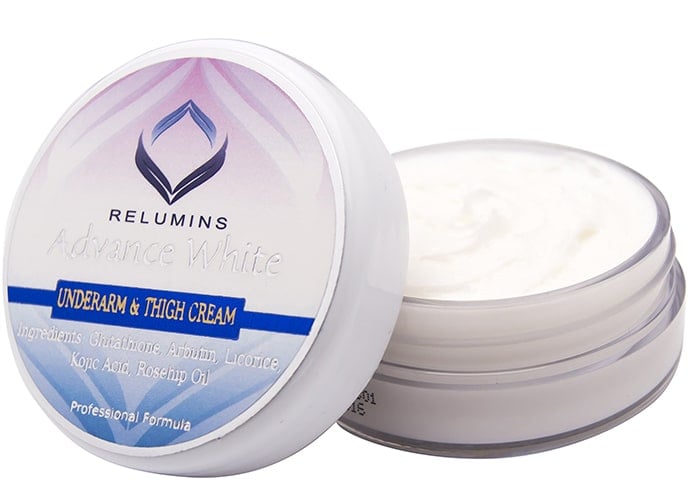 5. Qraa Dark Underarm Whitening Cream:
The underarm whitening cream by Qraa has natural extracts including lemon oil, tea tree oil, lavender oil, liquorice, and kojic acid. The whitening cream also treats underarm darkness by controlling the melanin production. It is 100% natural, without artificial color, parabens, and fragrance. It shows results within one to two weeks of application.
6. Meladerm Hyper pigmentation Cream:
Meladerm hyper-pigmentation cream is a product of Civiant Skin Care Company. It is a paraben-free, dermatologically tested, and free from hydroquinone. The cream is meant for dry, oily, and normal skin. It is safe to use on skin. The hydroquinone is a cancer free agent that is available in several whitening treatments. But, meladerm often uses organic agents like Alpha Arbutin, licorice, mulberry, and kojic acis which helps in treating dark underarms. The lightening formula is also essential for treatment several hyper-pigmentation problems like acne, age spots, old scars, and dark spots.
7. Sanctus Underarm Whitening and Sweat Reduction Cream:
The main purpose of the cream is to safely the formula on intimate areas. It is non-sticky and therefore do not cause any discomfort. The cream is also suitable to be used on dark skin surfaces like knees, ankles, underarms, inner thigh, and intimate area. It also prevents bad odor emanating from sweat.
8. Aliver Underarm Whitening Cream:
The Aliver whitening cream is especially formulated with effectively ingredients to whiten skin. It also contains several extraction essences which are mild, safe, non-toxic, and skin-friendly. The whitening cream can also be used on other areas like hips, knee, and thighs.
9. AsaVea Underarm Lightening Cream:
The lightening cream from AsaVea contains ingredients like collagen, Vitamin C, and HA to reveal smooth, brightened skin. It is designed to lighten and moisturize dark underarms and other parts of the body like knee, legs, neck, etc.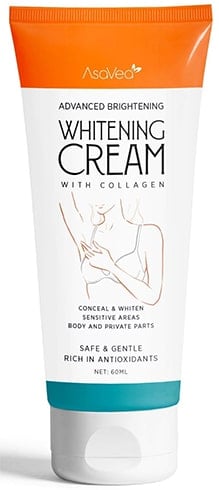 10. Dot & Key Underarm Detox & Color Correction Mask:
The calcium-vitamin complex formula has the goodness of tea tree oils, jojoba oils, and charcoal. The mask treats dead skin cells and removes skin impurities to reveal brighter skin tone. Try this treatment twice or thrice a week for best results.
Natural Remedies to Lighten Underarms:
Many people also opt for a natural remedy to dark armpit. Some of the best natural ingredients has bleaching agents and they are:
1. Potato:
Grate a potato and squeeze out the juice. Apply the extracted juice to your armpits. Rinse off with cool water after 10 minutes.
2. Cucumber:
Cut cucumber into small slices. Rub these slices onto dark areas of underarms. Rinse off your armpits with cold water after 10 minutes.
3. Turmeric:
Add two tsp of fresh lemon juice and turmeric to make a paste. Apply the paste evenly onto underarms. Allow to dry for 30 minutes and rinse off well.
[sc:mediad]
4. Lemon:
Rub lemon slice onto armpits on 10 minutes. Rinse off the area with cold water. Dry them and apply moisturizer.
5. Coconut oil:
Massage a few drops of coconut oil into your armpits. Keep it for 15 minutes. Rinse off your armpits using lukewarm water. Try this remedy twice or thrice a week for best results.
6. Egg Oil:
Egg oil is an effective remedy for lightening dark underarms. Massage the solution before bedtime onto armpits. Rinse off using cold water or a pH-balanced body cleanser or soap.
Other Medical Treatments:
Depending on your condition, your dermatologist may prescribe treatments to lighten armpits such as:
Topical creams or lotions that contain tretinoin, hydroquinone, corticosteroids, and kojic acid.
Dermabrasion or microdermabrasion to cleanse skin thoroughly.
If you are suffering from a condition like erythrasma, your dermatologist may prescribe topical erythromycin or other oral antibiotic like penicillin.
If you are concerned about your dark underarms, then you can also consult a doctor. If there is no underlying condition, the doctor may suggest other alternatives to lighten your armpit.
If you have tried one of these products, let us know how it worked for you.
And, of course, if you have any questions, do not hesitate to ask. We would love to hear from you.