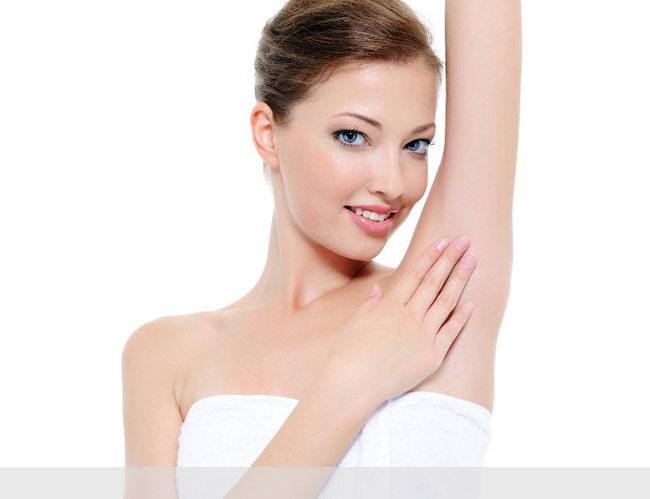 A fair skin and dark under arms are the worst combination. All of us long to get into those sleeveless party wears. Unfortunately the dark under arms as a result of pure negligence towards the sensitive skin, spoils the complete look. Deodorants available in the market are filled with chemicals and hence they darken the skin. The use of hair removal creams and frequent application of razor causes irritation to the skin, resulting to dark patches. One must be careful with the choice of the products as well. Underarm whitening scrub are great to use and chemical free if made at home with natural ingredients.
The following are some of the natural ways which helps to deal with dark under arms:
Lemon:
Ingredients:
Method: Lemon is a great natural cleanser due to its acidic nature. It bleaches the skin, thereby lightening it and removing off the dead cells. It is blessed with anti-bacterial and anti-septic properties, hence is used to treat various skin related problems. Take a slice of lemon and rub it on your dark under arms before you proceed for shower. Lemon leaves the skin dry; do not forget to apply moisturizer to your dry skin. Regular application of lemon will lighten the dark skin.
Potatoes:
Ingredients:
Potatoes
Lukewarm water
Cotton ball
Method: Potatoes are good bleaching agents. They are slightly acidic in nature and hence are suitable to all skin types. They do not cause any irritation to the skin. Take a slice of potato and rub it on your under arms. Allow it to settle there for 20 minutes. Wash it off with lukewarm water. You can also grate a potato and squeeze the juice out. Dab a cotton ball into it and apply it on your skin. Wash it off after ten minutes. Apply this liquid twice a day to see better results.
Baking Powder:
Ingredients:
Method: It is the most effective remedy for dark skin. It acts as a bleaching agent as well as prevents bad odour. The deodorants and chemicals which we apply on our under arms to deal with the bad odour in turn harms the skin leading to rashes and dark patches. Baking Powder comes to your rescue here. Add a pinch of baking powder to little water and make a thick paste. Spread the paste on the desired area and scrub it for 15 minutes. The dead cells will be out and the area will be germs free. Follow this process regularly to see lightened under arms. You can also dissolve a pinch of baking soda in water and clean your skin with the solution.
Orange Peel:
Ingredients:
Orange peel
Milk
Rose water
Lukewarm water
[sc:mediad]
Method: Haven't heard of it? The fruit is not only juicy and tasty, but also has great benefits. Orange peel is equally great for skin. Peel the orange and and sun dry the skin. Make a powder of the skin. Take a table spoon of the powdered peel in a bowl and add few drops of milk and rose water to it. Stir it till a thick paste is formed. Apply it on your dark under arms and gently scrub it in circular motion. Wash it with lukewarm water after fifteen minutes. This process will remove the dead cells, bleach the skin and kill the bad odour. The freshness of rose water can be felt.
Milk:
Ingredients:
Milk
Curd
Gram flour
Lukewarm water
Method: Milk is rich in fatty acids and is full of vitamins. It lightens the under arms along with moisturizing it. It would work wonders if applied with curd, as lactic acid also serves as a bleaching agent. Take 2 teaspoons of milk, 1 teaspoon of curd and 1 tea spoon of gram flour. Mix them together for a thick paste. Apply it on your dark under arms and gently scrub it in circular motion. Wash it with lukewarm water after twenty minutes. This process will give great results in longterm.
Saffron:
Ingredients:
Method: Saffron is the most expensive and the most effective one. It is mostly preferred by brides to get that instant glow. Take few strands of saffron and dissolve it in few drops of milk. Let it dissolve for few hours. When the milk turns yellowish, it is an indication of the saffron being blended with milk. Dab a piece of cotton in it and apply the saffron milk to your underarms and leave it overnight for better results. Wash it in the morning. You will be surprised to see the results.
Olive Oil:
Ingredients:
Olive oil
Brown sugar
Lukewarm water
Method: Olive all is rich in antioxidants and is great for the skin. Take 1 cup of brown sugar and add 3 teaspoons of extra virgin olive oil it to. Stir it completely. Wet your underarms and apply this paste. Leave it for half an hour and wash it with lukewarm water. Apply this paste twice a week for faster results. This will clean your skin and moisturize it apart from lightening it.
I hope you all loved reading the article on DIY underarm whitening scrub.