One of the most generous things you can do for your hair is to get a blowout, which is pricey in itself. So it won't hurt if you master a few tricks on how to make your blowout last.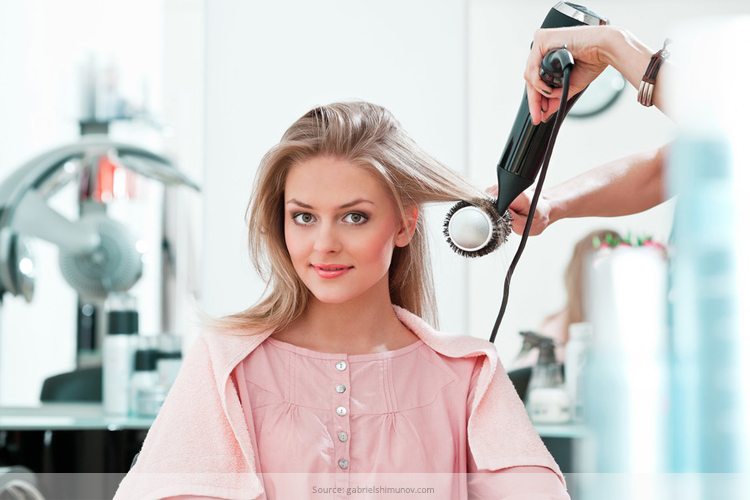 There are few perks of getting it done at a salon- the hairdresser washes, brushes, massages, and blows out your hair. And you walk out feeling fabulous than ever.
How Long do Blowouts Last?
The worst part of a normal blowout is realizing that it falls flat and limp by day three. This is why the blowout hacks are so important for you to master.
15 Hair Hacks for Maintaining a Fresh Blowout:
It turns out that every step from how you wash your hair to your sleep-in technique can sabotage your blowout. To prevent all these, here are 15 hair hacks on how to make a blowout last on natural hair: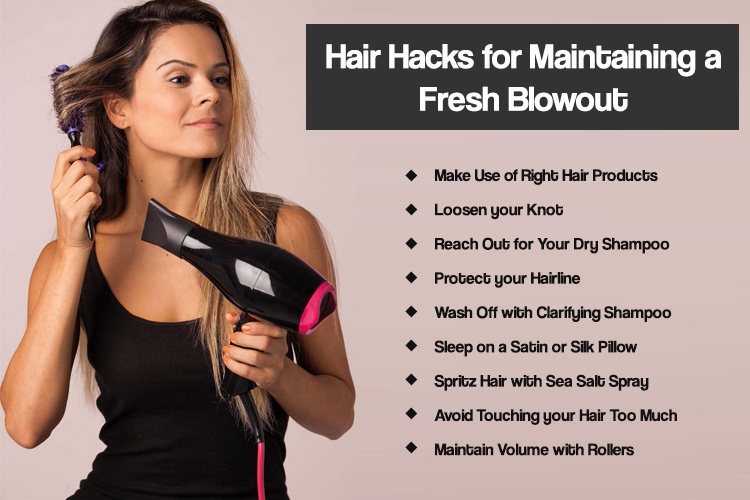 1. Make Use of Right Hair Products
Starting with clean, conditioned hair is most essential, and for that you need to coat your hair using the right shampoo and conditioner. If you use hair products that contain harsh ingredients, which weight it down, then your hair will lack volume and fall flat. Thereafter, your blowout will not last for more than a day. Hence, read the product label well before buying them. You can look up for lightweight hydrating hair products that penetrate into the outer layers of the hair. Try L'Oreal Paris Power Moisture Hydrating Shampoo Or Dove Nutritive Solutions Shampoo Coconut & Hydration. Both these shampoos provide a gentle cleanse to your hair. Also try Nexxus Humectress Ultimate Moisturizing Conditioner or OGX Conditioner, Nourishing Coconut Milk, which contain concentrated proteins, specifically formulated to target hair areas that need moisture without weighing it down.
2. Loosen your Knot
After a blowout you should think twice about pulling hair back into a pony or tight bun. This can ruin your blowout by creating odd bends. Instead of a ponytail to keep hair out of your face, try this awesome trick suggested by Jennifer Yepez, hairstylist from NYC. Brush your hair back straight up to the top of your head making use of a tightly bristled paddle brush. Then, wrap hair into a large, loose bun, and secure using two bobby pins. If you have thicker hair, then create two high buns side by side, suggests Jennifer.
3. Reach Out for Your Dry Shampoo
You may need this in between shampoo when your hair becomes oily or greasy. Even if your hair does not turn oily, you will need a dry shampoo for a fresh blow dry look. And think in terms of unwashed hair coming in contact with dirt, pollution, and extra layers of hairspray or serums, etc. So reach out for a lightweight dry shampoo like Pantene Original Fresh Dry Shampoo. Make use of it between washes to make your blowout last longer. Make sure to use dry shampoo beyond your roots. Here is a trick: Flip your hair upside down and spray it along the length of hair. Then flip your hair back up. Brush your hair to distribute the dry shampoo from roots to ends.
4. Protect your Hairline
While washing your face, make sure to put on a wide cotton headband to avoid getting your hairline wet. When your hair comes in contact, it turns frizzy. So in between shampoos, wrap dry hair in a microfiber towel or a plastic shower cap, before stepping into a shower, to avoid steam coming in contact with your hair strands, which can ultimately lead to frizzines and wavy textures to curl up.
5. Use Anti-Humidity Spray for Next Few Days
Humid and hot weather is a blowout's worst nightmare. Therefore, use an anti-humidifier spray on your hair, like Living Proof No Frizz Humidity Shield to keep frizzines at bay. The top-rated anti-humidity spray acts like dry shampoo, by adding volume and manages to fix even the most severe frizz hair. This magic anti-frizz product can seriously change your life.
6. Sleep on a Satin or Silk Pillow
While sleeping, hair tends to turn awry and messed up. To avoid hair from getting tousled up overnight, switch to silk or satin pillowcases. This can allow you to maintain your fresh blowout and keep hair smooth.
7. Make Use of the Right Hair Serum or Root Lifter
If your hair feels dry and needs some shine, try lightweight formulas like Matrix Biolage Smooth Proof Avacado Deep Smoothing Serum. This is a miracle serum for third-day hair. You may apply serum or root lifter to hair ends alone. Here is an awesome trick to try the hair serum: Brush hair up into a high ponytail and hold the base using one hand. With the other, pump one or three drops of encapsulate serum using your hand and run it along the length of your ponytail. Your hair will have a fresh blowout finish when you wear it down. You may use root lifter if you have fine hair and smoothing serum if your hair is thick.
8. Avoid Touching your Hair Too Much
Are you constantly running your hands through your hair or twirling your hair ends? You may keep your hands away from your hair, especially right after a manicure or after using hand cream. The natural oil on your skin coated in hand cream will ruin your strands and ultimately your blowout.
9. Maintain Volume with Rollers
If you are worried about losing volume, dry shampoo is not the only solution. In fact, you may use rollers for creating the same impact. Section your hair at night and use rollers or pins to keep it looking fresh. Sleep with the rollers on and take it off in the morning. You will wake up to gorgeous, wavy hair that looks like a fresh blowout. Or, if you want to get straight hair, then try a ponytail or topknot overnight to maintain volume or wavy texture.
10. Shower under wraps
Quite clearly, a shower cap is perfect for keeping your hair dry while you shower. But not all hair shower caps are equal. You'll want one that is tight along the hairline and lined with terrycloth. Using a tight one will ensure your baby hair will not get wet and the terry cloth will soak up any humidity. While selecting shower caps, look for features like static-reducing materials and adjustable microfiber terry band that will not leave a mark on your forehead. You may also pull your hair into a topknot and secure it using bobby pins, before placing the cap onto your head. No contact with water and humidity will ensure a longer-lasting blowout.
11. Use Dry Conditioner Spray
The dry conditioner is similar to a dry shampoo as it adds volume. But it also makes hair softer and hydrated. The Oscar Blandi dry conditioner spray is great. You may use the spray on your hair ends rather than using on your roots.
12. Avoid Sweaty Regimes
If you wish to prevent unnecessary moisture, then you should trying out sweaty regimes, like cardio. Remember, even the slightest sweat in your hair can turn your hair frizzy. If you want your blowout to look perfect for a few days, then switch to strength training at the gym, rather than trying out cardio. Or, avoid it altogether.
13. Wear a Moisture-Wicking Headband While Heading to Gym
If you cannot sacrifice your cardio exercise for few days, then you need to look for an alternative trick. To prevent sweat, try a moisture-wicking headband to keep away from sweat as much as possible.
14. Spritz Hair with Sea Salt Spray
Spray your hair with sea salt spray. We love Bumble and Bumble Surf Spray and Lush Sea Spray, in case you are scheduling serious sun time. This salt spray provides UV protection and breaks down product residue in your hair. This is also the perfect time to try one of those flirty hair braids or twist or to slap on a new headband for maximum protection.
15. Wash Off with Clarifying Shampoo
Reward yourself by getting your hair squeaky-clean, using a clarifying shampoo. Try Pantene Pro-V Weekly Deep Cleanse with Mosa Mint Oil Purifying Shampoo and Neutrogena Anti-Residue Shampoo. Blow-dry your hair and return to step one.
Rather than your expensive blow-out, this hack on how to maintain blowout will cost you lesser, and lasts over a whole week. This is just awesome, right?
Everything You Need to Know about Other Special Blow-Out Treatments:
You may have heard about it and seen the dramatic before and after images on Instagram. Or even considered getting it done for yourself- yes, we are talking about the Brazilian Blowout. There are few similar hair treatments out there that promise the same results, but the original Brazilian Blowout has a more comprehensive list of pros.
You may choose between a normal blow-out and a Brazilian blow-out. But before that, let us learn what Brazilian blowout is and how long it lasts:
What is Brazilian Blowout?
The Brazilian blowout is a liquid keratin formula that bonds your hair to create a protective layer over each strand, which effectively diminishes frizzines, seals the cuticle, and provides protection against any external hair damage. The smoothing treatment originated in Brazil uses ingredients native to the country, including camu camu, acai berry, and annatto seed. After a Brazilian blowout, your hair will be left hydrated, more resilient to heat-styling, and less frizzy.
How is it Different from Other Keratin Treatments?
Although the results for both keratin treatments and Brazilian blowout are same, the latter has a milder formula that is tailored according to your hair type. After getting a keratin treatment, you will not have many options. You cannot tie hair back, style it, and cannot wash it for three or four days.
But with the Brazilian blowout, your stylist can rinse hair out, and that's it. You can do anything with your hair as normal.
How Long Does a Brazilian Blowout Last?
Provided you cleanse off shampoo that contains sulfates and chlorine while showering, your treatment should last anywhere from three to four months. Once it wears off, your hair will return to its natural curly pattern. This is your indicator of when to have it redone.
Does It Have Side-Effects?
Top hairstylist confirms this treatment is safe on any hair type. And it actually adds shine and boosts moisture levels. There is formaldehyde formula used in the Brazilian blowout treatment, but in very small doses. The only time when breakage may occur is when a hairdresser goes too hard with the flat iron. So kindly request them to be gentle on your hair and use less heat possibly.
Post Treatment Tips:
Unlike after keratin treatment routine, there are no restrictions you can or cannot have in terms of activity after getting a Brazilian blowout. In addition, after the treatment is rinsed out in the salon, you may wait as long as you'd like to wash it. And be sure to make use of a clarifying and chlorine-free shampoo to preserve hair health.