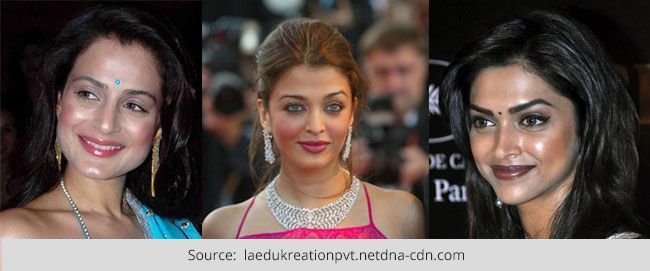 Bollywood actresses are always under a glaring spot light and need to maintain a picture perfect look, every time they step out the door. But there are times when even some of the best actresses fall prey to poor makeup choices. This article will show you some celebrity makeup mistakes.
Let's See Some Celebrity Makeup Malfunctions
Honestly, we think that that celebrities without makeup look better than makeup gone wrong.
1. Amisha Patel
Amisha Patel has quite a good complexion, but the wrong kind of makeup can do some damage. Her foundation doesn't match her skin tone, making her skin appear overtly pale. It hasn't even been correctly applied on the neck, making the neck and face appear of two different shades altogether.
2. Aishwarya Rai
She wore a beautiful fuchsia gown to one of her Cannes appearances, but the makeup didn't quite match. The bright coloured dress needs a little more toned down make up. The bright pink cheeks and the pink lipsticks are giving her an overdose of the colour. Maybe a subtle nude or neutral makeup could have done the trick.
3. Sonam Kapoor
Sonam Kapoor is currently one of the biggest fashion icons of the country, but she needs to learn a small makeup tip – The right shade of foundation and the correct combination of liquid and powder is an absolute must!
4. Deepika Padukone
With her gorgeous smile and dramatic eyes, Deepika looks beautiful no matter what. Even the thing amiss with this makeup is just that it could have been more matte. The effect of the light and the composition of the makeup is making her face look extremely oily. Seeing Deepika Padukone in bad make up is extremely heart breaking, right?
5. Kareena Kapoor
The beautiful begum today has had her share of poor make up in the past. But then again it was a time when lipstick liner was a popular choice. But in this case the liner is stronger than the lipstick shade itself, making her lips appear too full and unnatural. Also her matching lipstick and eye shadow is clashing with the blush on her cheeks. Same colour all the way may not be such a great idea.
[sc:mediad]
6. Priyanka Chopra
Trying to keep it au naturale, but the over application of the powder on the brow is giving it all away. The overall foundation does not match her natural colour and is making her face look washed out. We were very upset to see Priyanka in such a bad make up.
7. Celina Jaitley
The poker straight hair, the flat make up and the over use of foundation is making Celina Jaitley's face look very plastic. Make up should be used to enhance the natural features, and not to make it look fake.
Continue scrolling to see more Bollywood Celebrities in bad make up.
8. Bipasha Basu
She is known for her sporty attitude and confidence, but not much can be said about her makeup. Here her foundation is too light making her skin look too pale. It does not even match her skin tone and makes the face differently coloured than the neck and chest. The hair is pulled back too tightly, and the extremely narrow eyebrows are making her forehead appear too wide.
9. Kangana Ranaut
She may have been trying to go for the dewy look, but the foundation is looking more oily than natural. Also the glossy lips are not helping to tone it down. Blusher seems to be applied all over the face including the forehead making her look very pink, indeed. A very bad make up!
10. Sridevi
This Diva looks groomed and elegant even as she grows older. But this time, the stylist should really have checked. The foundation is way too light for her face, almost white. It doesn't match her skin at all, and makes her look completely unnatural. It hasn't even been blended in properly, so you can see the natural skin colour at the edge of the face.
Which one of these Bollywood Celebrities you would like to vote for the worst and bad make up? Hope this post on celebrity makeup mistakes was entertaining.