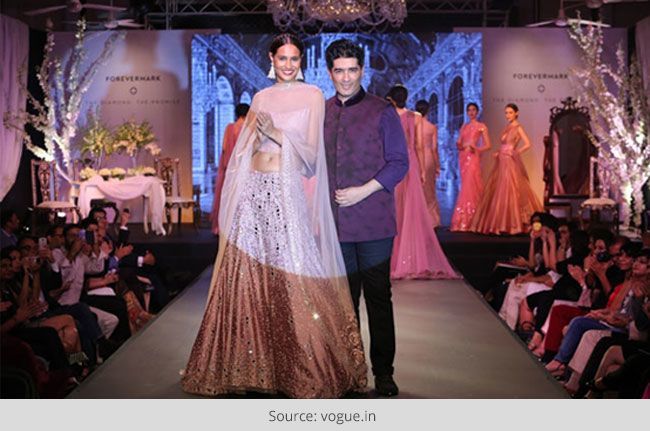 Last evening at 7.30pm at Imperial Hotel in Delhi, Manish Malhotra unveiled his first ever his first piece of Jewellery.
Diamond earrings crafted by Anmol Jewelers using Forevermark diamonds took three months to be created. The earrings are set in 18K rose gold. The three tier chandelier diamond earrings consists a total of whooping 2, 518 diamonds and weigh up to 10.43 carats.
[Also Read: Diamond Jewellery Stores In India]
As a part of the Forevermark Promise campaign, the designer's exclusive chandelier diamond jhumkas were created in collaboration to represent a promise they make.
Manish Malhotra's vintage design was inspired by the wealthy travelers who splurged on diamonds and gems in 1930s and 1940s.
Manish Malhotra said,
"As an Indian designer, it's my prerogative to explore our culture and heritage, and my promise is to promote the rich traditions of art and design in our country,"
Although the earrings are not as extraordinary as those worn by the royals, one cannot ignore the intricate detailing and the vintage touch given to these beautiful diamond earrings.
Mr. Sachin, the president of Forevermark India said,
"The collaboration with him and Anmol Jewellers has produced a stunning piece of diamond jewellery that Forevermark is extremely proud to showcase."
The runway Model and showstopper, Rikki Chatterjee wore the sparkling diamond earrings at the show. The guests invited to this grand event included Sunil Sethi, Ramola Bachchan, Swetha Nanda and a few more.