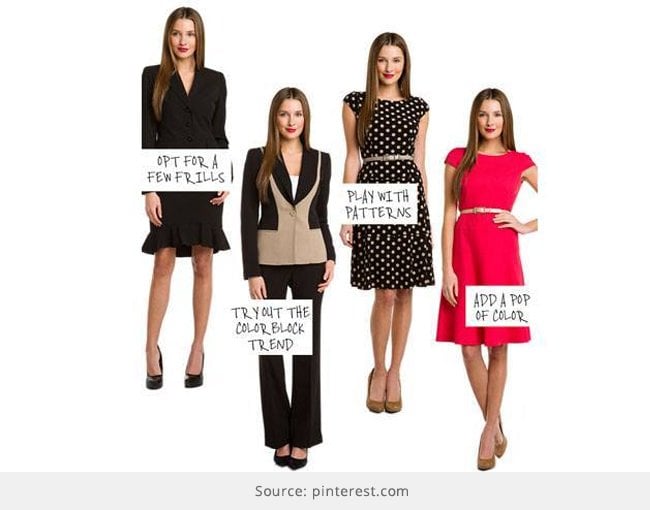 It is always painful to decide what to wear at office events and parties, isn't it? I am sure most of you wonder how one can dress to such occasions. Had it been outings and parties, with friends, we need not think much, but when it's related work-GOSH! It's most difficult.
Here, I have put together a simple guide to help you wear an ensemble to work. You could modify with colors, patterns, accessories and much more. This can be a base for you to help decide what to wear at office events.
A casual day at work need not be too complicated right? As I always say in my blogs – Comfort clothing is fabulous clothing. Wear simple but well fitted trousers with a top or a blouse that isn't sheer and transparent, making all your inner garments visible. You would not like unnecessary attention on a casual day at work.


A business casual day is more corporate but fused with some casual and relaxed work schedules. Put on a good and clean pair denims with a crisp white shirt. Wear simple makeup and carry all your accessories in either whites or another contrasting color such as brown or an olive.
A smart casual day requires you to look chic and sexy. Wear a sweet top with a shrug or a jacket over it so that makes you look moderate. Again, keep away from sheers and the unwanted attention.
An informal day will include a pretty LDB or a similar dress (not a cocktail or the one you wore to your prom) that can show off your perfect curves, yet not make you look vulgar and unpresentable. Same goes for a semi-formal day but remember it's different for a black-tie event. A black needs to you to look hot, sexy and extremely attractive.
Always make an impression, no matter what you wear. You should always dress to encourage others to look smart, prim and proper at work.
Hope this article has helped you decide what to wear to different office events and parties.