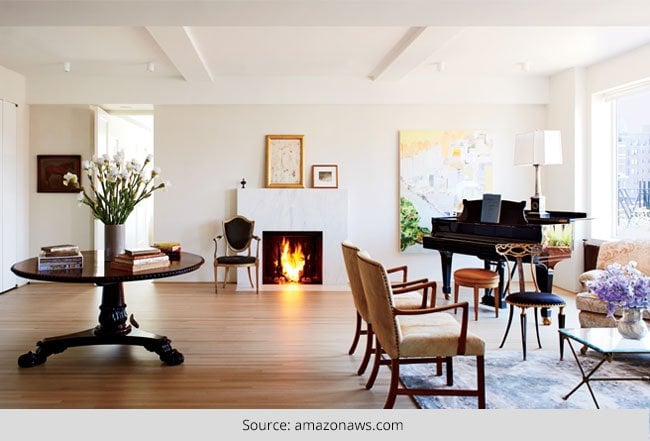 Today, Fashionlady will tour you inside some of the most expensive celebrity homes with fabulous fashion interiors. While you'll get to see fashion-induced homes of industry's best dressed celebrities, you'll also see homes of fashion moguls which are enough to inspire you to decorate your own flat.
Go through these expensive Hollywood and Bollywood celebrity homes with fashion interiors and get inspiration from glamorous living rooms, rustic bedrooms, cutting edge bathrooms and much more. Read on and stay inspired!
Tommy Hilfiger's Miami Home
Let's go through the vibrant Miami home of Tommy Hilfiger first. The legendary American graphic designer Milton Glaser had once said and I quote,
"There are three responses to a piece of design—yes, no, and wow! Wow is the one to aim for."
Tommy Hilfiger and his wife Dee probably have taken this 'wow' factor seriously. With a lavish villa set on the glorious stretch of Miami beachfront, the fashion mogul teamed up with designer Martyn Lawrence Bullard to add in more spectacular moments, fabulous coups de théâtre and whimsical embellishments. And after looking at the pièce de résistance of the fashion guru, even the expression of 'wow' might be an understatement.
[Also Read: Kimono Fashion]
The major highlight of their home is their expansive living room, supervised by a monumental modern art by Warhol and Basquiat. The interior designer used a salacious hair-on-hide carpet boasting exuberant swirls to complement the painting. As per Bullard,
"Tommy and Dee obviously have an incredible sense of fashion, so my job was to translate their vision into interior spaces that feel vibrant and compelling. Together, we conceived the house as part art gallery and part 1960s–'70s disco madness."
Calvin Klein's Creative Director Francisco Costa's Long Island Home
The purity of forms that defines the brand Calvin Klein's fashions, it's obvious to find the same elements in the lavish home of the fashion brand's creative director.
Francisco roped in celeb decorator Mark Cunningham to induce serene yet stylish ambience into his 1930s Georgian Mansion. Exceptionally private, Francisco shares this Georgian Colonial–style house with his partner John DeStefano. Apart from this sprawling four-and-a-half-acre property's ultimate appeal; the creative head of Calvin Klein has another expensive celebrity home with fashion interiors that he takes pride on.
Franciso Costa's Midtown Apartment
Franciso shares this fashionable, masculine 2-bedroom apartment with his partner John De Stefano, where minimalism meets traditional elements. Horatio Silva from T Style Magazine refers his apartment as "gentlemanly restraint". As this house was close to both their working places, the fashion designer bought it and put it under complete renovation.
Just like his designs, even his renovated home is quite greenish-grey. The house is full of artwork and antiques like an Indonesian batik screen by Horst in the living room, and a few photographs of Andy Warhol in drag in the kitchen and not to mention the antique horn chair.
While the parquet floors were renovated in a refreshingly quirky way; his library is adorned with lush coffee-table book from the last three decades.
The Calvin Klein designer head had this to say on his renovated Manhattan apartment,
"It's eclectic and personal but it's edited. I think it's a reductionist approach. It's a clean approach, not necessarily minimal," he added, gently admonishing me for using a cliché. "It's very personal. It is really a collection of things we love."
Sarah Jessica Parker's Home
How could I have not mentioned about Sarah's home, when we are talking about expensive celebrity homes with fashion interiors, especially homes of the fashion preachers? SJP opened up her lush NYC townhouse, which she shared with her husband Matthew Broderick and their three children to Vogue's reporter for a random interview.
The 48-year old actress was asked 73 questions in a rapid round interview and she answered while she gave a tour of her ground floor including the lavish living room and a quirky space with a ping pong table as its centerpiece.
[sc:mediad]
Her living room is adorned with a forest green sofa and bright green walls flanked by stuffed bookshelves. The white fireplace is decorated with family photos and an Encyclopedia is kept open on display over a collection of baseballs. The major highlight of the room is a group of glowing globes that sit on a mahogany dresser.
Back in India, even our Bollywood Celebrities possess some of the most lavish homes in the circuit. Just like Big B's or Amitabh Bachchan's Jalsa and Pratiksha and SRK's House, called Mannat, even the Bollywood actresses own some of the most expensive flats in Mumbai.
Priyanka Chopra's House
Pee Cee' career has been riding from past few years. Whether it's for her box office hits, international endorsements like Guess or her own three international music videos, Priyanka Chopra is certainly basking in glory and money as well which is pretty evident from her lush flats. Not one, but Pee Cee owns nine lush flats in Mumbai! Oh the perks of being rich! She dwells in her five-flat combined into one huge house in Raj Classic building at Yari Road, Versova. Besides this, she also owns a penthouse and three other flats in the city which she has rented out.
You can check out the video, which will take you through the interior of her Raj Classic flats. Do have a look!
Deepika Padukone
When Deepika Padukone purchased her 16-crore posh flat in Beau Monde building in Prabhadevi, central Mumbai, she indeed made headlines saw she bet all of her contemporaries in terms of the value of their properties.
Unlike the traditional residence choices of Bollywood stars, Deepika is the only actress of her generation to reside in mid-town. The properties in Central Mumbai cost much more than in Bandra or Juhu, where most of the actors reside. Her flat is close to the famed Siddhivinayak temple in Prabhadevi. Deepika purchased this three-bedroom flat in one of Beau Monde's three 33-storey high buildings in 2010 on the 26th floor.
Back in 2012, for their inaugural issue, when Architectural's Digest decided to have Deepika as their cover girl, they even settled to have her photo shoot for the cover page at her newly purchased flat.
Talking about the interior designing of her home, she said,
"I knew what I wanted and what I didn't want, I was constantly looking around–I would SMS Vinita in the middle of the night if I saw something I liked. AD was my research."
And as illustrated in Vogue's March 2012 isuse, here is an excerpt,
"Her home is the very essence of what it means to set up house today, when you can just as easily procure a Cassina armchair as you can colonial hardwood furniture.

Her interior designer Vinita Chaitanya describes Deepika's house by saying "Deepika in a sari. Modern yet traditional."
After designing her Beau Monde flat, her interior designer Vinita has also revamped her vanity van, which is now not less than any 7-star room occupied with all the luxuries and amenities.
So these are the top picks on most expensive celebrity homes with fashion interiors! Hope you enjoyed reading!