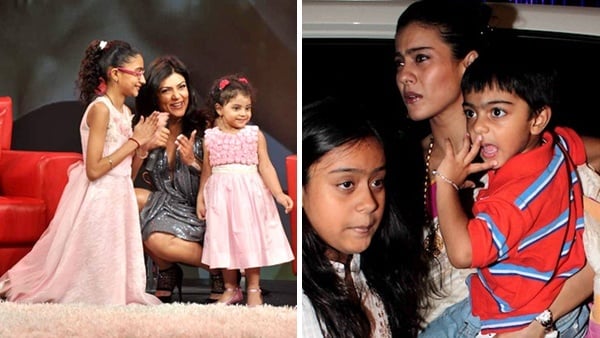 Bringing up a kid in an environment filled with stars and paparazzi and all things Bollywood is certainly not an easy feat. But these Bollywood moms are doing an admirable job. From protecting their kids from the media's spotlight to ensuring that their children enjoy a normal childhood, being a Bollywood mom requires a lot of grit. Here are some Bollywood supermoms who show us how it's done.
Sushmita Sen
Let's kick start the list of Bollywood Supermoms with our personal favourite Sushmita Sen. This former Miss Universe has proved all the critiques and cynics wrong. When she decided to adopt a kid, there was a lot of outrage and indignation from all corners, but that was expected. People seem to have a problem with getting to terms with anything out of the ordinary, and a single unmarried woman wanting to adopt a kid was definitely too much for the Indian mindset. But Sushmita went ahead and proved that you don't need a man and a traditional marriage setup to make a family. Now she is the proud mom of two beautiful daughters and is very open about the fact that her daughters were adopted but they are hers no matter what.
Malaika Arora Khan
We love her on celluloid but this Bollywood mommy gets our vote when it comes to parenting as well. She believes in letting her son Arhaan grow up and decide what he wants to do in life instead of trying to push her own aspirations onto him. Gotta love a mom who is willing to let her child find his own way instead of directing him every step of the way.
Kajol
Kajol is perhaps one of the few Bollywood actresses who has none of the petty insecurities that seems to plague some of our other Bollywood divas. She seems to effortlessly glide from being a mommy to being an actress. Though we did miss her when she took a long sabbatical from acting to take care of her kids, we totally dig how this Bollywood mommy did not hesitate to put her family first. As a mom, Kajol is pretty strict with her kids. What mommy says goes in the house. She believes that is essential to bringing up well-behaved well-rounded individuals.
[sc:mediad]
Suzanne Khan
The industry and the general public were shocked when the much celebrated celebrity couple Suzanne and Hrithik Roshan announced that they were getting divorced. Through all the tremulous times that followed, Suzanne has maintained a calm dignified silence and has made sure her children were kept out of the media's overzealous glare. She has been determined to keep her kids out of the spotlight and provide them with a safe haven to deal with all that has been happening. The parents have remained civil so as not to make this too difficult for the children.
Kiran Rao
Married to Aamir Khan, Kiran Rao proved time and again that she can hold her own place when it comes to paparazzi and the media. She has once again proved her mettle, but this time as a mom. While there is a lot of unreasonable pressure and expectations on new mommys from all quarters, Kiran has stated that while she strives to do her best for her son Azaad, she does not strive to be the "perfect mom". She believes that being a mother comes with a lot of responsibility and she should be focused on the big picture instead of fretting over every small thing. Well said Kiran!
Bollywood moms are constantly battling between the paparazzi and the level of exposure that Bollywood offers. While some mommys prefer to keep their children away from the limelight, some others are more open to having their kids be in the public eyes. But whatever their parenting style and however they choose to go about it, our Bollywood moms want the same thing that every mother wants for her kid – a safe environment for them to grow and flourish and explore their full potential. So kudos to all the Bollywood mothers who are juggling their personal and professional lives and doing it all in style.