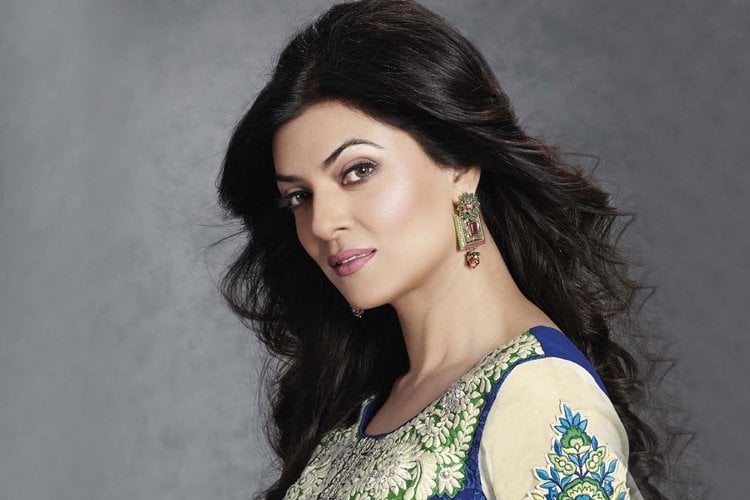 When you think of Sushmita Sen, the first adage that comes to mind is 'Bold and Beautiful'. This beauty with brains has never been a stereotypical Bollywood diva. Maybe that is why she did not taste the kind of success that some other former beauty pageant winners have enjoyed in Bollywood. But I digress; Sushmita Sen can never be accused of being just a pretty face. She is much more than that, and she is the only Bollywood celebrity that I would ever look up to on how to live my life.
1. She is a Strong Independent Woman
Sushmita Sen is a very confident woman who has shown us time and again that she does not need other people's opinions to validate her self-worth.
2. She is Happily Single
In a country where marriage is seen as the ultimate goal in life for a young woman to aspire for, Sushmita is single and living life queen size. While she is quite happy being single and living life on her own terms, the media seems to constantly obsess over the fact that she does not have a man in her life. But Sushmita, as always, has handled the media and their absurd questions with witty, and sometimes very insightful, answers.
3. She is an Inspiration
She is an inspiration not just to aspiring beauty pageant participants and actors but also to teens and young woman.
4. She Exudes Raw Sensuality
Sushmita Sen exudes a sort of raw sensuality onscreen that is very feminine and bold but never vulgar. She is completely comfortable in her own skin and it shows. You can see that she is not one of those insecure celebrities who find the need to constantly look for reassurance about their beauty and talent.
5. She Knows Her Mind
Very often, women are told what to do and how to live their lives. Societal pressure and cajoling from family often leads to women making life decisions based on what is expected of them. Sushmita has been steadfast and unwavering in this regard. She does what she does and the conservatives and conformists don't stand a chance.
6. She is a Single Mother
She has broken the first-comes-marriage-then-comes-motherhood mould. She is single and has two daughters. While being a single parent can be very trying at times, Sushmita has managed it beautifully.
7. She Has a Great Style
The clothes she wears and the way she carries them off are testaments to her great sense of fashion and style. She adds her personal touch to make the clothes she wears uniquely hers. Be it floor length anarkali's stylish western wear outfits, she definitely knows how to carry it with elan.
8. She is Very Articulate
While most Bollywood celebrities strive to be overly diplomatic, Sushmita has always spoken her mind. She talks from her heart and says what she means and that is a very attractive quality in a person.
9. She Made India Proud
She was the first ever Indian to win the Miss Universe title and she so gracefully represented the mystic beauty that is India.
10. She has Such a Strong Presence
When you're sharing screen space with the larger-than-life badshah of Bollywood, chances are that you will get overshadowed. But in 'Main Hoon Na' Sushmita totally stole the show with her arresting presence. When you can manage to hold your own in a film with SRK, then you are definitely a force to be reckoned with.
11. She Fought for Her Kids
Sushmita has adopted two girls till date and it has been a long wait and countless court visits to get there. The fact that she was single was definitely a point of concern and Sush had to fight her way through all that to finally get her daughter Renee.
12. She is Unapologetic
Sushmita Sen is a smoker; yes it is bad for her health and we would love it if she quits but Sush herself is quite unapologetic and open about it. While she is not proud of it, she also does not try to hide it like it's her dirty little secret. No one is perfect and owning up to your weak spots is just the first step towards knowing yourself. To know which other celebrities are the smokers, click here.
13. She is Unique
In a time when India was obsessed with fair skin and demure beauty, Sushmita came as a bolt of lightning. With her strong features and dusky skin, she rewrote the criteria of what is considered beautiful. She is unique and stands tall and proud.
[sc:mediad]
14. For How She Introduced India at the Pageant
At the Miss Universe pageant she said she is "From the land where love is the essence of life".
15. She Represents Us
The media, particularly movies and television soaps have a habit of putting women in a two-dimensional character, as a self-sacrificing, obedient, and pious entity. They seem to have little knowledge of the complexities of being a woman and all that we face and fight against in our ever day lives. Sushmita Sen is that woman who represents us, who shows all that a woman is and can be.
16. Her Features
She has such nice features that come together to create a face that is stunning. I mean, just look at her in this photo.
17. For her, Age is only a Number
Aging is made out to be this horrible inevitable thing that you have to put up with, harbouring insecurities about your fading beauty. But Sushmita Sen celebrates her age. She is 38 and is not in a rat race to live her life before she hits the dreaded 40. Life does not stop just because you've reached a certain age. So don't let the numbers bother you. Go out there and be your own awesome self.
18. She is a Star Through and Through
And I don't mean that because she is a Bollywood actor. Some people just radiate positive energy and good vibes and Sushmita is one of them. When she enters a room, you can bet that everyone notices. She doesn't have to try or work at being a star, she was born as one.
19. She Has Found Her Happily Ever After
She has found her fairytale happy ending with her two darling daughters, her career and her friends. And has proved to the world that she does not need a man in her life in order to be happy.
20. Her Answer in the Final Round of The Miss Universe Pageant
She was asked what the essence of being a woman is and here's what she said, "The origin of a child is a mother, a woman. She shows a man what sharing, caring, and loving is all about. That is the essence of a woman."
21. For Being an Intriguing Paradox
After she was crowned as Miss Universe, Sushmita had this to say in an interview "Everybody knows that I'm not the most beautiful woman in the world. I won not only because of my looks, but because of how well I represented my country". While this is a very mature and humble answer, Sushmitahas also been accused of having an inflated ego and demanding very high paychecks to act in movies.
We're not sure which version of her is her true self, but we sure love the paradox that she is.
22. Her Graceful Dance Moves
Okay, this woman can dance and how! She mesmerised audiences with her dance in the song 'Dilbar Dilbar'. She is such a great dancer and it is a pleasure to watch her bring her own unique style to the dance moves.
23. She Has Not Let Failure Deter Her
They say failure is the stepping stone to success and this has been largely true in Sushmita Sen's Bollywood career. She received a lot of criticism for her acting skills and had some disastrous results at the box office. But every time she was bogged down, she pulled herself up and went at it with all she had.
24. She Works To Give Back To Society
Doing charity work was not something Sushmita did during her Miss Universe days and then let go off. To this day she works with many NGOs. She is particularly interested in working with children's charities.
25. Her Smile
As shallow or superficial as this reason maybe, Sushmita Sen has a smile that lights up a room. Her genuine smile has won over many hearts and honestly, we just can't get enough of it.
Do we need to give you any more reasons as to why we love Sushmita Sen so much?