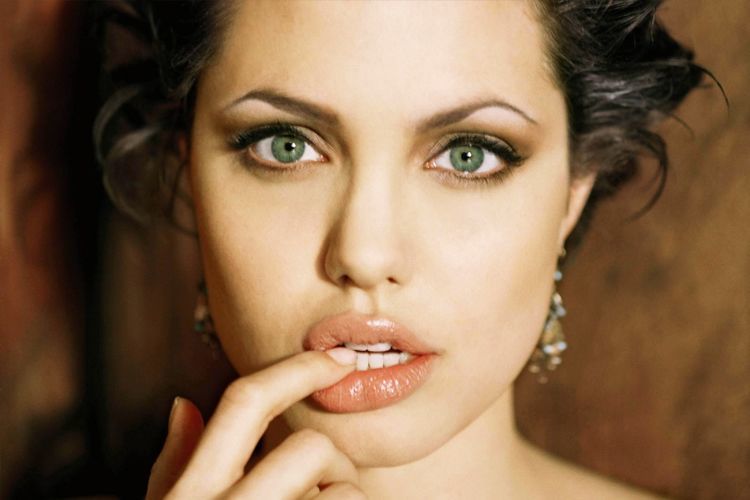 While some celebrities have to opt for lip fillers and makeup tricks to make their lips look full, some others are born with naturally pouty lips. Natural or man-made, pouty lips have gained so much more prominence in our selfie-crazed society. With Hollywood and Bollywood celebrities frequently updating photos on Instagram, we are given a close up view of their lips and have rounded up our favourite pair of lush, full lips.
[Also Read: 25 Fun, Sweet, Cute and Mad Bollywood Selfies]
Angelina Jolie
She is the ultimate icon when it comes to pouty lips. Angelina Jolie's sexy lush lips are world-famous. Anytime she makes an appearance on the red carpet, the paparazzi go crazy, flashing their cameras to get a good shot of her luscious lips. Her plump lips make men fantasise about kissing them and women fantasise about how awesome it would be to have lips such as hers.
Nargis Fakhri
There is a lot of debate and speculations going on as to whether Nargis Fakhri's pouty lips are natural or bought-and-paid-for. Whichever be the case, the fact of the matter is that her lips are definitely one of the sexiest pouts to be found in Bollywood. While she almost always wears nude or pale lipstick, even the pale shades can't hide the fact that her lips are nice and full.
Rihanna
When Rihanna broke into the music scene with her hit single "Umbrella" the world sat up and took notice. While her mesmerizing voice and sassy personality captivated fans, her pouty lips were equally enthralling. Rihanna loves to sport bright red lipstick as well as dark shades that showcase her full lips in all its glory.
Priyanka Chopra
Any list about celebrity pouts is incomplete without the inclusion of our very own Piggy Chops. Her pout is what gives her an edge and takes her face from being termed pretty to being termed exotically beautiful. Now with her venturing into the international scene with her upcoming television series and her music albums, it is time for the world to take notice of that million dollar smile of hers that we all know and love.
[sc:mediad]
Penelope Cruz
Penelope Cruz's wide, bee stung lips is what makes her a Hollywood fantasy. When she puckers up her lips you can bet that men are going to drool and women are going to seethe with envy. Her wide lips and big eyes makes for an arresting face that will leave a lasting impression.
Chitrangada Singh
This dusky beauty prefers to wear nude lip colours that subtly show off her luscious lips. With mesmerizing eyes and lips that make one think naughty thoughts, this girl is a complete package.
Scarlett Johansson
The "Avengers" star has one of Hollywood's most drool-worthy lips. Her bee-stung lips look great no matter what lip colour she wears, be it nude or bright blood-red. Those full lips in her heart-shaped face is just perfect and looks great on camera.
Lisa Haydon
She stole our hearts with her performance as the free-spirited, adventure loving girl in the hit Bollywood flick ''Queen". Lisa Haydon's pouty lips are definitely worth mentioning here. They are one of her strong assets as they give her face a very sensual and exotic look.
[Also Read: 10 Lipstick Rules to Get the Perfect Pout]
Achieving the perfect pout can be a lot of work, what with so many makeup tricks and so many lip procedures to go through just to make your lips look plump. But for the celebrities listed here, a colourless lip balm is all it will take to make their lips look camera-ready and totally delicious. Is it any wonder then that they seem to go by the motto – If you've got it, then pout it!