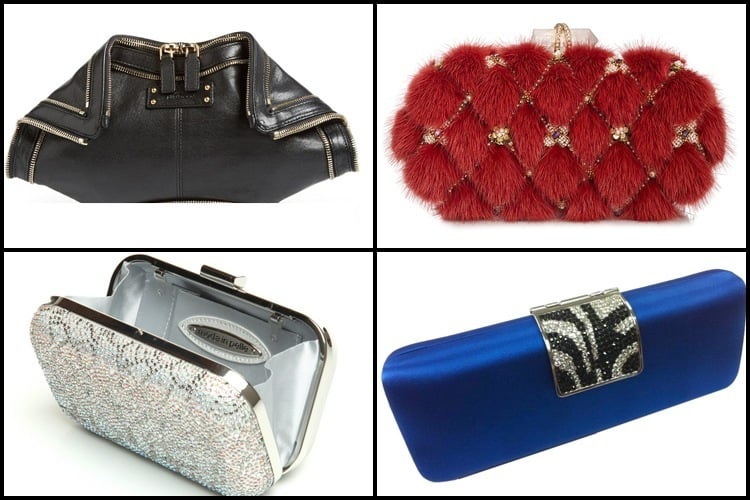 Yeah, we know you love to curate your look from head to toe. But when it comes to being a party hopper, you need new fashion accessories at the drop of a hat. Whichever occasion you go for, formal or informal, a chic looking clutch bag becomes a dire need. That's because they enhance your persona and flatter your appearance.
[Also Read: Circle-Shaped Handbags: Street Style Favourite]
As in all cases, whichever clutch bag you choose has to go with your sense of dressing. It should not look jarring, first of all. Secondly, it should not have excess of frills that it ends up looking loud. Yes, if your dress is simple enough, then a bold clutch makes sense. If your outfit is printed and exaggerated, then embellishments on a clutch would look an eye-sore. Let us take a look at the various ways in which you can experiment with your clutch bag styles and impress everyone including your dear self.
1. Geometric Rose Gold
For once, you will love to hold and hold on to the geometrical twist in a clutch. The rose gold looks wow for formal evenings and has enough substance to look a piece of attraction.
2. Quirky Patterns
Some things in life need not always look simple and straight or else they lose their enchantment. Check out this elegant blue which is good to carry or hold under your arms.
[Also Read: Budget Friendly Handbags for Every Occasion]
3. Jewel-Encrusted
So you thought jewels are only to be worn on your neck, ears, arms and fingers? Hold your breath as you see this lovely clutch having blue and ivory encrustations etched out on it.
4. Colour Blocks
Add the right amount of sparkle to your dress by holding on to this sparkling clutch that is so subdued looking and sophisticated.
5. Bold Red
Neat, well-structured and well-defined, take this clutch along when you are going out on date and see how he goes mad over you. Lovingly, mind you!
6. Metallic Magic
In the worst of summers or winter chill, chose this lighter neutral metallic shade. It looks nice without being loud.
7. Effortless Gray and Black
Watch the mix of triangle and rhomboid patterns befriend your style and demeanour each day.
[Also Read: Top 10 Most Expensive Handbags In The World]
8. Sparkly Feel
Want to look like a Cinderella? Not much effort required to revive back her persona. Just take along this lovely silver-crusted clutch with white coloured bow pattern and see how beautiful you look.
9. Monochrome White
Clutch on to this magnificent white that looks so pristine, it would place you many steps ahead of your fashion contemporaries.
10. Statement Blue
Gear up to this silk satin clutch that looks a perfect arm candy for evening celebrations.
[sc:mediad]
11. Metallic Box Clutch
Wanna look the black magic woman? Go ahead with this simple and elegant box clutch from Zara in your hand.
12. Floral Tribute
Embrace this wild daisies clutch when you step out for your day-long shopping with your chirpy friends.
13. Glitter Clutch
Look the princess with this contemporary looking pink clutch that has embellishments. Will make you look oh-so-young-and-feminine!
14. Cloud Clutch
You will be on cloud nine when you have this soft and amazing cloud clutch under your arms.
15. Textured Pattern
Feel the quilted fabric in Miu-Miu silk-faille pouch and you will know the importance of a well-made clutch.
The next time you carry a clutch, you know the minimal effort it takes to create maximum impact. Let us know which clutch pattern you liked. Happy viewing!