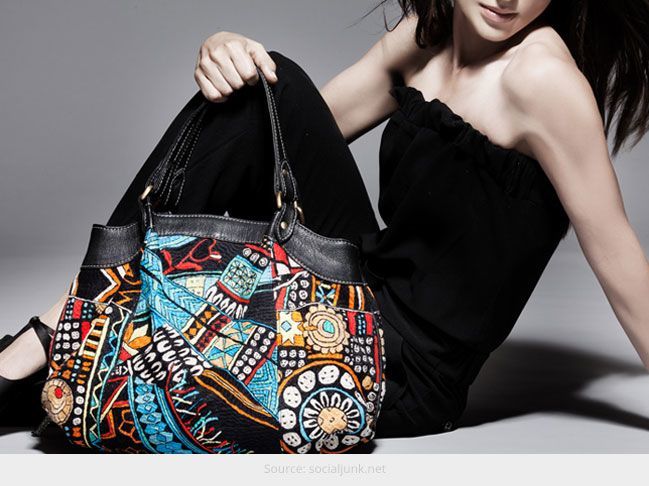 A good fashionista is never seen without her arm candy. A good handbag is like a good accessory. It completes your look. So, whether you carry all your makeup stuff in it or all your essentials, you will definitely need one in your closet.
[Also Read: Tips to Keep in Mind while Shopping for Handbags]
Every woman dreams of owning at least one of the most expensive handbags in the world. You would love to have a Coach or a Michael Kors bag for everyday use, but it is not quite advisable to use a handbag which costs more than ten grand to be used on a daily basis. You should restrict it for special occasions. The good news is, we have a list of budget friendly bags / cheap designer handbags which look classy and you won't feel bad to use them for the daily grind either! Read on to know more:
For the Mama on the Run:
A busy hectic week ahead? Don't worry, we have you covered. With this Weekender Tote, you can carry your entire mommy and baby stuff in the same bag. What's more, it's stylish and trendy and you wouldn't be branded as an unstylish mommy with the beautiful tote. What's great about these totes is that they can carry a huge number of items. They have proper compartments which makes it easier to put in small baby items like a pacifier or a tiny toy for your toddler.
[Also Read: Summer Handbags]
What to Buy: Little's Mama Messenger (Rs. 375)
For a Busy Bee:
Being super busy does not mean you have to compromise on your style! You can invest in a classy and one of the best handbags for work – briefcase style bag which will hold your laptop, your files and even your makeup without any hassles. It should be easy and versatile enough to carry without hurting your back or shoulders. You certainly don't want to suffer from 'poshitis' (The pain most women experience after lunging heavy bags. The term has been coined keeping in mind Victoria 'Posh' Beckham often seen carrying humongous bags). Brief case bags are unisex and are popular with women and men across all age groups. Go for a more neutral and earthy colour designer leather handbags instead of settling down for a basic black one.
What to buy: Sapphire Formal Bag (Rs. 1269)
Dazzle on Date Nights
Aah, one of those few days where you can really pull out those blingy clutches. A nice statement bag can really give an edge to your outfit. Invest in one which can hold your essentials like your phone, a lip gloss and some cash and cards. Clutch bags usually fit around the palm of your hand and have a chain too. So, it can double up as a hanging bag too depending on how you want to style your outfit.
[sc:mediad]
What to buy: Boxy Lace Overlay Clutch Bag by Accessorize (Rs. 1850)
Brunching ladies:
For a brunch with your favourite ladies, you just want to have some fun and chill out. To complement your feminine sundress, you can carry a beautiful colour blocked sling bag. Brownie points for wrapping it with a scarf. These bags are usually breezy and quite fun to carry around.
[Also Read: How To Match Handbag With Outfit]
What to Buy: Aldo's feminine Westerling Bag (Rs. 3000)
Sunburn Ready:
For a weekend out with your chums, nothing can complete your beach look better than a tasseled bag. They are the in thing this summer so, don't forget to complete your look with a suede-leather tasseled cross body or a sling bag.
What to buy: El Bella Fringe Tassel Sling/Crossbody Bag – Women Sling Bags (Rs. 1499)
So, there you go! A list of handbags you must own, that will give your Kors and Gucci a little rest!