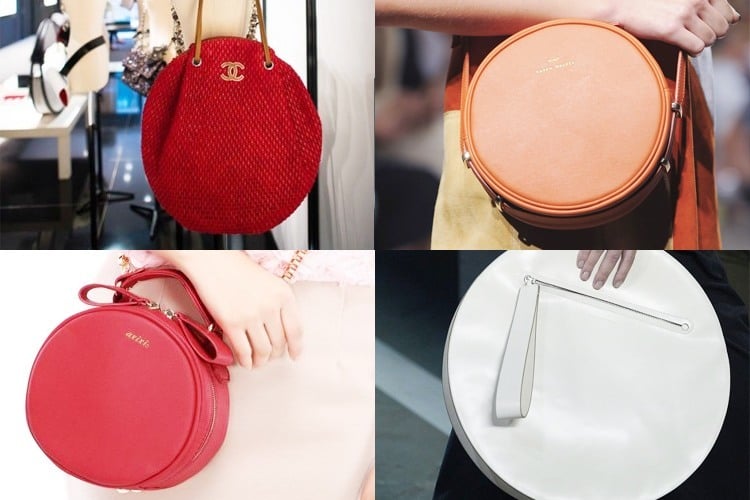 Round and round is the universe. Round can also be a fashion trend.
Summers are incomplete without a refreshing dress code. If there are jumpsuits and nude makeup to wear, the accessories have to be dewy fresh too. And in this, circle-shaped round handbags come as a welcome break from the boring and the monotonous looking handbags.
Fun and functional looking, circle-shaped handbags are the best bet for a night out with friends, a shopping trip to the malls or for a gala show with your date. In fact, they are so dainty to look at, trendy and versatile that they can go with any fashion style of yours. Plus, they make for a perfect summer handbags that will compliment your summer dress. Take a look.
Origin of the Circle HandBag
Anything that becomes a fashion favourite belongs to a particular region from where it spreads far and wide.
It was Korea where circle bags picked up as a new fashion crop. As a matter of fact, it was used in photo-shoots in 2014 in the form of cross-body bags. It was in the '60s and '70s that it started to be seen around. Good things get picked up soon. This is when big designer labels such as Versace and Marc Jacobs picked up this fashion fad leading to an explosion of designs in myriad shapes, sizes and colours.
[Also Read: Summer Handbags]
When it comes to handbags, there have been pouches, clutches et cetera that have lived their fame. But if there is anything that is shining on the fashion horizon of late, it is a circle bag.
[Also Read: 8 Tips For Designer Handbags to Last a Lifetime]
A Look at the Hot and Happening Circle HandBag
The one reason why a circle-shaped bag stands out is its unconventional and untraditional shape. It's easy to sport and convenient to carry. The unexpected shape looks playful yet sophisticated for runway corridors. Whether you try a cross-body style or clutch, a circular handbag will give you a chic sporty look for your everyday fashion.
Crossbody Circle Bag
Take a look at this trendy bag shape. It is quite different looking at the basket shape which balances your attire beautifully.
La Lisette Watermelon Bag
How juicy can a circular bag look? Take a look at this handmade item made of leather that has brass zipper as a fashion accessory.
Rabbit Ears Bags
This piece is meant for women who love to move around carrying cute black solid round bags. Rabbity-rabbity looks are oh-so-sweet!
[sc:mediad]
GUESS Laetitia Circle Bag
Experience the latest in Spring/Summer 2015 collection of circle bags made in China that has textile lining.
How to style Circle HandBag
Fashion always requires teaming up. That's the same case with a circle bag too. Here we take you through ways and means to complete your wardrobe look with a circle handbag as arm candy. Also, circle bags are budget friendly handbags for every occasion
Summer Fav
Put on your hottie black-and-white striped tank and team it up with yellow floral trousers. They go a long way in giving you a crispy and breezy feeling when it comes to wardrobe. Just layer on a denim jacket and you are good to go.
Boho Brush
Welcome the lovely shoulder less top and well-teamed shorts that are there to make you look a boho gal. Put on accessories such as aviator sunglasses, summer ready sandals and a quilted circular handbag and watch the attention get diverted to you.
So you see circle shaped handbag is becoming the latest in statement-making bags. Carry it around and the cameras would love clicking on the beauty hanging in your arms.
[Also Read: Trendy Fall Bags]