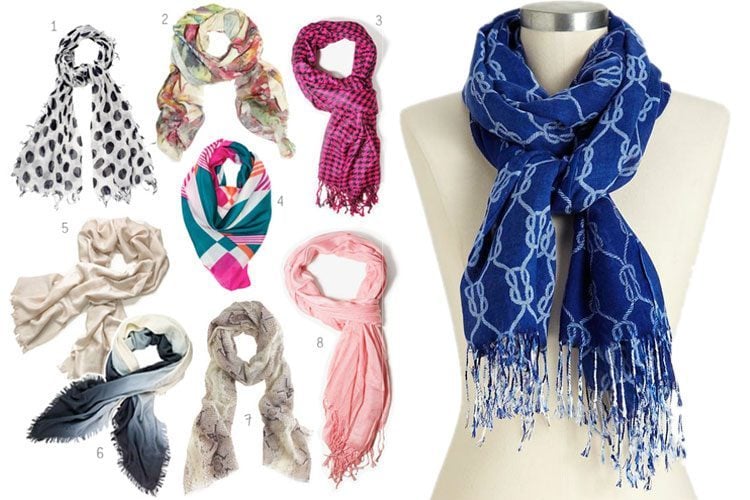 Our summer wardrobe has to battle out the heat. It must be so tough. But there is one trick that can bring in an element of air and freshness about it and that is a Summer Scarf.
No matter how hot and sticky it gets, there's a scarf to give you a breezy look. There are endless ways to bring out your creativity when it comes to wearing a scarf. And just in case you have very little time to tie your tresses, just turn your scarf into a headwrap (in the process it will also save you from the heat wave).
[Also Read: Scarves, Mufflers and Stoles for the Fashionistas]
To sum it up, a scarf refreshes your wardrobe in a jiffy without any mess. Plus it's something cute to put up on your hair when everyone is busy letting the hair down.
How and where to look for a good summer scarf? There are local street shops, that sell college going stuff and there are vintage shops. Depending on your budget and taste, you can shop for hand painted scarves or hand-dyed cotton ones that are absolutely drool-worthy.
Once you have got the collection of summer scarves it is also important to know the various techniques of tying them around your little pretty head.
If you want to get engaged to wearing a stylish and peppy scarf, then you should know the variety they come in. The scarves range is quite versatile as it comes in three sizes – Short length, Medium length and Long length. But it is on you how to pick the best one that can gel with your personality. As a matter of fact, all the scarf styles look great depending on your body posture and size.
Shorty Summer Scarves
This one is good to tag along when you are wearing tops and jeans. Even palazzo pant and pant trousers can go well with a short scarf, which can be worn around the neck and shoulders. Some of the latest designs in short summer scarves come with block printing and beautiful embroidery. In fact, short summer scarves look great on tall girls and can be carried around to college and mall hopping.
[Also Read: How To Use Scarves As Accessories]
Medium Summer Scarves
This is yet another possibility to explore in ladies summer scarves. Well, they are stylish and come in many colours. Ladies can wear them with dress pant and coat and look a complete professional in it. Even young girls can wear medium scarves for a wide variety of occasions such as casual, party and semi formal. Fashion is all about experimentation. So the mid scarves can look just as great with long shirts and kurta.
Long Scarves
Sometimes length plays a major role in casting the right impression. Long scarves come of great help when teamed up with a salwar kameez and western wear such as tops, jeans, palazzo pant and dress pant. In fact, long scarves can also be carried on one side of the shoulder apart from being tied around the neck.
Scarf Designs
There are so many ways to tie a scarf. Tie it around you head as a bandana, wear it as a belt, or wrap it around your neck multiple times. Here are some ways to wear a scarf that will help you a lot while matching it up with your dress:
[sc:mediad]
The Yacht Knot
Make your pashmina-style scarf in summers look super cool by tying it up with a low front knot in the front. Team it up with a loose breezy dress to get maximum mileage.
The Bandana Way
Give a retro look to your persona by wearing summer scarf the bandana way. Might give you a feeling of Mexico life!
[Also Read: How to wear a Headscarf? A Step By Step Tutorial ]
Printed Floral Neck
Make an impression while walking around by wearing this summer palatable summer scarf in floral patterns.
Polka Dot Scarf
Dot dot goes our neck in this polka dotted red scarf. Looks great for evening dos.
The best companion for your summer adventures is indeed a summer scarf. Pick up the scarf of your choice and celebrate life the way it should be.