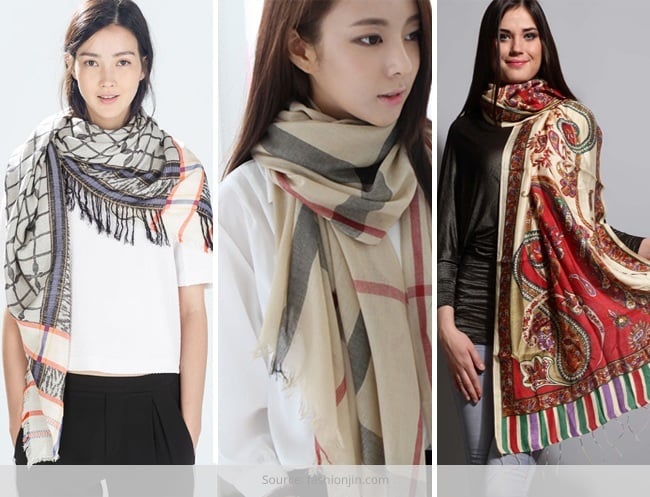 Winter is now at its all time chill. Bracing the cold bites is a tough task. Care for a cup of coffee wrapped in fashion-best scarves, mufflers and stoles? Ah, that sounds cool, rather a warm idea.
Despite the freezing temperatures, what can make even the chilled bone look superhot is a range of warmies. Shawls and cardigans are very much around but what sets the fashion fever and beautifully so are scarves, mufflers and stoles that come in many fabric materials, sizes and styles. Take a look at these winter must-haves.
Scarves & Wraps
A Scarf also known as Neck-wrap is worn around multiple places – neck, near the head or around the waist. This is done more from a fashion perspective as also warmth and sometimes for religious reasons. Though they are available in a variety of colours, monogrammed scarves can be personalised with name initials. Ancient Rome has been the place of origin of Scarves. Prestigious labels include Burberry, Missoni, Alexander McQueen, Chanel, Lanvin, Ferragamo, Dior, Fendi, Prada and Louis Vuitton.
1. Cashmere
Much can be said about this tassel detail cashmere scarf from Burberrys. Like the model wearing it, the stone-cum-vibrant orange tassles at both the ends but most of all the animal print. This is something that looks truly iconic hot.
2. Fur
Smoky effect in this Smoked Trench Check scarf has its own story of fascination. The elegant fur trim and the lightweight cashmere, wool and silk blend might even take you to the icy Antarctica without a doubt.
[Also Read: How To Use Scarves As Accessories]
3. Silk
Brilliant is the blue and super brilliant is the silk chiffon that makes this scarf with tonal border an absolute delight in both watching and wearing.
4. Blends
The Deep Claret Check Scarf is a bomb waiting to kill with its extra fine Merino wool, fringing at both the ends and the superbly rich pattern that is an out-and-out stunner.
5. Wool
Wrap around this 'Morgana' scarf By Malene Birger. It is made of Burgundy tonal wool and has embroidered floral design with fringe details.
6. Patterned
100% Cashmere Patterned Scarf in stripe beige that allows every woman to showcase her polished style and unique charisma.
7. Wrap
A Dolce & Gabbana Wrap Scarf needs no introduction. 100% authentic charm it has that makes a lavish pick. Apart from being the warm accessory that it is, you cannot miss the gray hue and complementary earthy tone. Comes with a subtle sequin design that you can wrap, tie, or style.
Mufflers
When it comes to a winter accessory, a Muffler is the second best after Cardigans and Pullovers. Such is its appeal that it makes you look chic even in freezing temperatures. Though it can complete an outfit, it needs a bit of creativity when it comes to teaming it up with your attire. Check out some of the dazzling designs in Mufflers.
[sc:mediad]
1. Echo Design Women's Luxe Blended Muffler
This Luxe Blended Muffler in Coral colours is a blend of viscose, merino wool, angora, rabbit hair and cashmere. With fringe and vibrant colours, it is an uber cool muff design.
2. Echo Design Women's Icelandic Patchwork Texture Muffler
100% Acrylic muffler in Grey Heather, the beauty of it lies in solid colour and tassled fringe.
3. La Fiorentina Women's Ombre Pleated Muffler
Brighten up your outfit with 100% Acrylic machine wash pleated muffler. This Ombre pleated cold weather muffler comes in beautiful twisted fringes. Goes well with coats and boots and the colour and texture is fantastic.
4. Heritage Giant Check Fringed Cashmere Muffler
This cozy Blossom Muffler made by Burberry Scotland has an oversized check pattern that lends signature sophistication. Muffler trimmed in delicate fringe makes it luxurious and classic.
5. Cisteran Muffler
Muffle up the icy wave with purple and pink knitted Cisteran Muffler that goes well with western outfits. Featuring ribbed hem, it is made of 70% Acrylic and 30% Wool.
Stoles
A Stole is usually a formal shawl made of expensive material and is wrapped around the shoulders. Normally worn as a party dress or a ball gown, a Stole is narrower than a Shawl. Women stoles are handcrafted by using materials such as Silk, Pashmina, Cotton, Woollen, Georgette, Viscose and others. As for the variety, there are embroidered stoles, beaded stoles, sequin stoles and even stoles with mirror work.
Going by religious scriptures, worshipped Gods such as Vishnu and his several incarnations such as Rama and Krishna are believed to have been wearing a yellow stole (Peetambar) over their shoulder. Hindu Gods like Ganesha and Hanuman are known to have worn stoles on shoulder or waist in various glorious styles. It goes with saying that stoles have been worn by ancient kings, queens, priests and elite people.
1. Missoni Zigzag Stole
Made of mohair, acrylic and nylon, this Italian stole from the renowned Missoni gives a vibrant image with the zigzags.
2. Lace-Trim Faux-Fur Beaded Stole
Black acrylic blend beaded stole that looks perfect for evening wear.
3. Fur and Knit Stole
Faux fur is to the animal print fashion what cashmere is to wool. Incredibly soft and a touch of glamour comes in many proportions in this fur stole. Amazing styling options it has as also the knit ends that tie easily. With 62" stole length and 24" long fur, expect warmth and appreciation coming by the dozen. When paired with Fur Pom Knit Hat, you are bound to steal the limelight.
4. Silvian Heach Long Sleeve Fur Stole Jacket
The colour of Sand could not have looked so delightful as before. This long-sleeved fur stole comes with rounded collar and is made of 100% polyester.
Now that you have gone through the absolutely amazing world of scarves, mufflers and stoles, raise a toast to Christmas and New Year by wrapping and flaunting the same.