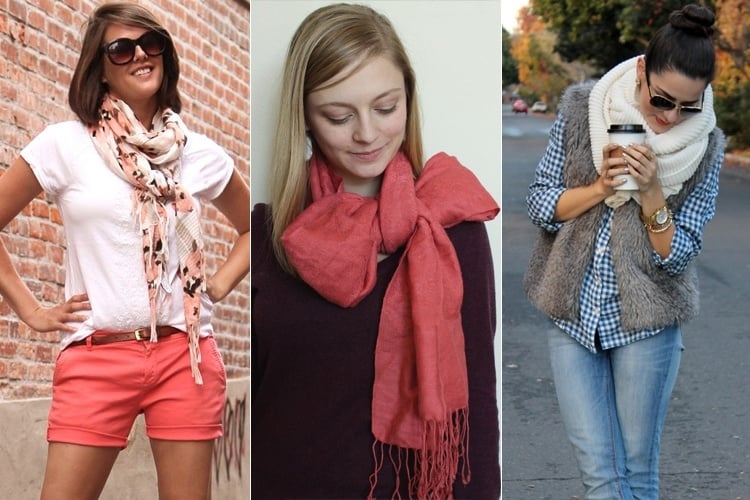 What we love about the versatile garment, scarves; you can wear it with anything, any time and look like a diva. But most of us just throw the humble garment around our neck and that's it, waiting for compliments to flow! That's not fair, not when there are ways on how to use scarves as accessories, styling them well and with utmost glam sham too. Let's now show you various ways on how to use scarves as accessories and wear them too. Get ready to dress up smart with scarves this winter!
[Also Read: Summer Scarves – Hot Rage all the way]
How To Use Scarves As Accessories
If you thought accessories came in beads, metal touches and wood or stone, you were wrong. When you learn from us on how to use scarves as accessories, you then would be a fashion inspiration for the many PYTs in your circle, at work or maybe the onlooker divas that burn with envy! Here are a few tips to use! And FYI- scarves can be worn by any age group too!
Here Are Five Ways On How To Use Scarves In The Winter Months
1. Woolen scarves can be paired up with Nehru coats or faux fur sleeveless jackets, a check shirt and ripped denims. Wear heels on the feet and tie your hair into a chic topknot.
2. Wear it with a fedora hat, a body hugging cardigan in full-sleeves, ciggy pants for the legs and nude shoes for the feet
3. An oversized jacket with a shirt inside, black denims for the legs, boots for the feet and a classy handbag to flaunt- Friday dressing is haute and hot with this style!
4. Let the scarf hang loose and fall in front, while the long jacket till the knees flows pretty in monotone shades, wear a shirt inside with skinnies for the legs and boots for the feet!
5. A full-sleeved black top, grey mini skirt for the bottoms and black opaque leggings to keep the legs warm. Style the look completing it with a printed scarf around the neck and flats for the feet or heels!
For Summers Here Are Creative Uses For Scarves
Scarves can be worn during the hot summer days too, and here are five ways to style up to raise the heat around!
[Also Read: How To Wear Scarves]
1. Have an office party to attend and no time to glam up like a doll, wear the scarf as a bow!
2. Sizzle in vibrant colours with a printed scarf, teamed with a pair of boyfriend shorts and a white tank top!
3. You could use and wear the humble cotton scarf as a vest over your white tees and black skinnies!
[Also Read: Scarves, Mufflers and Stoles for the Fashionistas]
4. For sure the rockabilly chick look rocks, and when at home managing the chores, you could look fashionable emulating the style, this time with a scarf
[sc:mediad]
5. Summer time means pool parties and beach fun. And should you want a chic idea on beach cover ups, you could use the scarf as one!
[Also Read: Embroidered Women Accessories]
5 Different Ways To Use A Scarf During Fall Days
Fall is a time when the allergies are at its peak, thanks to the falling of pollen and leaves around, the heavy air and pollution too. However, you can save yourself some slack using the scarf, and here are five ways to show you how!
1. Keep your scalp and hair protected from the dirt and grime, tying a turban scarf on your head.
2. Protect your hair from the salty moisture laden winds while you stroll at the beach with friends or with him, wearing a side-braided rose styled scarf!
3. Dress up the bohemian way with mirror worked blouses, short batik skirts, jhutis for the feet and a chic scarf head band for the hair
4. Glam it up at the Fall parties thrown or at the girls night out with chic statement neckpieces, cute tank tops, leather pants and a dark shaded scarf tied into a rose shape on your head.
5. Wear it as a hood for protection against the elements around that cause skin allergies and colds
Style tips for scarves can be a plenty to choose from, but you have to get out of the box and creative to make your own fashion statement come through. Loved this post? Let us know what you think!