There are several reasons why you may want to try a cleansing balm in replacement of your regular liquid or wipe facial cleansers. At present, there's a change of season we are experiencing. As the temperature becomes warmer, it gets tough to keep your skin hydration.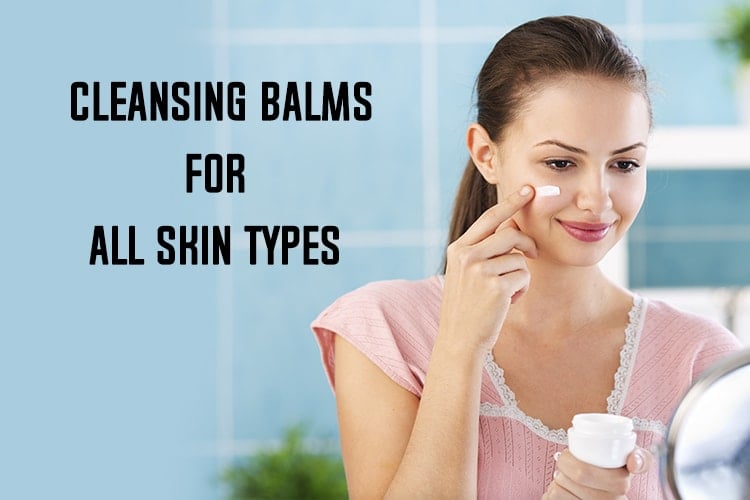 What are Cleansing Balms?
Cleansing balms are an effective option for removing oil and dirt without drying the skin too much. This is particularly essential for those with extremely flaky, parched skin. All the more, they are the most practical choice for anyone who is lazy to wash their face.
In fact, several cleansing balms do not require water for cleaning the skin. Massage and wipe to allow the goodness of the cleansing balms to soak in that leave your skin smooth and glowing.
The drugstore cleansing balm pretty much takes care of the most sensitive skin, including flaky skin, which is caused by using too much water that leaves the skin dry.
[Also Read: Best Cleansing Milk Products]
How To Use Cleansing Balms:
Massage a small amount of the cleansing balm and wipe it off with a damp, warm washcloth. This is the ultimate skincare routine for attaining smooth, touchable skin all day long.
Best Cleansing Balms With No-Fuss Formulas To Try Out:
Here, we've rounded up the drugstore cleansing balm for seriously compromised skin:
1. Palmers Yes To Coconuts Coconut Oil Cleansing Balm:
This innovative cleansing balm is coconut oil infused, making it the most gentle on skin. It also comes with a reusable sponge, allowing you to remove even the toughest of makeup effectively, without harming the skin.
The super-rich cleansing balm is made up of coconut oil and other nourishing ingredients, like shea and cocoa butter.
2. Omorovicza Thermal Cleansing Balm:
Omorovicza is a Hungarian brand inspired by traditional hammam treatment. The Thermal Cleansing Balm is one of the most popular products. Apply the black balm onto your face to lift off makeup with the lightest touch.
This is also great for those with sensitive, dry skin as it doesn't leave the skin irritated and tight.
The cleansing balms come with a cleansing cloth and a plastic scoop to get it out of the jar easily. The 100 ml pot will last you a long time.
3. The Body Shop Camomile Sumptuous Cleansing Butter:
True to its name, sumptuous, this cleansing butter by Body Shop really means it. The balm has a super-thick texture that gently and effectively removes makeup and impurities.
4. Elemis Pro-Collagen Cleansing Balm:
The skin-softening, anti-aging balm has it all. It contains various oils and waxes to deep cleanse, nourish, and smoothen the skin for a glowing complexion.
The relaxing, fresh-smelling cleansing balm can transport you straight to the spa and leave your skin nourished. The cleansing balm contains ingredients, like rose, mimosa wax, coconut, almond, elderberry, and starflower oils. In addition, the firming effects of algae give Elemis Marine range its name. The cleansing balm effectively works on skin breakouts. It comes with a cleansing cloth.
5. Clinique Take the Day off Cleansing Balm:
The lightweight makeup remover easily removes the most tenacious eye makeup and sunscreens. It can be applied as a solid balm and then transformed into an oil. You can rinse off using warm water.
6. Dermalogica Pre Cleanse Balm:
The balm version of Dermalogica takes a little squeezing to get it out of the tube. After cleansing, skin feels soft. It leaves no residue and deep cleanses skin, unclogs pores, and removes makeup. The cleansing balms also come with a rubbery cleansing mitt. The tub is in a travel size.
[sc:mediad]
7. Nyasa Pure Glow Nourishing Cleansing Balm:
Nyasa products combine skincare ingredients, like hyaluronic acid and AHAs with essential oils. This nourishing cleansing balm comes in a bottle with pump, which takes a little work to dispense. It contains ingredients, like rosehip, sweet almond oils, and fresh citrus essential oils, like neroli, mandarin, and bergamot. The silky, nourishing oil balm leaves ageing skin glowing and clean.
8. Farmacy Green Clean Makeup Melt Away Cleansing Balm:
The cleansing balm contains ingredients, like sunflower and ginger root oils. The balm-to-oil formula works effectively to remove dirt, oil, and pollution buildup. The papaya extracts remove dead skin cells.
9. Peter Thomas Roth 24K Gold Pure Luxury Cleansing Butter:
The cleansing butter has lots of anti-inflammatory benefits. The honey, chamomile butter, and turmeric lend itself a hydrating, soothing, and wrinkle-softening touch.
10. Boots No.7 Beautiful Skin Cleansing Balm:
The lotion-like balm can be squeezed from the tube for a more precise application. Allow the cocoa butter and glycerin ingredients to restore the skin's barrier and wipe off the foundation.
The cleansing balm is great for dry skin, dissolves makeup, and other impurities. The proprietary multivitamin blend replenishes skin's moisture levels. This cleansing balm can be used with or without water. Simply dot the cleansing balm onto wet hands and work into your skin.
For use without water, simply massage the balm onto face and neck. Wipe off with a cotton ball.
11. Darphin Aromatic Cleansing Balm With Rosewood:
The lavish, rich rosewood cleansing balm transforms into a light, milky emulsion when mixed with a little water. This balm is suitable for dry skin, as it cleanses off all traces of makeup while nourishing your skin.
12. Ren Rosa Centifolia No.1 Purity Cleansing Balm:
The cleansing balm is suitable for all skin types but especially great for sensitive skin. The rose-infused cleansing balm is perfect for calming redness and soothing skin. It is delicately scented and feels smooth, yet works on removing stubborn waterproof mascara.
So, these are our top 12 beauty counter cleansing balms. They are all packed with good-for-your-skin ingredients. This is a one-way ticket to your softest skin ever. Do share us your experience if you happen to use any of these cleansing balms.