Many beauty cosmetics out there claim to transform but they sadly don't exceed expectations. However a color depositing conditioner delivers and lives up to its claim. Heat styling and harmful UV rays are some elements that can cause our hair color to fade off. Making use of color depositing formulas once a week is more than enough to revive lost color. And buy your more time for salon appointments.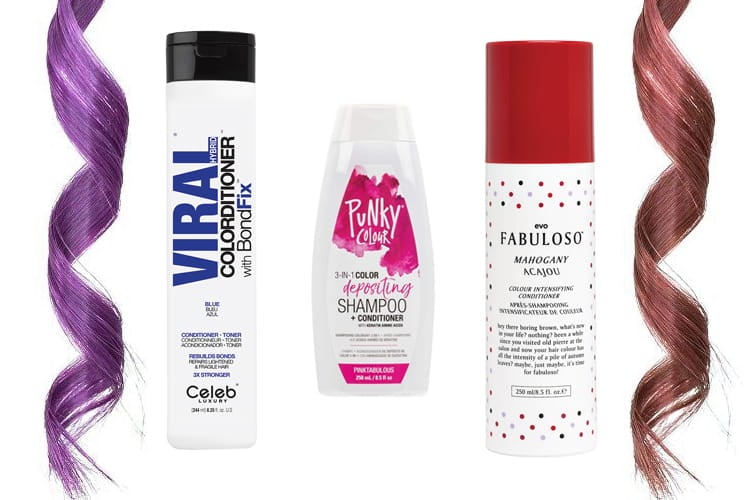 These color depositing conditioners are enriched with pigments that help in amplifying our tone and even neutralize brassy shades.
Top 10 Color Depositing Conditioners In India for 2021
Sold by the idea yet? We've rounded a list of the best color depositing conditioners for every shade out there-including the pastel tones. Scroll down to select your perfect match now:
1. Pure Blends Tempted Intense Color Depositing Conditioner – Orange:
The color depositing conditioner collection is perfect for those for temporary punk hair colors. The conditioner is formulated to maintain a bright hair tone. With every wash, it can deposit pure pigments to maintain a vibrant shade. The formula is enriched with botanical extracts, keratin, and collagen. The ingredients present in the product revitalize dry hair and repairs hair from root to tip.
Benefits:
Provides strength to hair
2. L'Oreal Colorist Collection Hazelnut Conditioner:
The pH-balanced colorist conditioner contains semi-permanent hair color pigments to provide intense shine. The formula has ingredients like apricot kernel oil and other natural fruit extracts. The blend provides long-lasting color and shine. Use daily to accentuate natural hair color.
Benefits:
Free from harsh chemicals
Available in four gorgeous shades
3. Aveda Clove Color Conditioner:
The color conditioner from Aveda is enriched with warm shades like dark to medium brown. It helps in enhancing warmer tones and deeply condition dry, damaged hair. The creamy product leaves hair soft and smooth. It is ideal for those with honey hair tones or brunettes.
Benefits:
Perfect for covering uneven color
4. Celeb Luxury Viral Hybrid Colorditioner with BondFix:
The intense conditioner allows you to maintain your bright hair tone for weeks. It treats faded hair and enriches hair color for longer. This hair formula is ideal for bleached, lightened, and pale blonde hair. It deeply rebuilds hair fiber three times stronger. The product is available in 10 gorgeous colors.
Benefits:
5. Evo Fabuloso Mahogany Colour Intensifying Conditioner:
The color boosting conditioner provides a richer color while nourishing the tresses. It also repairs and conditions dry hair. It is suitable for medium brown to dark blonde hair. The color can be used for reviving faded highlights to a rich chocolate shade. This conditioner can be processed in just three minutes.
Benefits:
Requires small amount of product per use
6. Punky Colour 3-in-1 Color Depositing Shampoo + Conditioner:
If you do not want any compromise with your colored hair, then you should the color depositing shampoo cum conditioner by Punky Color. The formula comes with a 3-1 shampoo that helps in adding moisture onto the hair. This product is available in eight colors.
Benefits:
Provides highest level of protein
Improves hair color deposit
Visibly improves hair condition and appearance
Aids in moisture replenishment
7. TouchBack Plus Conditioner Hydrating Cream – Medium Brown:
The ammonia-free formula is great for adding color and shine to dull hair. The color lasts for upto three washes. It has a patented formula to renew hair color, optimum fade protection technology to prevent hair color from fading. This conditioner also smoothens and repairs damaged hair.
[sc:mediad]
Benefits:
Available in eight shades
Free from harsh chemicals
8. Davines Alchemic Conditioner – Copper:
The rich color conditioner is ideal for natural or warm red hair shades. It helps in maintaining existing red tones. While adding hair color, it also hydrates dry, dull hair. The formula is enriched with direct pigments which deposit color without activator. It also has hydrolyzed milk proteins known to condition hair from deep within. The product protects your hair from fading whilst maintaining its color.
Benefits:
9. Beyond the Zone Rock On Vibrant Color Depositing Conditioner:
The lightweight, moisturizing formula is designed to enhance your natural hair tone. It can enhance your hair color temporarily. The intense hydrating conditioner can deposit hair color with every single rinse.
Benefits:
Quickly deposit hair color
10. Keracolor Color + Clenditioner:
The rich hair product is designed to enrich hair color with every rinse. It leaves hair with a vibrant tinge while treating the brassiness. The formula is also known for adding softness, strength, and shine. It works well on bleached and lightened hair, too. The conditioner also cleanses off dirt while adding a rich color.
Benefits:
How often should you use Color Depositing Conditioners?
Too much of everything is bad. Likewise use the color depositing conditioners too often may lead to adverse side effects. The best tip is to try it twice or thrice every week for the best results.
Tips:
Here are a few tips on how to use your color depositing conditioner:
Make sure to choose the right product suitable for your hair tone.
Use lukewarm water to help your hair absorb the hair color faster.
Use the conditioner on areas that are the brassiest.
Gently massage conditioner onto hair to get the best effect.
Hope you found this blog informative. If you have tried any of the products listed above please share your review with other beauty enthusiasts here. We would love to hear from you!