Feeling embarrassed with gray hair showing too soon due to the loss of color or dye from your strands? Is there any formula to make your hair color last longer? Clueless? Fret no more! Try the innovative color depositing products that are taking hair care to the next level! Want to know more about the best brands? Read on!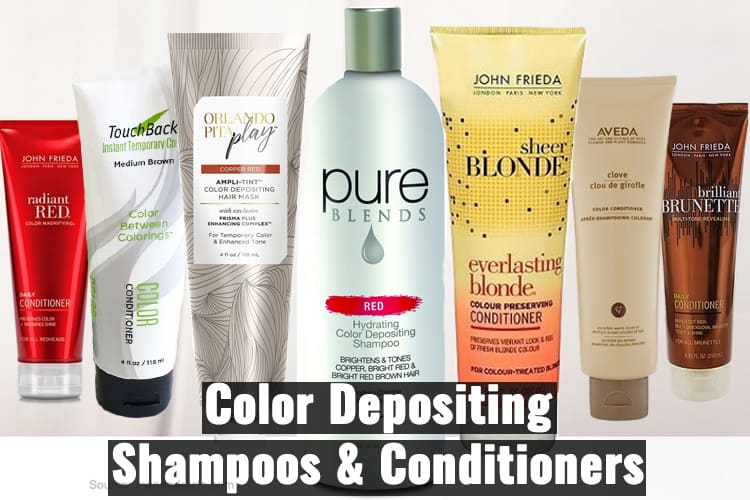 About Color Depositing Shampoos
What Is Color Depositing?
The aim of color depositing products is to naturally deposit color in your colored hair strands so that your mane looks vibrant in a natural and subtle way. What makes color depositing a breakthrough technology? There is no use of harsh chemicals such as ammonia, peroxide or sulfates in color depositing products unlike in the case of permanent hair color. Yet precautions need to be taken.
Why Should You Choose Color Depositing Shampoos And Conditioners?
Hair color is a mixture of peroxide and pigment. The higher the peroxide strength, more are the chances of keratin loss in the hair. This is where the pigment comes in. A use of color depositing shampoos and color depositing conditioners helps add pigment back to your hair. Thus, extending the life of your hair color by about 2 weeks!
It can also help you save on the expensive hair coloring trips to the salon! Sounds great, doesn't it?
Can't afford the color depositing shampoo? Buy the conditioner. While the shampoo will wash away, the conditioner will add to the hair color.
How To Use Color Depositing Shampoos?
Firstly, Color depositing shampoos are not as moisturizing as you think them to be. Their role is to cleanse hair and deposit strong pigments onto the strands.
Leave it for 5 to 10 minutes and you will see a purple tinge. When used along with the mask, it leaves your hair nourished.
How To Use Color Depositing Conditioners?
Dyeing your hair? Then using color depositing conditioners is an absolute necessity. They not only moisturize your colored hair, they also lightly deposit color with every wash. Thereby, keeping your hair shiny and healthy. It also gives you a longer gap between those expensive touch-up sessions at the salon. In short, these new-age conditioners give you the best results.
List Of Best Color Depositing Hair Care Products:
Here are some top-rated color depositing shampoos, conditioners, and hair masks you can try at home. They will boost your hair color and add luster to your locks.
Let's first check out the best color depositing shampoos available in the malls.
1. TouchBack Color Depositing Shampoo
Temporary hair color to be used between permanent hair coloring sessions.
Adds shine and color to hair.
Gives optimum fade protection by toning down gray.
The product contains no ammonia, no sulfates, and no peroxide.
Leave the shampoo on your hair for 2 minutes. Rinse it and then apply a conditioner.
The new vibrant shade lasts until three washes.
2. Pure Blends Hydrating Color Depositing Shampoo – Red
This hydrating formula reduces color fading and washout.
Created with a herbal blend.
Keratin and collagen infused.
Red base ensures the brightness of red and red-brown tones.
The product has no processing time and gives instant results.
Sodium chloride and sulfate-free.
Compatible with all permanent and semi-permanent color brands.
3. Tressa Watercolors Color Maintenance & Enhancement Shampoos – Fluid Fire
Good red color depositing shampoo.
Helps create fiery red-orange tones.
To be used on medium to dark red hair.
To avoid stains, try using a dark colored towel if you plan to towel dry your hair.
Now let us move on to finding top-rated color depositing conditioners.
[sc:mediad]
1. Clove Color Conditioner
Enriches medium brown hair shades.
Ingredients include organically grown clove to cleanse the scalp and enhance warm tones.
Has patented pure-foam aroma containing certified organic lavender, eucalyptus, petitgrain, and other herbal essences.
Use it after every 2-3 washes to get long-lasting hair color.
Rinse it off immediately to avoid staining of bathroom surfaces and fixtures, clothing or hands.
2. Overtone Vibrant Daily Conditioner
A color-depositing formula, not dye.
Adds fantasy color to your naturally colored hair.
A vegan product that is sulfate-free and takes just a few minutes to deposit color.
Helps you say goodbye to fading through a balanced amount of pigment.
Use it instead of your normal hair conditioner to keep your mane looking luscious and lustrous.
3. Evo Fabuloso Color Intensifying Conditioner
Extends the life of your hair color and makes it noticeable.
Keeps your strands super healthy.
Free of ammonia and peroxide.
4. CHI Ionic Color Illuminate Color Depositing Conditioners
Manufactured by Farouk Systems Inc., a Houston based company.
Color enhancing conditioners in 7 vibrant shades: Mahogany Red, Golden Blonde, Platinum Blonde, Silver Blonde, Red Auburn, Dark Chocolate, and Coffee Bean.
Refurbishes the color in both the natural and color-treated hair.
Color tones get deposited on hair strands after a single use.
Silk Amino Complex is the key ingredient that delivers color and hydrants.
Colors can be intermixed in order to create custom shades
5. Drybar Blonde Ale Brightening Conditioner
A purple conditioner that enhances blonde tones, adds shine and gives you more manageable hair.
Softens and detangles hair.
Parabens, sulfates, and phthalate-free.
One of the few cruelty-free color depositing conditioners.
It's time to find out about color depositing hair masks available in the beauty stores.
1. Orlando Pita Play Ampli-Tint Color Depositing Hair Mask
Good for adding temporary color.
Golden and brunette pigments add depth while enhancing color.
Leaves hair shiny and voluminous.
Made with patented Prisma Plus Enhancing Complex of Orlando Pita Play.
Key Ingredients include Silk Protein (amino acid), Lilac Cells (antioxidant) and Celestial Opal Extract (illuminating gemstone).
Winner of 2018 Glamour Beauty Awards.
Apply to wet hair starting from the hair roots to the tip. Leave it on for 5 to 30 minutes. Rinse thoroughly.
Use this color depositing hair care product once a week to maintain your hair color.
2. KC Professional Color Mask
Finland's most popular toning product.
Meets the hair care needs of color treated hair.
Contains color pigments to maintain color longer.
Helps retain brilliant tone and shine.
To be used between color treatments in order to prevent fading.
Sulfate-free, paraben-free, cruelty-free and a vegan product.
Its formula is free of SLS and SLES.
Protects your hair from harmful UV Rays.
Available in a huge variety of shades to match your hair color.
Are There Any Side Effects Of Color Depositing?
We know the side effects of hair coloring. Does color depositing products cause the same side effects or more? Let's find out.
Leads to hair damage, given the chemicals that are used. If there are no chemicals, the color will fade away in your next wash.
First-timers may experience dryness of hair upon color treatment. Use a strong conditioner to offset the dryness.
If you are thinking of using artificial coloring products, do not use henna (or mehndi). It will only make your hair dry and prevent you from getting the right color deposit. Keep a gap of 4 to 5 months between the last time you applied henna to the time you decided to color your hair.
If you are trying color deposit products at home, go in for a patch test to check out any negative skin reaction to the same.
If you have got scratches or abrasions on your scalp, wait for them to heal before washing them with color depositing shampoos.
People with dry or damaged scalps can use hair serum after using color depositing products.
Disclaimer Note
Do not solely rely on the information provided here. Make sure to read labels, directions, and warnings before using a color depositing product. Please contact the manufacturer for additional information and risk factors (if any) related to a product. Consult a trichologist before using color depositing products especially if you are suffering from any acute hair or scalp related issues or are prone to scalp allergies and infections.
Your hair color is an extension of your personality. Give the color depositing hair care products a try. But do not forget to follow the instructions on the label. Hope you found this blog informative. If you have tried any of the products listed above please share your review with other beauty enthusiasts here. We would love to hear from you!