A pair of gold earrings instantly adds so much to a woman's face, that's why women love adding a pair of gold earrings to their outfit. From simple hoops to a fancy studded jhumka, gold earrings are available in a handful of designs.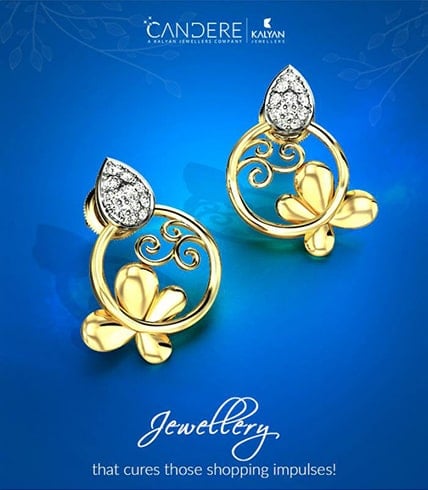 These are the earring designs that you can find at any store:
Stud Earrings: Stud earrings are those which sit only on the ear lobe. They can be a simple gold studded or a gemstone studded piece. Ear studs are very ready to wear and easier to carry. A go-to jewellery every woman has in her wardrobe.
Dangle Earrings: Dangles are any earrings longer than 2 inches. They can either be a loosely hanging design or a stiff one as per your needs. Dangles add a lot of poise to one's ensemble and are a good backup for events when you want to look a bit more dressed up effortlessly!
Hoop Earrings: Hoops are round earrings. Most girls have started wearing earring from a pair of hoops. Interesting, hoops have become one of the most loved earrings designs now. Nowadays, hoops come in a bunch of different designs and have become quite a favourite now!
Solitaire Earrings: As the name suggests, solitaire earrings are those with one significant solitaire gemstone. It need not necessarily be a diamond but also Emerald, Citrine, Ruby, Tourmaline, etc. The main focus of the earring is the stone so you will expect it in a simple prong setting or a bezel setting.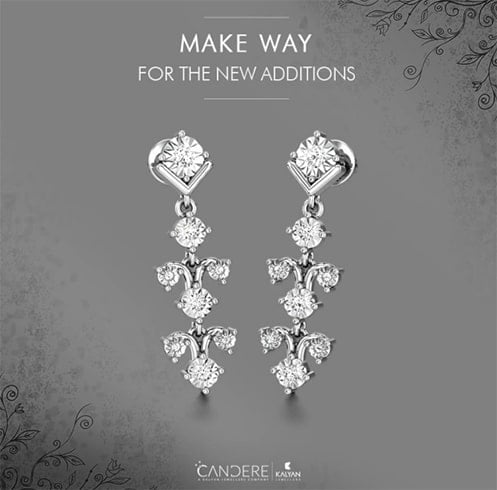 Jhumka Earrings: Jhumka's are dome-shaped earrings that reach almost up to one's collar bones. Jhumkas depict grandeur and are usually studded with various coloured gemstones that makes it look very larger than life. A pair of jhumkas can also be your go-to statement jewellery that you can wear with almost any outfit and stand out.
Sui Dhaga Earrings: Sui Dhaga is this needle thread pair of earrings wherein the design is made of stiff thin rods as well as thin chains. They are very casual and looks very chic. You can look very classy with a pair on your ear yet not feel weighted down by the weight.
Ear Cuff Earrings: Ear Cuffs are the fancy earrings that has a heavy back. The back side of the earring can either jut sideways or downwards as you wish. They look very fancy yet stays out of your way when worn. A pair of ear cuffs can flip your look completely opposite in seconds.
[sc:mediad]
Chandelier Earrings: Chandelier earrings look like a tiny chandelier hanging from the ears. These are undoubtedly occasional wear jewellery and are usually up to 4-5 inches. Even if their size is considerably small, they are quite heavy and fall on the higher budget range.
Tassel Earrings: Tassel earrings have a veil of thin chains in their design. They are slightly heavy because of the golden tassels but they look very gorgeous and flowy. They have a charm which is not there in other designs. Interestingly, these are neither too heavy nor too light and do the work just pretty well!
That's all about earrings and earring designs. We are a big fan of hoops. What about you?